Flesh, fowl and roots. That's all you could get your hands on at Old Spitalfields Market back in 1638, when King Charles I gave the area its first official trading license. Back then, it was an empty patch of land that was used for shooting practice (that's why local roads have names like Artillery Lane and Gun Street) – and now, centuries later, it's one of the buzziest markets in London. Under the vast, station-like cover of the steel and glass Victorian roof, dozens of stalls, permanent boutiques, restaurants, pop ups and street food vans tout their wares, seven days a week.
THE STALLS
On the fringes of Old Spitalfields Market you'll find a ring of permanent shops like Cheaney, selling handcrafted English shoes; Collectif, selling new clothes made in vintage cuts; and The Mercantile, the perfect place to go gift shopping for the person who has everything, because they probably don't have a two-tone reversible glass vase… yet.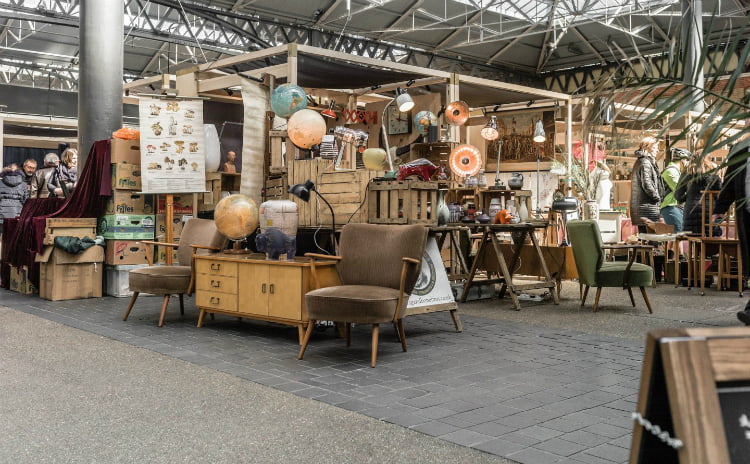 Most excitingly, however, are the dozens of pop-up stalls selling clothing, bric-a-brac, arts and crafts, homeware and jewellery – like Malby Maps, specialists in antique cartography, and Last Stop For The Curious – a typically eccentric stall hawking vintage hats.
Every Wednesday, you can stop by Old Spitalfields Market for the makers' market; a chance to shop one-off, hand-crafted goods directly from the people that made them. Then on Thursdays, the place transforms into a thronging antiques & flea market, when a curated line-up from Sherman & Waterman takes over the hall to sell vintage clothing, kitschenalia, militaria, posters, furniture, and pretty much everything in between. Finally, on the first and third Fridays of every month, the Vinyl Market swings by, with racks upon racks of collectable, rare, and newly released records.
Spitalfields Market has come a long way from just being a market, though. Throughout the warmer months particularly, you'll also find live music stages, al fresco dance classes, workshops and more – you can see what's coming up here.
THE STREET FOOD
Tucked in the North-Eastern corner of Spitalfields Market are the kitchens; a rotating line-up of a dozen or so street food vendors set around heated communal tables, allowing you to mix and match dishes from steamed buns to nose-to-tail comfort food. Currently you can dine at places like Dumpling Shack; score a little Jamaican home cooking; or tuck into Sri Lankan street food by Karapincha.
But if you're after a little more sustenance, you can also pop into restaurants like Brother Marcus Spitalfields for Middle Eastern mezze, or Galvin Bistrot & Bar, a laid-back eatery from the brothers behind two Michelin-starred restaurants in London.
They do some amazing things with flesh and roots.
NOTE: Old Spitalfields Market is open daily. You can find out more, and see what's on, right HERE.

Old Spitalfields Market | 16 Horner Square, Spitalfields, E1 6EW
---
While you're in the area… you might want to visit one of the best restaurants in Spitalfields.