The Greyhound Cafe has a dish called the 'Complicated Noodle'…
…which tends to be the case when you Thai food.
And it's only appropriate for Greyhound's own past – having started as a menswear brand in the mid '80s, their circuitous journey to London has seen them pivot into becoming a 'lifestyle cafe' before launching restaurants across China, Hong Kong, Singapore, and Indonesia.
For their first tentative step into Europe, they've snagged a spacious two storey Fitzrovia spot, painted the walls black, and filled it with marble-topped tables, red leather seating, and artsy touches like the massive wicker jug hanging from the ceiling. But as eclectic as all that may seem, it's the menu that's the real eye-popper…
THE FOOD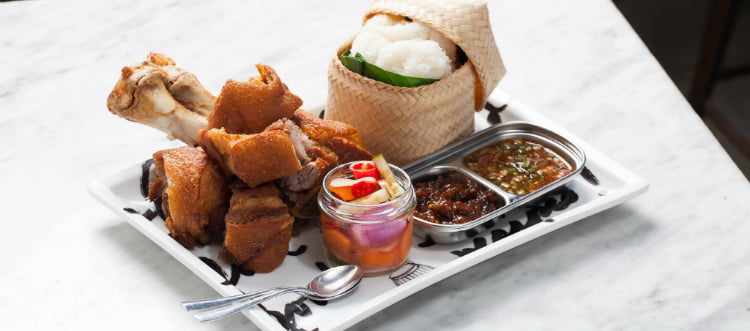 Running with a truly unique hybrid of Western & Thai influences, you'll find dishes like their Hot Oil Pork Knuckle (German-style golden fried pork knuckle with spicy tamarind curry paste and jaew sauce); the Phuket Burger (a crispy soft shell crab burger with avocado & wasabi dressing); their Angry Pasta (wok-fried spaghetti with mixed seafood all doused in their Thai "angry" hot sauce); and the aforementioned Complicated Noodles (DIY rice noodle sheets and iceberg lettuce topped with minced pork sauce & Greyhound's spicy lime sauce; you'll have to put it all together yourself, but it'll be worth it).
And that's just a mere smattering of what's on offer. They also have breakfasts (the Happy Toast comes topped with Thai tea custard, Thai coffee custard, sea salt caramel and condensed milk), annnnd desserts to top it all off (like their palm sugar-infused panna cotta layered with Thai sweet lime). And then there are…
THE DRINKS
Aside from the quartet of Thai-brewed beers on offer you can also drown one of their many cocktails, most of which use mekhong (a native Thai spirit brewed using molasses & rice) as a base; the Bang Yee Kun Sour adds to it some lime, lemongrass and ginger syrup, while a little apricot & Benedictine makes the Samyan Joke.
Don't worry, it doesn't taste funny.
NOTE: The Greyhound Café is open daily from 12-10.30pm (10pm Sun). You can find out more, and book a table at their website right HERE.
Greyhound Café | 37 Berners Street, W1T 3LZ
---
Wondering who's next door? It's the Berners Tavern.