There are a lot of good steakhouses in London.
But Knife is really a cut above.
Packed into a sleeve of a space off Clapham Park Road, it follows that formula of the traditional London steak restaurant: exposed brick walls hung with leafy planters, low-hanging filament bulbs and industrial reclaimed tables. Tucked away at the back is the open kitchen, where you'll hear your steaks hitting the pans.
Those steaks are sourced from Lake District Farmers – specifically, their cows – who also supply the Michelin-starred kitchens of Le Gavroche, Core by Clare Smyth, and Pollen Street Social. Grass-fattened, and raised the same way they were 200 years ago by the cattle farmer's great-great-grandfather, it's about as low-intervention as farming gets.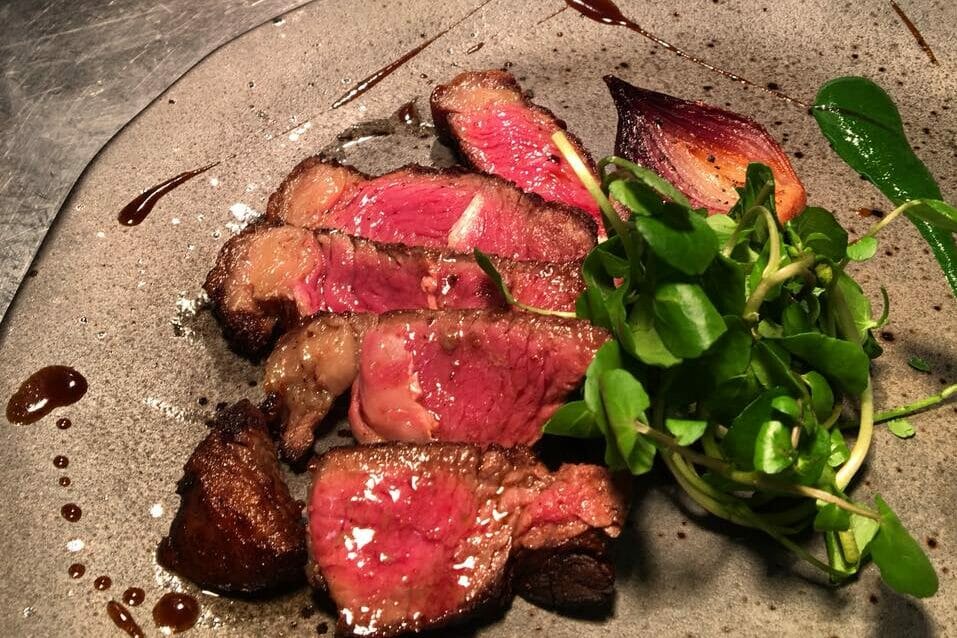 As at Pollen Street Social, it means that the steaks – available in four cuts from four breeds – are very, very good. But unlike Pollen Street Social, you'll also get bread fresh out the ovens with bone marrow butter and Yorkshire pudding starters (all entirely complimentary); starters like saddleback pork scratchings and (for more beef) Galloway tartare; alternative mains including hand-made sweet potato gnocchi and Loch Duart seabass with salmon roe; four kinds of potato-based sides; Stinking Bishop mac'n'cheese; and a roasted corn crème brûlée. Plus – if you haven't completely gorged yourself – tonka bean panna cotta, sticky toffee pudding, or chocolate brownie sundaes (with blowtorched marshmallows) to finish.
Knife's selling point is that they also know how to roast, and the Sunday lunch here is one of the best in South London. Pick from belted Galloway beef rump; Herdwick lamb leg & shoulder; roast chicken or Stinking Bishop wellington, and you'll be lavished with all the trimmings, from herb roasted potatoes to honeyed parsnips and Yorkshires the size of your fist. And all for less than £20.
With Black Cow vodka espresso martinis on the menu, though, you should probably budget for a bit more.
NOTE: Knife is open for dinner Weds-Sat, plus Sunday lunch. You can find out more, and book a table, HERE.
Knife | 160 Clapham Park Road, London SW4 7DE
---
Like independent steak joints? Check out the most underrated steakhouses in London.