New York.
Paris.
Peckham.
For anyone who doesn't immediately feel a rush of nostalgia when reading that: it's what was emblazoned on the side of Del Boy's iconic grubby three-wheeler van in Only Fools & Horses. The area was a very literal punchline.
But now? Over the past few years it's undergone such an upswing that the joke is no longer funny. That upswing is – for better or worse – the result of some hard-core gentrification, but even a decade ago, a place like Peckham Cellars probably wouldn't have been possible to open here.
Replacing a steak restaurant that occupied the same space, Cellars is a relaxed eatery & wine bar from three Peckham locals, all of whom have some granite-solid credentials behind them: chef-owner Helen Hall cut her teeth at Ottolenghi's Rovi and Skye Gyngell's Spring; sommelier Ben McVeigh (formerly at 28-50) is on wine; and front of house is covered by Luke West-Whylie, who fronted Marcella in Deptford. They're joined by Jay Claus in the kitchen, who's previously manned the pans at Morito, Bao and Quo Vadis.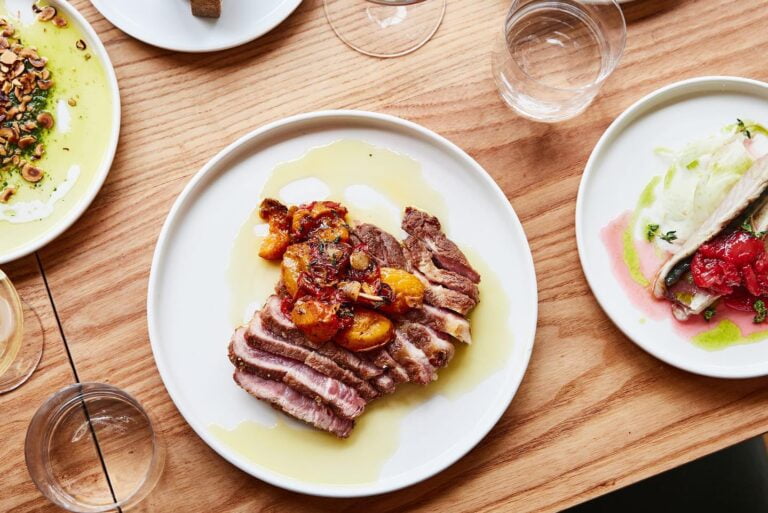 The place they've created is bright & airy, with light from the floor-to-ceiling windows spilling onto simple wooden mid-century furnishings. There's a small restaurant space backed by a bar, and a leafy, plant-filled wine shop with walls wrapped in colourful bottles.
The menu is broadly Mediterranean (made with hyper-local ingredients wherever possible) and is made up of sharing plates including a pair of striking sardines that have been covered in pistachio crumbs then deep-fried; some pumpkin & mascarpone-stuffed 'rotolo' pasta dressed in sage butter; and an onglet steak punched up with some deeply flavourful Colston Bassett stilton. Unsurprisingly, given the team's credentials, it's all delicious – and the place is now the proud bearer of a Michelin Bib Gourmand.
The wine list is designed to include a broad spectrum of bottles, and is handily split into flavour profiles ("aromatic", "minerals", "made by the sea", etc.) – and like the food it's matching, also mostly hails from around the Mediterranean. The list will update regularly, and they're planning wine takeovers, and exciting-sounding things called "magnum parties" in the not-too-distant future.
Sounds like a big deal.
NOTE: Peckham Cellars is open Tues-Sun. You can see the full menu, and make a booking at their website HERE.
Peckham Cellars | 125 Queen's Road, SE15 2ND
---
Like dining in SE15? Check out the Best Restaurants in Peckham