Being into sustainability, Doug McMaster likes to reuse or repurpose as much as possible.
He even recycles his restaurants.
Case in point: he's just moved his acclaimed zero-waste Brighton restaurant, Silo, into a beautiful East London warehouse at CRATE Brewery (who he's partnering up with), overlooking the canal in Hackney Wick.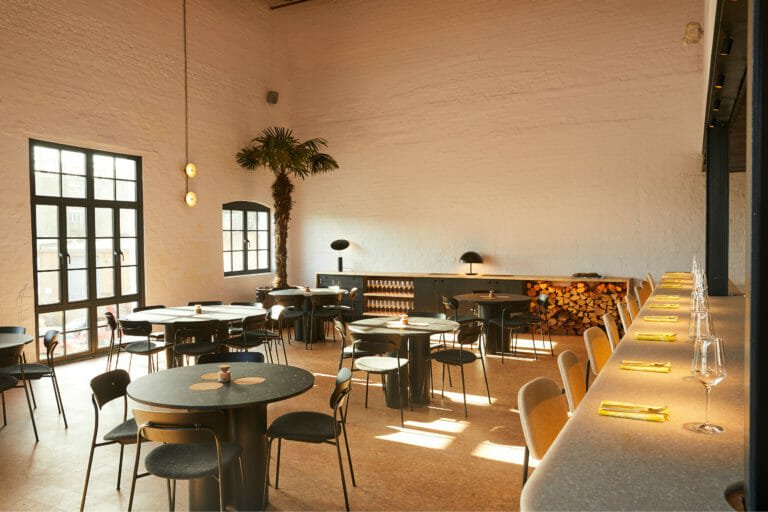 Ascend its cast iron staircase and what awaits you is a stunning, laid-back eatery that combines a Bauhaus aesthetic with an enormous double-height ceiling, industrial warehouse-style windows and bare, whitewashed walls. And of course, everything's been designed with sustainability in mind – the crockery's made from recycled glass; the dining counters are all upcycled plastic; even the lampshades are made from a kind of mushroom. The beating heart of the place, however, is the dark, wood-panelled open kitchen, alive with activity and a roaring live-fire grill, and encircled by the best seats in the house.
Come here for dinner, and you can pick and choose from a frequently changing menu of innovative dishes – or, you can plump for the five-course tasting menu. You know, just to help reduce waste. That might include the likes of preserved tomato with Mexican marigold and aged cheese; pink fir potatoes with caramelised whey and kale treacle; cuttlefish with white kimchi; or dairy cow, cooked over the fire and served with celeriac and aged buttermilk. You can go for the drinks pairing to match: a colourful procession of simple cocktails designed to act 'more like wine' and complement, rather than distract from, the dishes. There's also a number of ferments, brewed in-house from leftover herbs and ingredients…
..if you don't want to get too wasted either.
NOTE: Silo is open for dinner Wed-Sat, plus lunch on Saturdays. You can find out more, and book a table, HERE.
Silo | Unit 7, Queens Yard, Hackney Wick, E9 5EN
---
Want a closer look at CRATE Brewery? Head on over to one of their tours.