When it comes to a great restaurant like The Good Egg…
…paradoxically, one is not un oeuf.
So the people behind Stoke Newington's finest Middle Eastern deli, brunch spot, bakery, and bar have opened a second eatery in Camden.
This is actually their fourth outfit (they also have one in Margate, as well as a former branch in Carnaby's Kingly Court), but given what the place has going on, it might just be their best.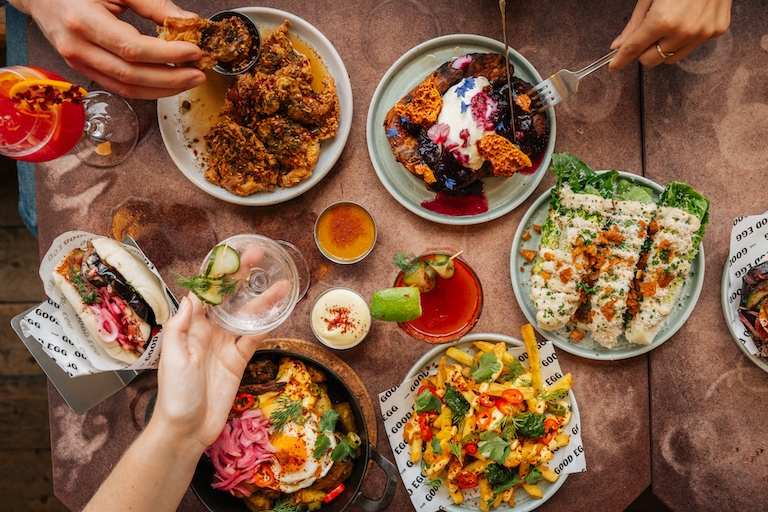 You'll find this one in the Stables wing of Camden Market, where it occupies a nice, airy & bright space underneath the area's famed brick arches. Much like the Stokey original, it's all very tasteful, cool, and casual – but very much unlike the Stokey original it has a dedicated counter for hot knafeh ka'ak. So just what is knafeh? Well, it's basically crisp kataifi pastry around baked, stringy melted cheese soaked in thyme & orange blossom syrup. This sweet, crisp cheesy slab is then stuffed in a Ka'ak (a bread similar to a bagel) and topped with rose and green pistachios. It's a crazy popular street food in the Middle East, and you'll see why when you taste one.
Beyond that the menu wisely includes a few slightly more familiar treats, with Good Egg favourites ranging from shakshuka with preserved lemon yoghurt; to babka French toast with blackberry & honeycomb; and their 'arayes', which are pita corners stuffed with mushroom & harissa, then seared on the grill. Other highlights include their rather moreish Zaatar Fried Chicken; fluffy Sabich pitas stuffed with fried aubergine, fudgy eggs & zhoug; and bagels loaded up with the classic fillings such as salt beef with smoked cheddar & dill kraut.
And then there are the drinks – the cocktails are all primarily Levantine in character, with standouts like a sour cherry & Campari soda or a harissa bloody Mary. Although that's not true of the wines, which pluck from the whole of Europe & beyond with a list of predominantly natural & biodynamic bottles, plus a rotating list of by-the-glass offerings.
Unlike a good egg… you can't beat it.
PREVIOUS PERK: Nudge Members got 40% off food for 2 weeks.
NOTE: The Good Egg Camden is open now. You can find out more at the website right here.
The Good Egg Camden | 732-736 North Yard, Chalk Farm Road, NW1 8AH
---
Fancy a drink with that? Here are the best pubs in Camden.