Balance Festival | Exclusive Nudge Discount
Well, well, well…
…is how Balance Festival is going to make you feel. Because it's the UK's largest fitness & wellness festival. And aside from brining you wellness of body & mind, thanks to their Nudge exclusive 2 standard tickets for £45 offer (for a cool 20% 0ff), they're bringing you wellness of wallet too.
And sure, if you were going to guess the location of the UK's largest fitness & wellness festival, 'brewery' might not be massively close to the top of your list. But then, this is the Old Truman Brewery, one of the most impressive events spaces in East London. And this is Balance Festival, who've packed that space with more life-affirming, mind-inspiring, body-fine-tuning, cutting-edge wellness that you'll find anywhere else in the country, or maybe even earth, for that matter.
So what do they have on offer? Well…
THE MAIN STAGE
This is where fitness experts like Zanna Van Dijk, Jamie Ray and Faisal Abdalla will unite to create signature workouts exclusive to Balance. You'll get everything from the truly old school Viking Method, to the truly new school BOSS dance sessions.
THE LAB
Giving your mind a bit of a workout, The Lab is here for insights from leading experts and influencers, including personal growth stories, development plans and industry hacks. You'll hear about Building A Healthy Relationship With Food from Harley Street Nutritionist Rhiannon Lambert; get The Lowdown on Sleep with a sleep researcher, and even How to Live Longer with Harry Jameson.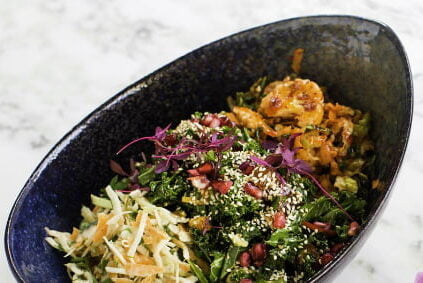 THE BALANCED KITCHEN
Nourishing your belly, they've got everyone from Ahi Poke, to the alcohol free Redemption Bar (who also serve vegan & gluten-free food and refined sugar-free raw desserts ); and Peruvian goodness from both Ceviche and Andina.
LOOOOADS MORE
They've got – among a ton more things on offer – some Boutique Studio spaces, a market, a meditation dome, a zen-filled sanctuary space, a matcha bar, a vegan treat stop, a skin wellness clinic, and several cafés.
Nommmmmm.
NOTE: Balance Festival is taking place from May 11th-13th at the Old Truman Brewery. You can find out more, and book tickets at their website right HERE. 
NUDGE EXCLUSIVE OFFER: Just punch in the code NUDGE2 at checkout when purchasing x2 standard tickets, and you'll get them both for £45 (normally £56). 
The Old Truman Brewery | 91 Brick Ln, E1 6QR 
---
Like Theatre? Check out our guide to The Best London Theatre Shows right now.