Ever since Bounce and Swingers first opened their doors, London's activity bar scene has been busy mining our collective childhoods so deep it's basically hitting bedrock. So it seems strange that it's taken this long for someone to come up with the idea of Fairgame: a funfair with cocktails.
You'll find Fairgame overlooking the water across to West India Quays, with a 20ft rubber duck moored up outside. Inside is a kind of kaleidoscopic, glitter-dusted, hyper-saturated dreamland twinkling with colourful cabochon lights and pumping with music. It's basically the physical manifestation of Candy Crush.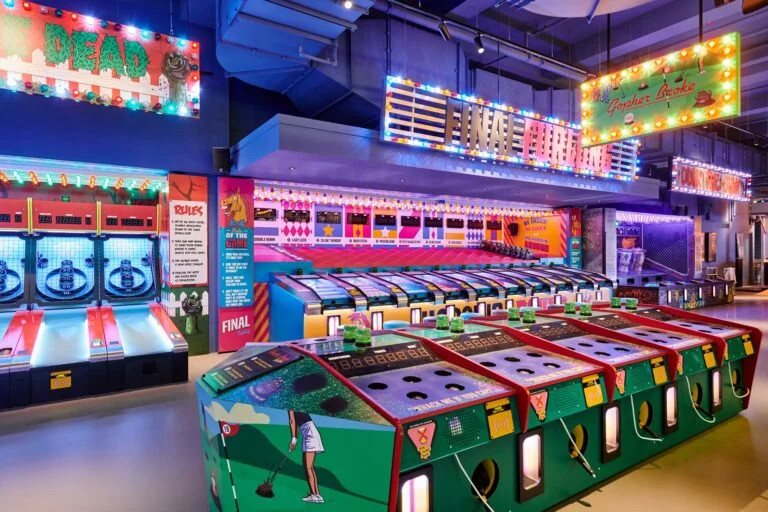 Head for the wall of stuffed pink bears, and you'll check in to receive your contactless card. Through a little tech wizardry, this connects up to your team names that you'll have picked when booking, and acts as your digital roll of tokens. Armed with this, you'll then tap in to start your game at any of the twinkling booths lining the main hall, with your scores added to a virtual leaderboard as you go round. And yes, the top scorer will get to take home a big, cuddly toy.
As for the games, they span a range of nostalgia-tweaking classics, with everything from basketball hoops to whack-a-mole, skeeball, and something called 'Pantry Pandemonium' which involves throwing balls at a larder full of tinned goods for some reason. All told, you'll spend about 75mins working your way through all nine games, playing each twice in a row, before the awards get handed out.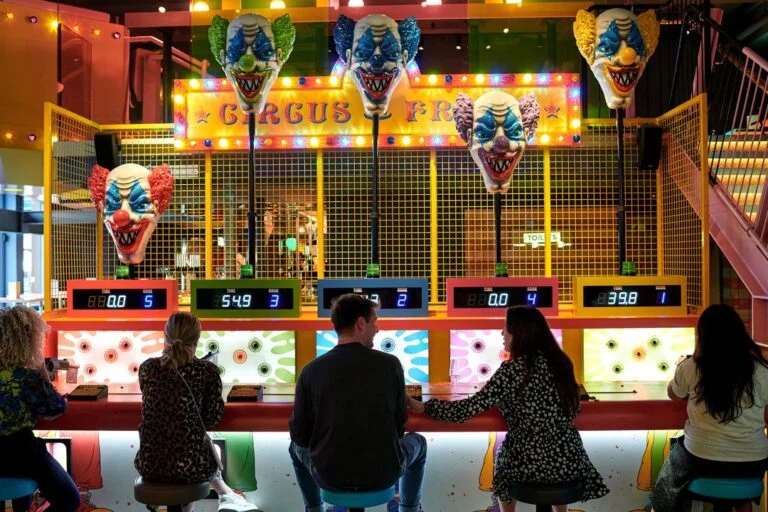 Of course, it's entirely up to you if you want to go in for an intense round of gaming, or if you want to intersperse the adrenaline spikes with a little food and drink. Fairgame's three bars serve up craft brews (including their own house 'Bear Goggles' lager), boozy fairground slushies, and cocktails (all of which can be switched for lo/no alcohol versions). There's even a concoction involving prosecco-infused candy floss, and an entire old-school sweets stall hawking bags of marshmallows, popcorn, boozy sweets, giant lollipops, and more.
At the front of the venue you'll find spacious group tables and a trio of food vendors, featuring stacked beef pucks from Burger & Beyond, Neapolitan-style pizza from Rudy's, and street-style tacos from Dos Mas, stuffed with chicken tinga and baja fish. And if you're coming with a really big group? Hire out Fairgame's mezzanine level, complete with Ferris wheel gondola-shaped booths, and a private bar.
Throughout the year there'll be a calendar of special events, too, kicking off with a 'Circus Freaks' party on Halloween, NYE events and more. So like any good fairground…
…you can always expect a carousal.
NOTE: Fairgame is open Tuesday – Sunday. You can find out more and book your slot (from £13 for 75 mins) right here.
Fairgame | 25 – 35 Fisherman's Walk, Canary Wharf, E14 4DH
---
There's plenty more where that came from… check out London's best activity bars.