There's nothing quite like celebrating your birthday at activity bars with games, mostly because –
A) It faithfully recreates that magical, nostalgic feeling of playing party games in your youth (but with booze this time). And,
B) Everyone has to let you win.
And these are the best activity bars in London to do that…
–
Fairgame | Canary Wharf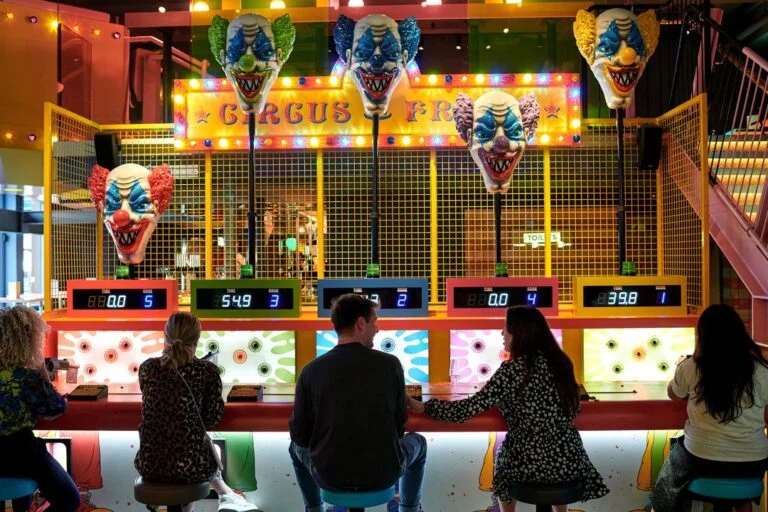 Old-school fairground games and booze seem like such a natural pairing, it seems wild to think that Fairgame is the first dedicated activity bar to bring them together… so yes, fair game to them. Battle your friends in nine nostalgic challenges, from whack-a-mole to rifle ranges, and celebrate your inevitable victory with prosecco-infused candy floss.
Numbers? There's about six lanes in each game, but there are private hire areas for 20+
–
Clays | Moorgate & Canary Wharf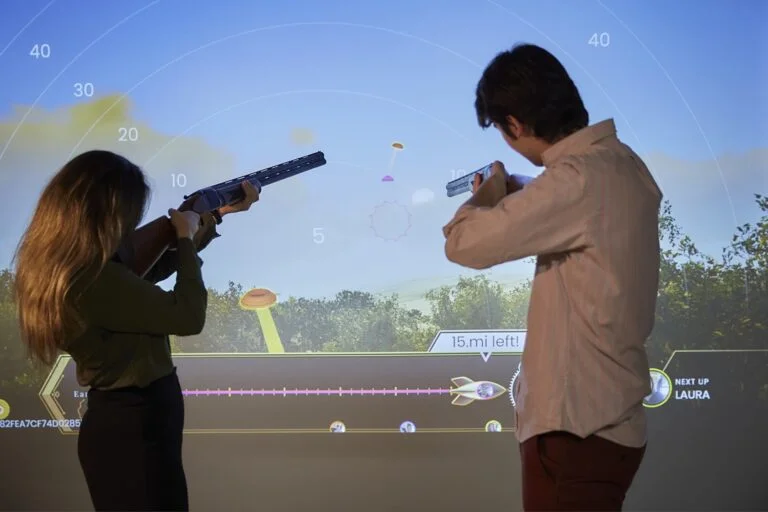 Clays Moorgate and Clays Canary Wharf are a pair of virtual clay shooting bars, each using amazing tech to simulate Olympic clay shooting – while making it considerably more fun with the addition of new competitive games. Oh, and there's cocktails. And bar food, courtesy of a former Ritz chef.
Numbers? Up to 20 on one 'peg' (shooting booth), or commandeer a couple for larger parties. They have food & drink packages available too.
–
All Star Lanes | Shoreditch, Holborn, Westfield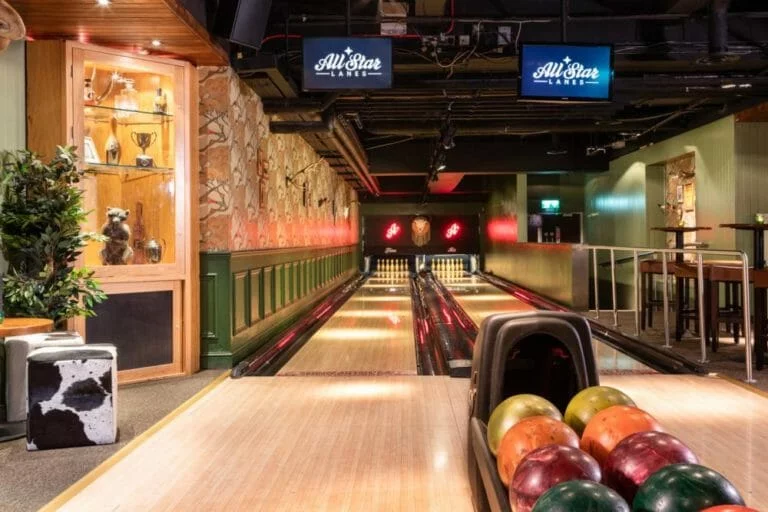 Bowling's great. Especially when you combine it with cocktails, non-sweaty shoes, a 1950's vibe, an authentic American diner serving everything from Southern fried chicken thighs with buffalo sauce, to chargrilled prime beef steaks, and private karaoke booths. Just in case you accidentally on purpose elect to get drunk, you know. And the four locations of All Star Lanes have it all…
Numbers? Up to around 21
Also check out: Bloomsbury Bowling Lanes, which sport a similar retro vibe and allow you to book up to 8 lanes at once.
–
Whistle Punks | Oxford Circus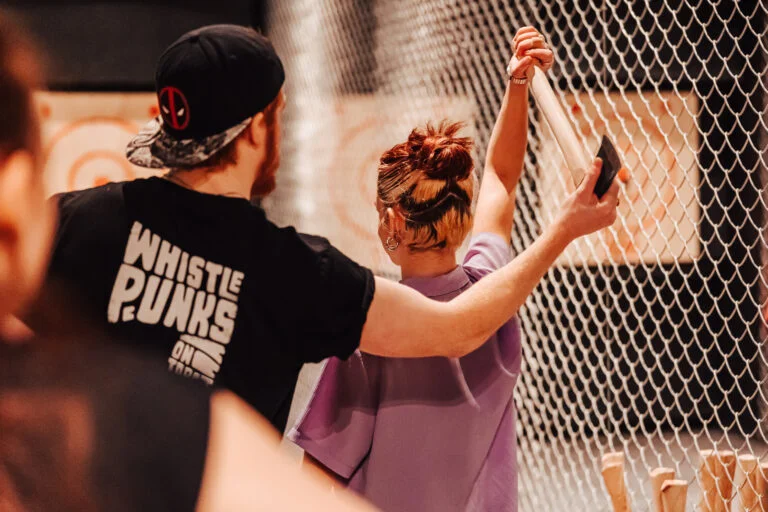 For all you thrill seekers, or those just looking for something unique, Whistle Punks is probably what you're after. It's where axe throwing meets…alcohol. In their Oxford Circus branch (the largest axe throwing bar in Europe), you'll be shown how to swing an axe like a badass, and then use your skills in a tournament with your group of friends. All while sipping on your own alcoholic beverage, of course.
Numbers? Up to 10 players on a private lane
–
Sixes | Fitzrovia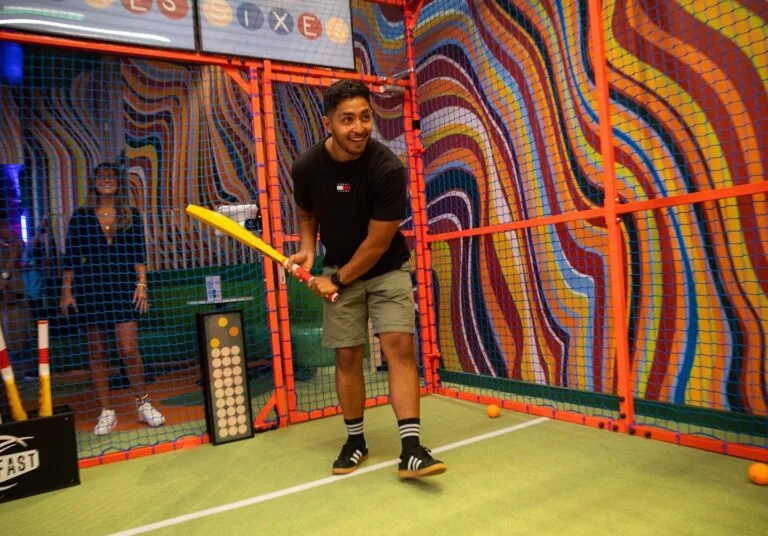 Presenting the cricket bar of the century: Sixes offers teched-up cricket batting cages with automatic scoring and five levels of difficulty, alongside pyrotechnic shot paddles and BBQ-style grub, like whisky-glazed beef short rib and burnt ends nuggets.
Numbers? Up to 10 per batting net.
–
Sandbox VR | Holborn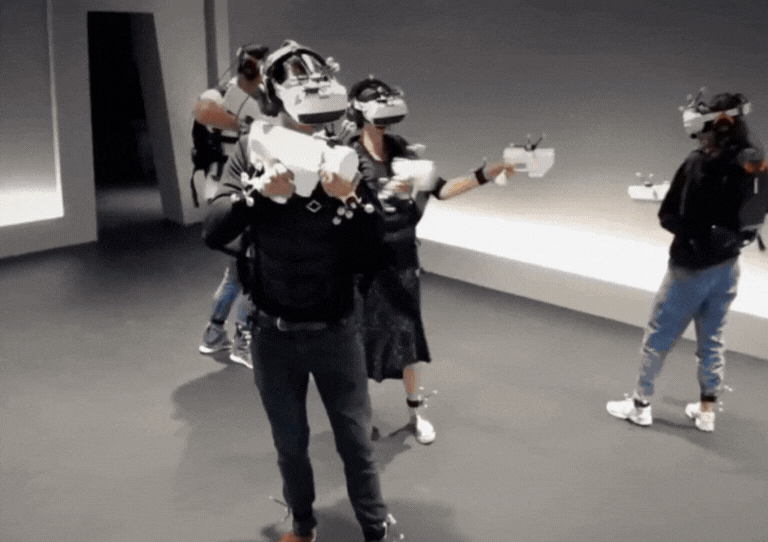 The word immersive gets thrown around a lot. But Sandbox VR genuinely IS fully immersive; it genuinely IS fun; and you genuinely WON'T think about anything – beyond your own survival – throughout the entire ordeal. Well, maybe except for the robot bartender manning their bar for a post-game cocktail…
Numbers? Up to 6 people for each of the games.
–
Bar Kick | Shoreditch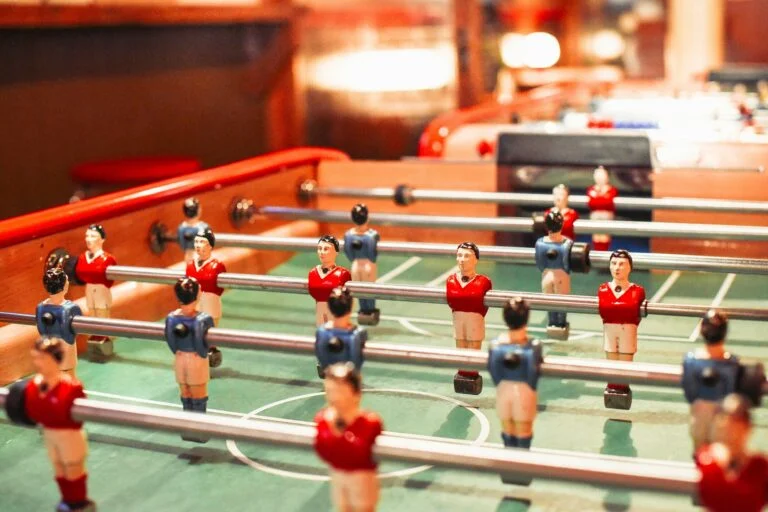 "Shoreditch royalty" would be a relatively adequate summation of Bar Kick. Then again, so would "a bustling, rambunctious football-inspired bar offering a menu of burgers & fries, cocktails, craft beer, wine and – most importantly – foosball tournaments."
Numbers? Groups between 10-35 can reserve areas with 1 or 2 football tables.
NOTE: Café Kick in Exmouth Market is the smaller, more intimate version.
–
Baranis | Temple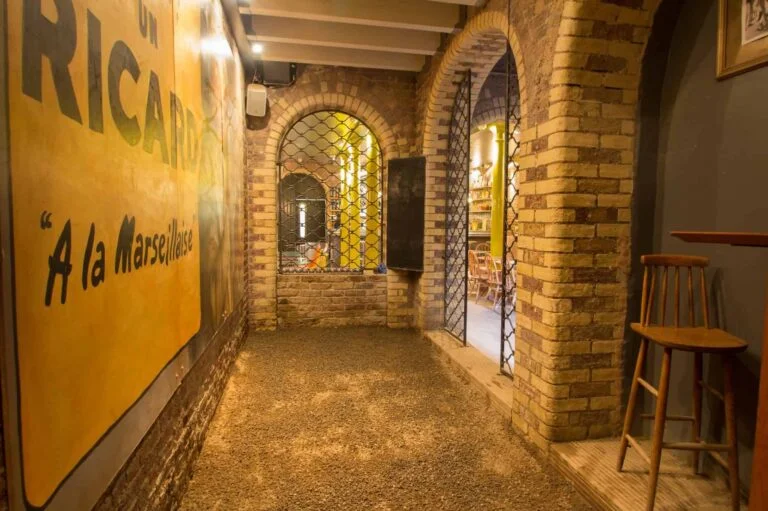 Baranis is a basement cocktail bar with a simple menu of traditional Provençal snacks and a sizeable array of the region's prime anise-flavoured apéritif, pastis. They also have a gravelled indoor pétanque court, where the goal is to throw hollow metal balls as close as possible to a small wooden ball. Simple. Until you've had a sizeable array of the region's prime anise-flavoured apéritif.
Numbers? There's only one lane, so unless you want to play in rounds, it's probably best to cap it at around 8.
–
Bounce | Farringdon, Old Street & Battersea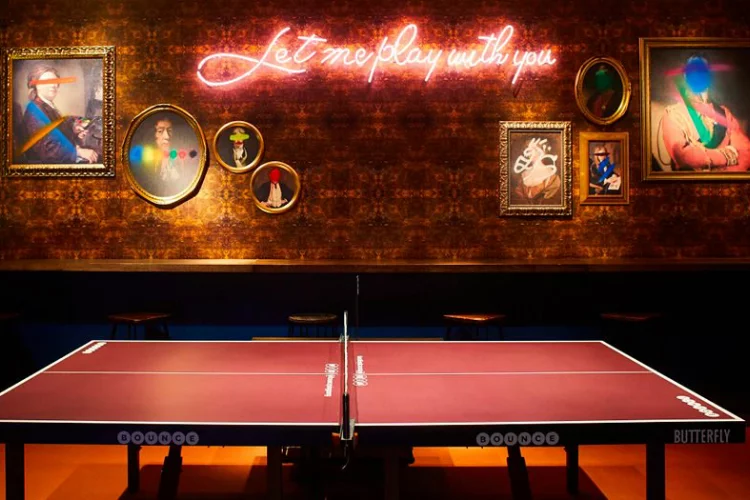 Set across a neon-drenched, Russell Sage-designed basement in Farringdon (with outposts in Shoreditch and Battersea Power Station), Bounce features an impressive 17 ping-pong tables, a 40 foot bar serving Three Sheets cocktails, a DJ booth and a raised restaurant for overlooking the action. In short, if table tennis was fun before the addition of cocktails, music and all of your friends – which it was – then Bounce has done the nearly impossible, and actually made it better.
Numbers? Basically anywhere from 2 people to, apparently, 500. You can book tables, or indeed an entire room of tables.
–
Flight Club | Shoreditch, Islington, Bloomsbury, Victoria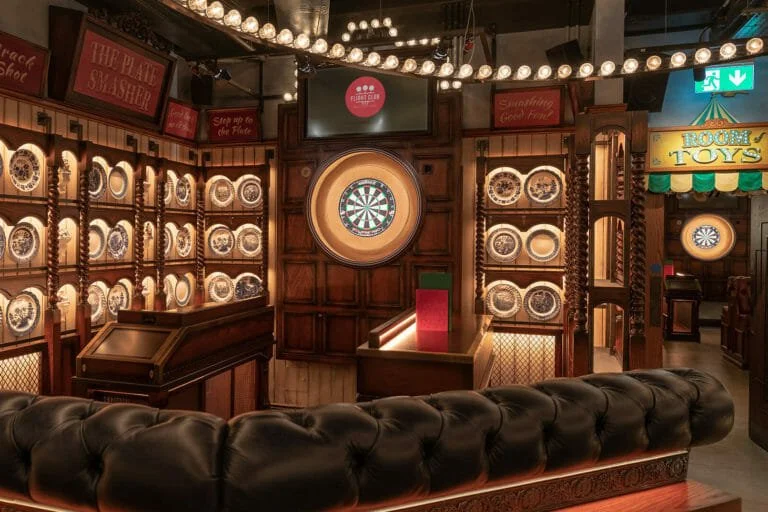 From the competitive minds behind both Bounce and All Star Lanes, London's Flight Club bars boast animated, automatic dartboard scoring; virtual guides; a collection of fast-moving games; pizza boards and canapés; and touch screen interfaces invented by a rocket scientist. Oh, and booze.
Numbers? You can book for up to 400 people, but it's probably best to stick to under 40.
–
Karaoke | Across London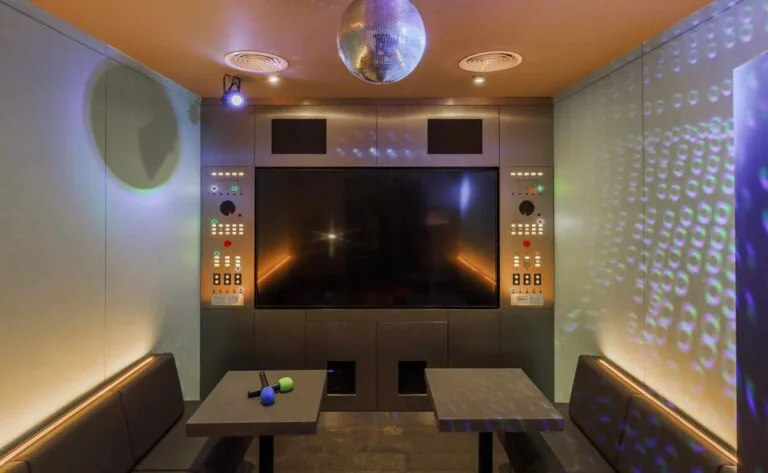 Karaoke is a legitimate sport. It requires skill, determination, perseverance and finally, alcohol. And to bring all that together, you should head to one of these excellent karaoke bars in London, where you can book a private booth, pay per person, and then order all manner of cocktails into said booth…
Numbers? Some of these joints fit up to 30.
–
London Shuffle Club | Shoreditch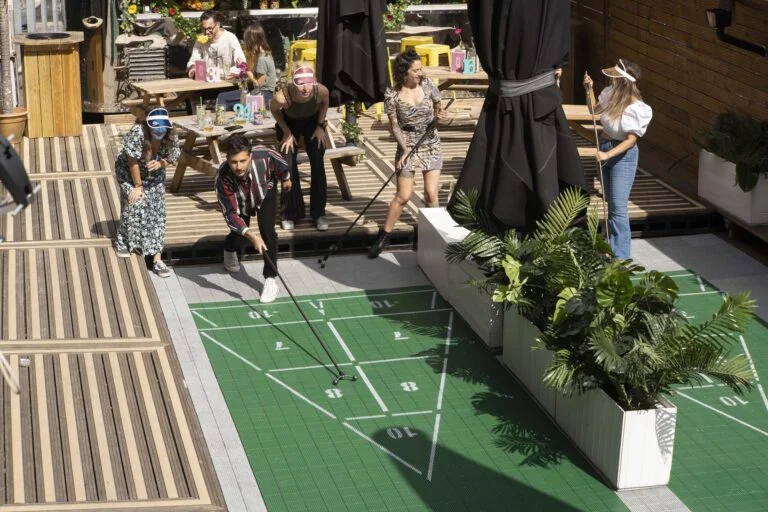 Shuffleboard is an unexpectedly addictive game. The Tudors had to ban it from the general public, because it was stopping them from doing useful things like going to work, and practising their bow and arrow technique. And unlike London Shuffle Club, they didn't even have cocktails from an airstream caravan, freshly baked pizzas or DJs to go with it…
Numbers? 4-8 people per lane, with 6 indoor and 2 outdoor lanes
–
Swingers | The City & West End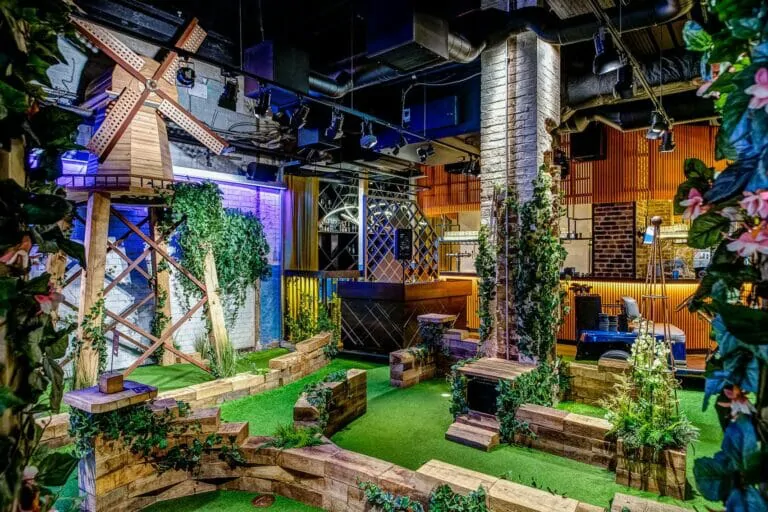 Swingers City and Swingers West End is crazy golf like a Ferrari is a way of getting from A to B. Each of their vast, beautifully decked out activity bars have two or three golf courses, three restaurants, and – in the City – five bars. Yes, five.
Numbers? The place is vast, and they have private rooms that can be hired for groups of 12-500 people.
Also check out: these other places to play crazy golf in London
–
Electric Shuffle | Canary Wharf & London Bridge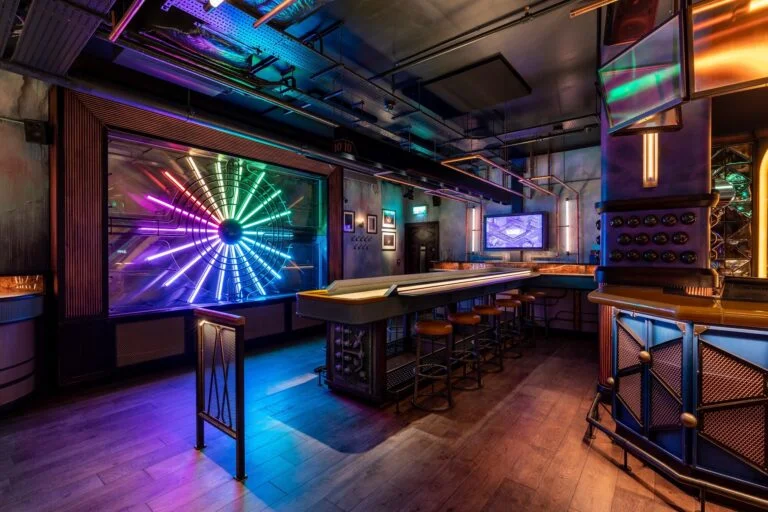 The team at Flight Club clearly know their target audience. They've branched out from darts to apply their unique mix of high-tech wizardry and alcohol to the game of shuffleboard. Get down to Electric Shuffle Canary Wharf or Electric Shuffle London Bridge, and you'll find three teched-up versions of the game to play, and a steampunk-art deco bar to celebrate your victory in afterwards.
Numbers? It's 6 people minimum per table, and numbers can go up to 350 if you hire the whole place.
–
Four Thieves | Battersea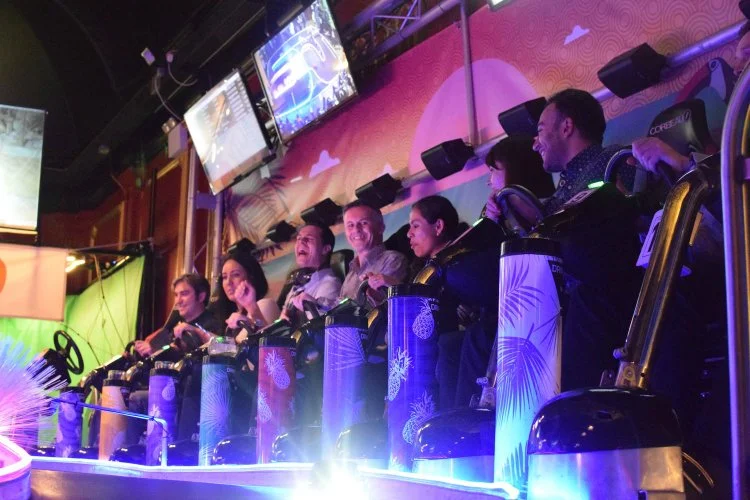 Ostensibly, Four Thieves is a pub. And yes, you can get drinks here, but that's really where the resemblance ends. Because upstairs you'll find a bar area filled with retro arcade games, dance mats, VR experiences, karaoke aaand an epic remote control car-racing game.
Numbers? It gets packed in here, so keep numbers small if you want to keep track of your group.
–
Immersive Gamebox | Shoreditch, Southwark, Wandsworth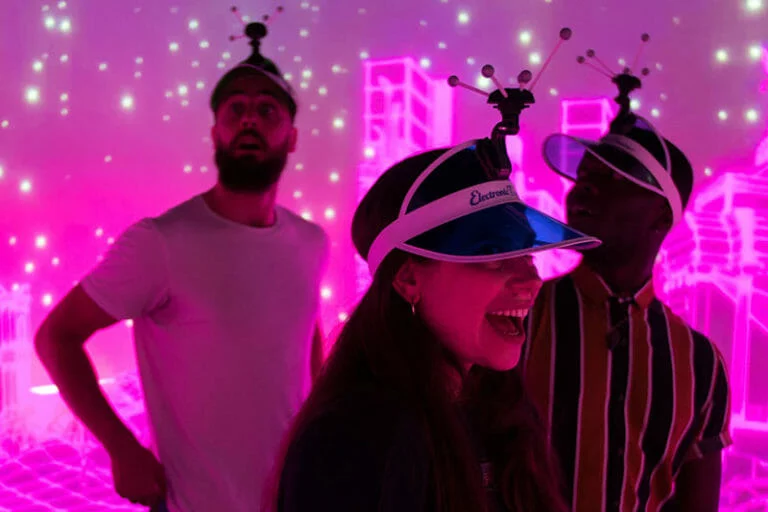 Going to Immersive Gamebox is a bit like stepping inside a retro games console. Where your body is the controller. Battle your friends in classic arcade games, or something more story-led like Squid Game (which we're assured doesn't have the same stakes as the TV show). And if you didn't already feel ridiculous dashing around a small projection-mapped room as if you were Pacman, the motion capture visors should do it.
Numbers? Up to 6 in a room
–
Otherworld | Haggerston & Victoria
Otherworld is a 'metaverse portal' – a.k.a. virtual reality arcade – set in both an old East London railway arch, and by Buckingham Palace. There are 16 different games to choose from, all playable within your own private pod, as well as pizza and cocktails designed by an ex-Milk & Honey mixologist in Haggerston, and a self-pouring cocktail bar in Victoria.
Numbers? You can go solo in your own immersion booth, or hire out the whole arcade for up to 60 people.
–
Four Quarters | Elephant & Castle, Peckham & Hackney Wick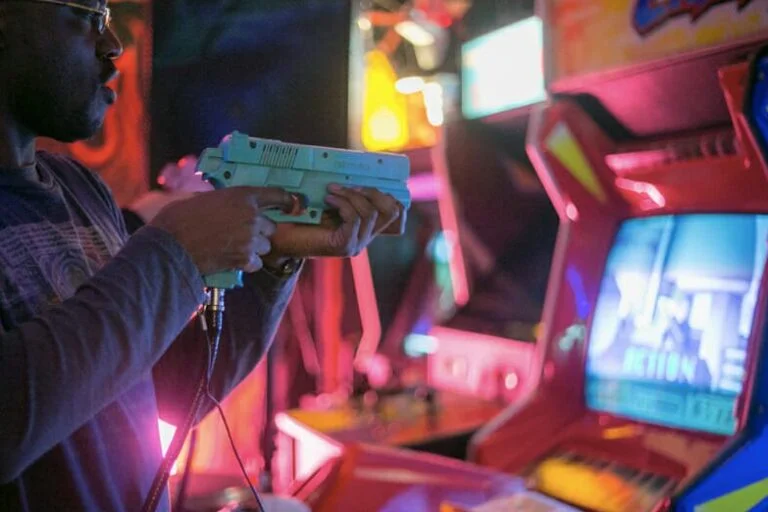 Four Quarters is a retro activity bar specialising in all your classic misspent-youth arcade and video games like Pong, Asteroids, Tron, Pac Man and Streetfighter II, on all original, vintage machines. They've got venues in Peckham, Hackney Wick, and Elephant & Castle, and they're like a kind of '80s time machine.
Numbers? Peckham has a private room upstairs with 10 consoles, or you can just turn up in smaller groups to the main bar.
Also check out: NQ64, which also has dozens of playable machines… except in a UV-lit, graffiti-splashed bunker in Soho.
–
Queens Skate, Dine, Bowl | Queensway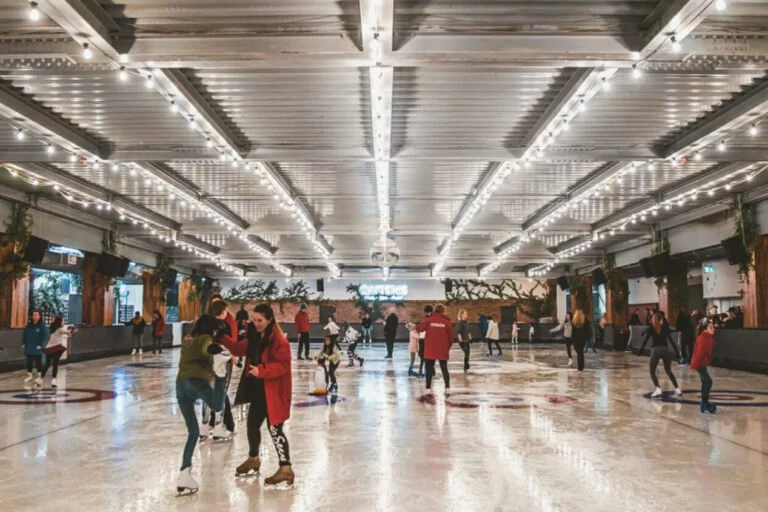 Behold the huge (almost two football pitches-wide) ice rink at Queens: Skate Dine Bowl, home to a retro games arcade, pool tables, bowling lanes, ice skating, ice hockey, curling, karaoke… and a skate-up rinkside bar.
Numbers? Dependent on activity, but there are also private bowling lanes available.
–
Strike | Wandsworth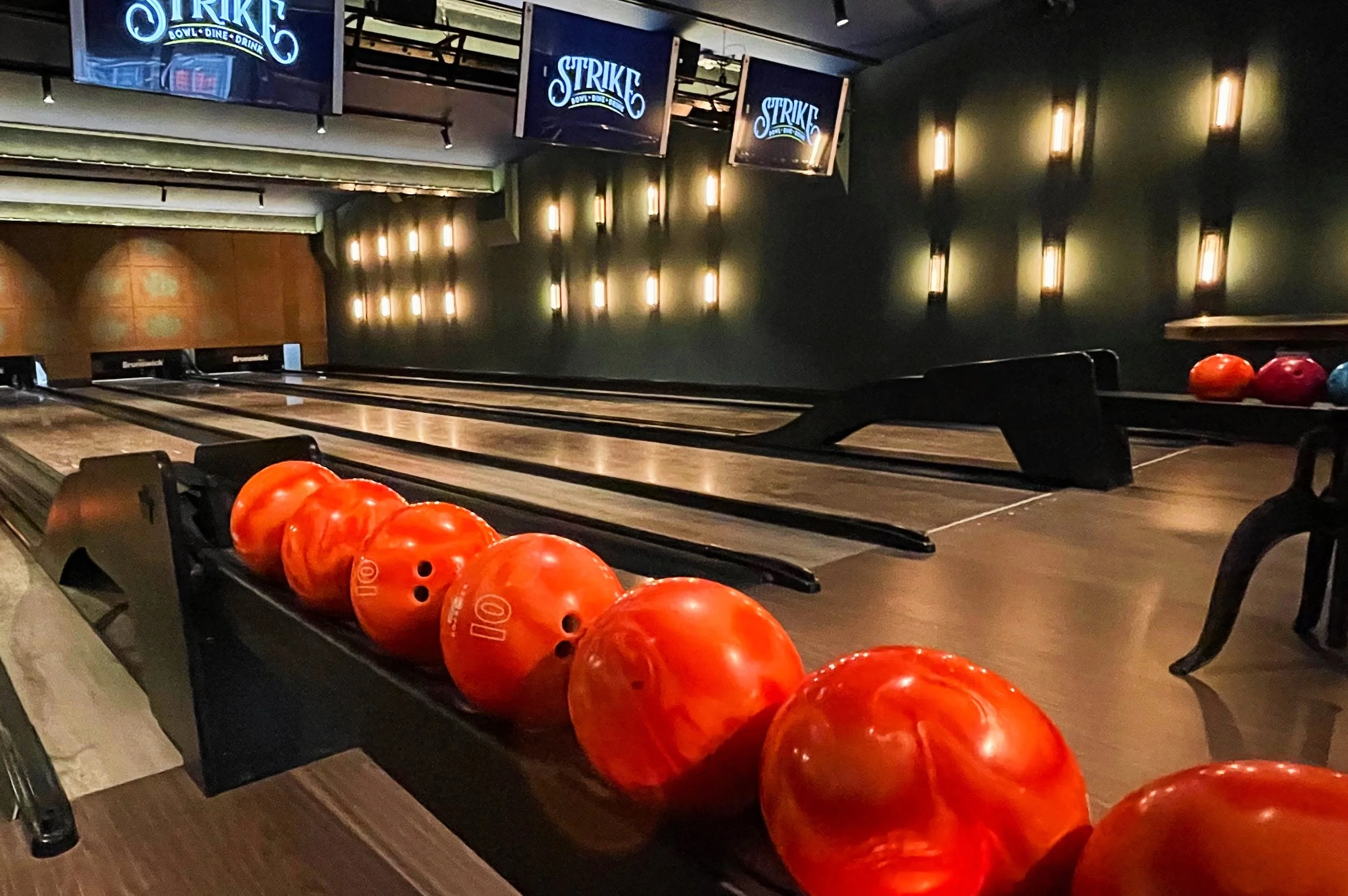 Till now, South-West London's never had a boutique bowling alley. Or a cool darts bar. Or tech-infused shuffleboard. But now it's got all three in one. Housed in the country's oldest brewery, Strike has all these games on offer, plus the city's first duckpin bowling (smaller ball, shorter pins, more ducks). Add to that classic diner food, cocktails and tank-fresh beer… and you won't want to split.
Numbers? Up to 12 for regular bowling, or 18 for duckpin across 3 lanes
–
Urban Golf | Smithfield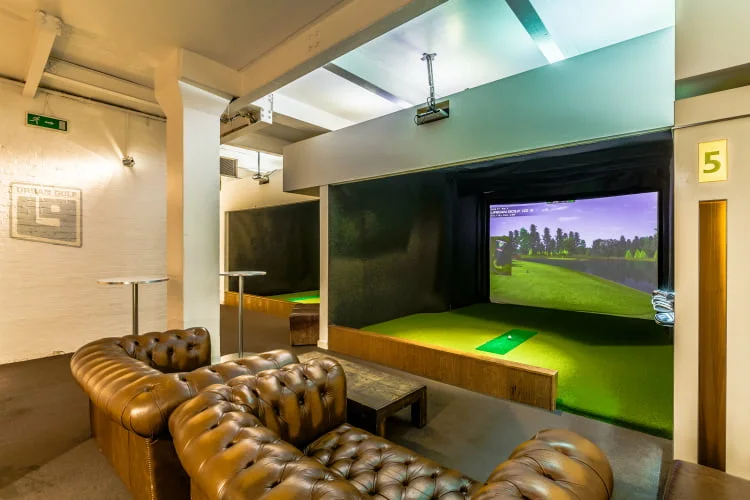 Golf: hitting a tiny ball with a tiny club into a tiny hole hundreds of metres away behind trees, water beds and sandpits. Urban Golf: kind of just like that, except virtual, and indoors, and warm, with 50 of the world's best courses on electronic hand, and a bar food menu, with drinks.
Numbers? Anywhere 'from 8 to 150', they claim. But realistically, 150 people can't play golf simultaneously, so take that for what it's worth.
–
Draughts Board Game Café | Dalston, Waterloo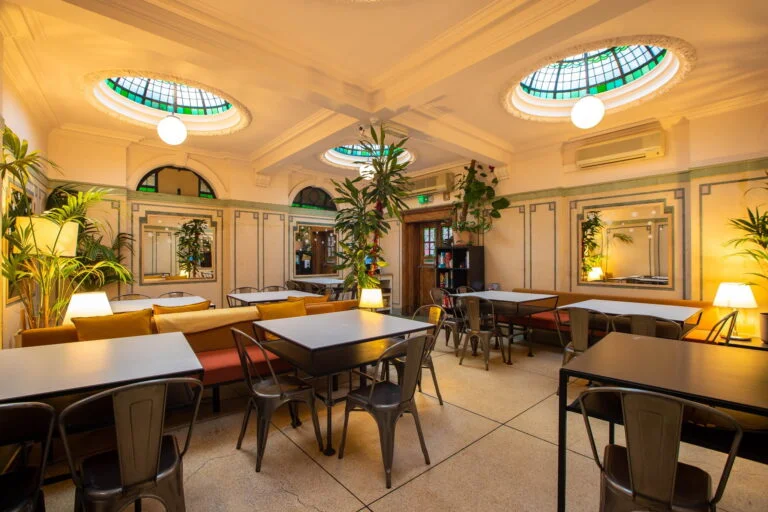 A pair of partially crowd-funded board game cafés, set in an old Dalston pie & mash shop (Draughts Hackney) and the archways beneath Waterloo station (Draughts Waterloo). Each Draughts bar stocks more than 800 games – and a much smaller selection of local craft beers, ales, ciders and wines. Plus, if you get peckish, homemade baked goods, burgers, and shareable snacks.
Numbers? You can book for up to 8 people, which is about as many people as you can squeeze around a decent-sized board-game – but there's also a private room at Draughts Hackney which has room for 10, or you can scale up and hire out the whole place for the world's biggest game of sardines.
–
---
And now for a little bar activity… try your hand at London's best cocktail masterclasses