If you always dreamed of stepping into your favourite childhood video games…
…here's something to console you.
Immersive Gamebox is basically a tech-fuelled gaming experience that sees you and your friends take on classic arcade-style challenges inside a trippy, projection-filled pod. It's a new kind of activity that somehow combines the high-tech bits of immersive bars like Otherworld, with all the camaraderie of something like karaoke. And it's a recipe that works, with branches now open in Southwark, Wandsworth… and America.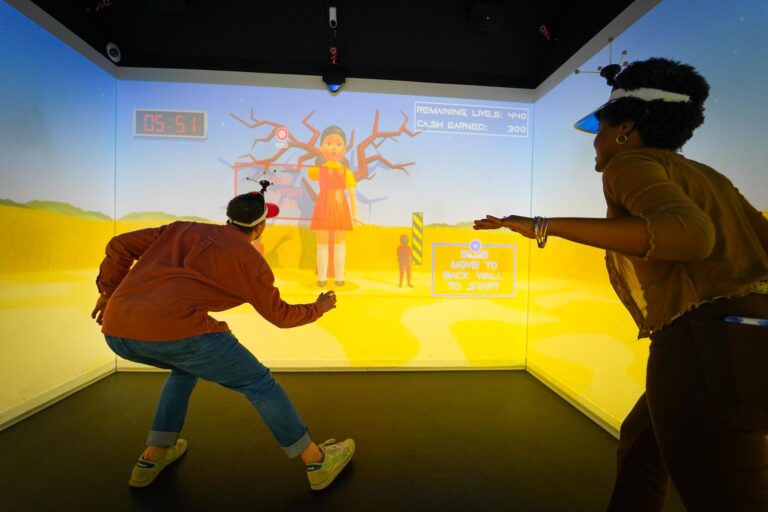 The original Immersive Gamebox is tucked into a railway arch by Southwark station, and houses twelve different digital rooms – or 'Gameboxes' – for teams of up to six to play in. Inside you'll find four walls of projection-mapped touch screens, which respond not just to hand contact but your movements, too. That's all taken care of by the visor you'll be wearing, equipped with ping pong ball-like antennae that make you look a bit like the cooler, more slender, fifth Teletubby.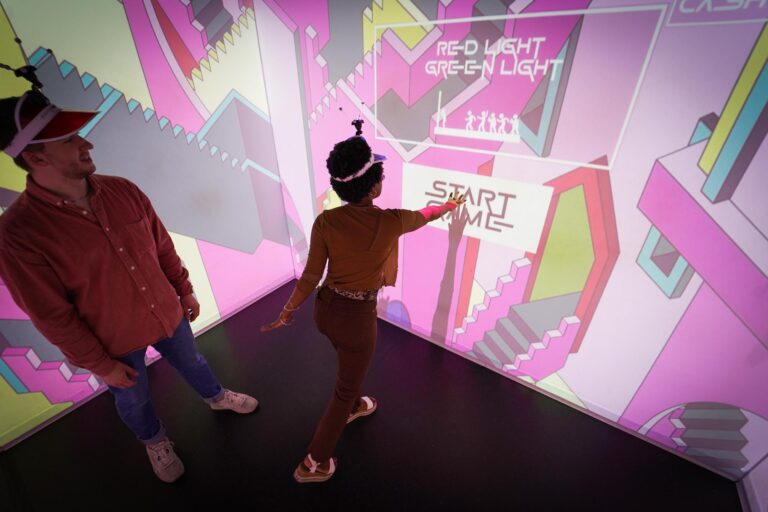 Now, back to  Squid Game. Officially rubber-stamped by Netflix themselves, it's about as faithful a recreation of the games featured in the show as you can get, with a couple of provisos: 1) it's all been adapted to fit their immersive digital game-scape, and 2) no-one gets murdered at the end.
You'll get to experience the full gamut of all six lethal childhood challenges as a contender yourself: stay motionless for Red Light Green Light, carfully carve out shapes for Dalgona; play a virtual tug of war, all of it. And yes, you play the Squid Game itself too. It's absolutely kracken.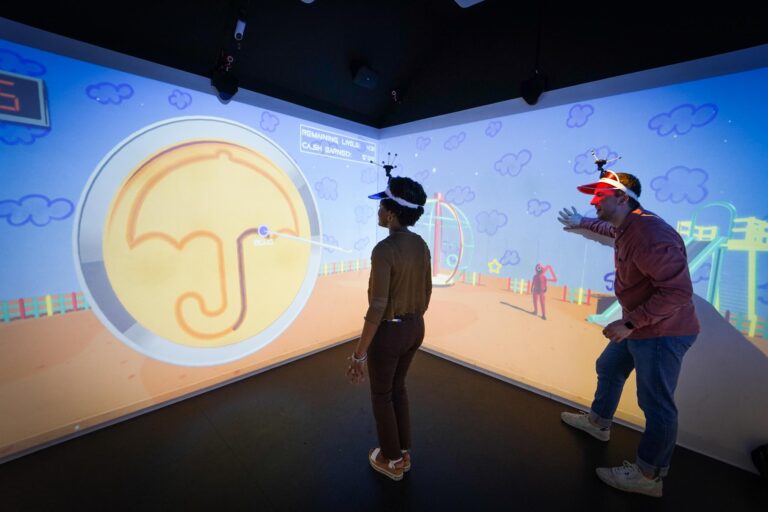 As for the other games? There are 50 levels-worth of Angry Birds; an '80s nostalgia trip called Alien Aptitude test (with all the synth pop & PacMan you can handle); a sheep-shearing challenge from Shaun the Sheep; mining for Elonium on Mars; pitting your wits against a CIA training programme in the Psychedelic Mansion; and a spy themed 'James Bunny' game – almost like a virtual escape room, your job is to infiltrate Francisco Salamander's casino and take him down by defying a raft of increasingly fiendish puzzles, that'll require a lot of teamwork to get past.
It's a very Bond-ing experience.
OTHER NOTE: Immersive Gamebox is open daily, and has another location at Gravity in Wandsworth. You can find out more, and book a slot (from £37pp), right HERE.
Immersive Gamebox | Arch 3, 83 Scoresby Street, SE1 0XN
---
Like fun aggressively competitive experiences? Take a look at London's top activity bars