Struggling to find great opera, in a canopied open-air auditorium, nestled away in one of London's most picturesque parks?
Well, it's not all over until the fat lady sings….
….at Opera Holland Park.
Don't get us wrong, sometimes dressing up fancy to sip Champagne in the comfort of a red velvet armchair, under a dome of starry gold, is exactly what life calls for. However, other times, you're after something a little more…relaxed. 
Exclusively running for three months during the summer (this year between the 31st of May and the 13th of August), Opera Holland Park offers you the chance to not only watch world-class opera alfresco – wrapped in the warmth of a balmy summer's eve – but you can arrive in your pyjamas if you'd like.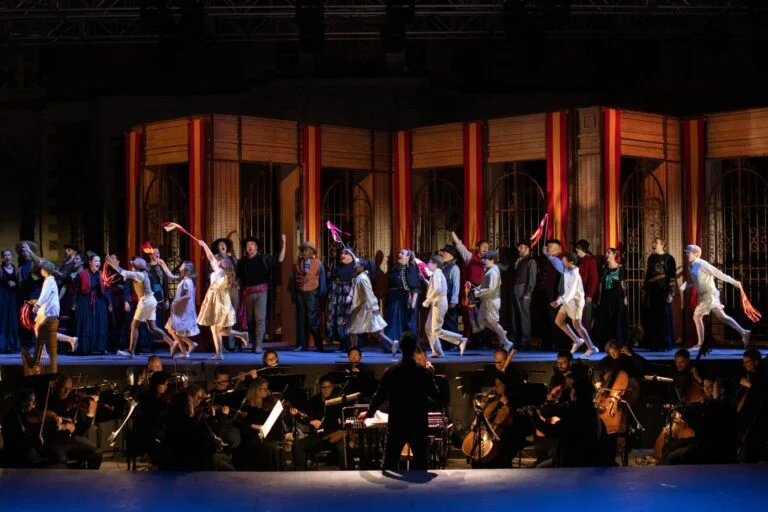 Ali Wright
As for the programming, you'll find everything from well-known classics to the slightly more obscure, performed both by long-standing opera greats, as well as exciting, new emerging stars. 
Still to come this season is:
21st July – 6th August: a back-to-back showing of Frederick Delius's Margot la Rouge and Giacomo Puccini's Le Villi (2 hours of love, revenge and – at least in one of them- tragic death)
25th July – 5th August: the UK premiere of Mark Adamo's affectionate adaptation of Louisa May Alcott's Little Women 
And it's not only opera you'll find there either. Between the 6th and 9th of July The Royal Ballet School will also be putting on a number of performances, including Marius Petipa's Raymonda and Swan Lake. 
Finally, for anyone feeling a little strapped for cash, every Friday they host Songs On The Steps, where some of the best singers for the season come and serenade you for a full forty minutes. For free.
You can keep your money, these guys have got all the notes they need.
NOTE: Opera Holland Park's 2022 season is running 31st May – 13th August. For more information or to book, visit their website here.
Opera Holland Park Theatre, Ilchester Place, London, W8 6LU
---
Looking for somewhere to grab something to eat before or after? Take a look at our guide to the best restaurants in Notting Hill.