The Best Notting Hill Restaurants | Where To Dine in W11
We've eaten the gourmet burgers. We've drunk the bellinis. We've extensively tracked the movements of the yummy mummy brigade. It's been the most gruelling restaurant research of all time (probably).
The results are in, and they may surprise you. Because Notting Hill – long the province of healthy brunches, crisp tablecloths and fine dining – now has quite an impressive array of restaurants under its belt. We're talking counter dining while chefs wrestle with open fires (and win). We're talking upmarket gastropubs, and restaurants hidden in supermarkets. Bloody hell people, we're even talking small plates and natural wines. What is this, East London?
No, mon ami, this is Notting Hill, and here are the best restaurants in the neighbourhood:
–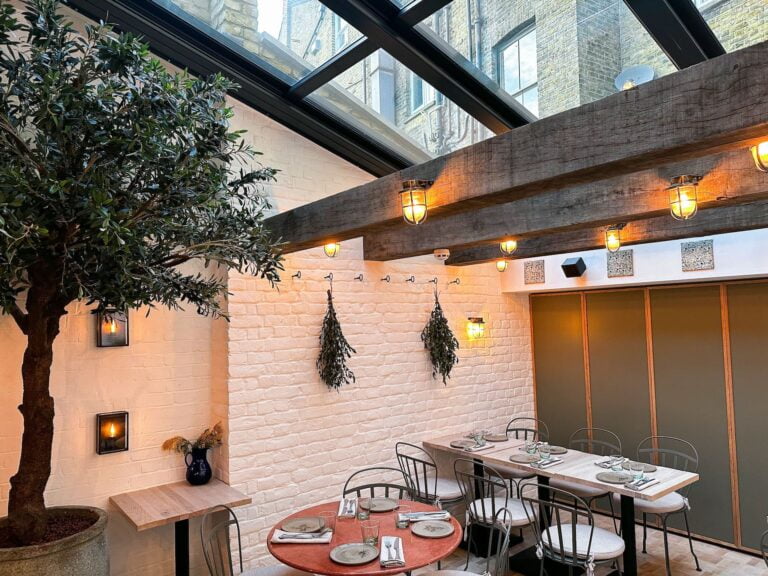 There is already a Palestinian restaurant in Notting Hill, Maramia, so Akub can't claim first in the neighbourhood; instead it will just have to settle for being an incredibly good restaurant in Notting Hill. Ah well. It comes from Bethlehem-born chef Fadi Kattan and from his menu you can share (maybe share) beautifully-presented modern Palestinian dishes like shish barak (spiced squash dumplings) with beetroot tahini and slow-cooked beef with garlic yoghurt and pomegranates – all washed down with Middle-Eastern cocktails – in a placid, earthy-toned dining room that's fitted with an actual olive tree.
Details: 27 Uxbridge Street, W8 7TQ  | Book here
–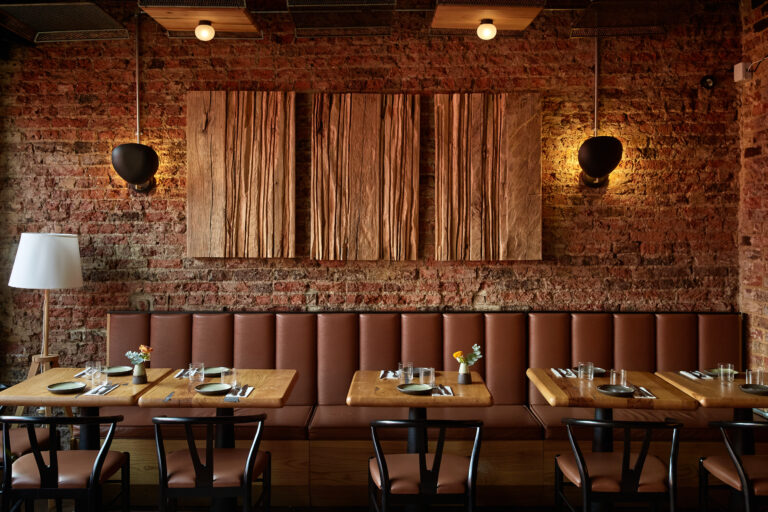 There may be elegant wishbone chairs and buttery soft leather banquettes, but it's fairly obvious where you really want to sit at The Counter. Chef-owner Kemal Demirasal (also a former national windsurfing champion back in Turkey) and his team of grillers put on a ocakbaşı show in the open kitchen of this intimate restaurant on Notting Hill's Golborne Road. Sip quirky savoury cocktails as they smoke up a storm and hand over the likes of beef skewers, lamb chops and sweetbreads, as well as an unmissable starter/dessert hybrid in the form of white chocolate baba ganoush… all made with the best Anatolian ingredients.
Details: 108 Golborne Road, Notting Hill, W10 5PS | Book a table
–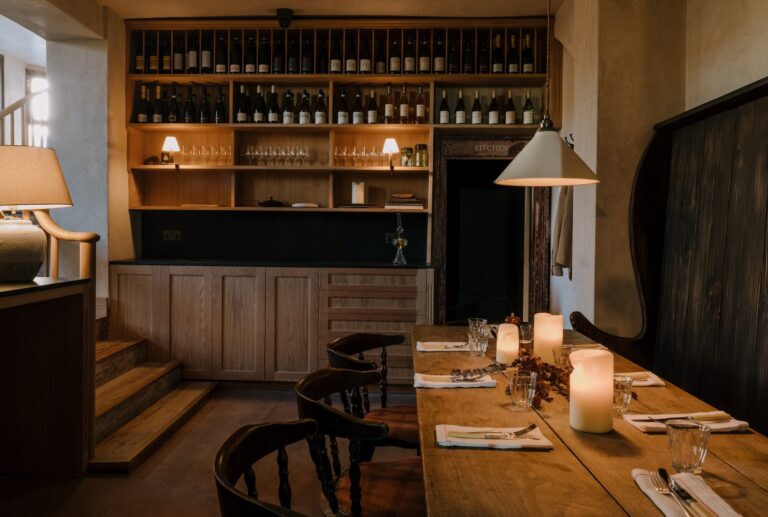 The Pelican is a beautifully revamped neighbourhood pub just off Portobello Road that just so happens to have chef Owen Kenworthy at the helm, who was head chef at the critically acclaimed Brawn for five years. He's brought his nose-to-tail philosophy with him for this new venture, where his inventive dishes like spider crab on toast; monkfish pie with lobster head gravy; and scorched leeks with crispy shallots won a Michelin Bib Gourmand within a year of opening.
Details: 45 All Saints Road, London, W11 1HE | Book a table
–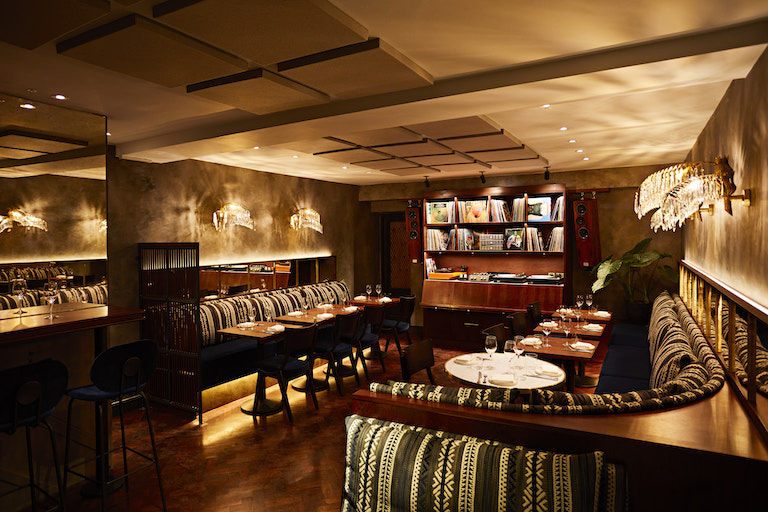 Coming to you from two guys whose combined experience includes stints at Kiln and The Fat Duck, Caia is a three-in-one: a fancy wine bar, an intimate vinyl den, and best of all, a heavenly open fire restaurant, set on Notting Hill's Golborne Road. It's another of those restaurants fuelling Notting Hill's renaissance, with a wine list distinctly geared towards the edgy, and small plates that take your tastebuds into unchartered territory. Designed to share, the menu includes the likes of sweet potato agnolotti tossed in 'chicken wing butter'; liquorice panna cotta and apple pie soft serve.
Details: 46 Golborne Road, Notting Hill, West London, W10 5PR | Book a table
–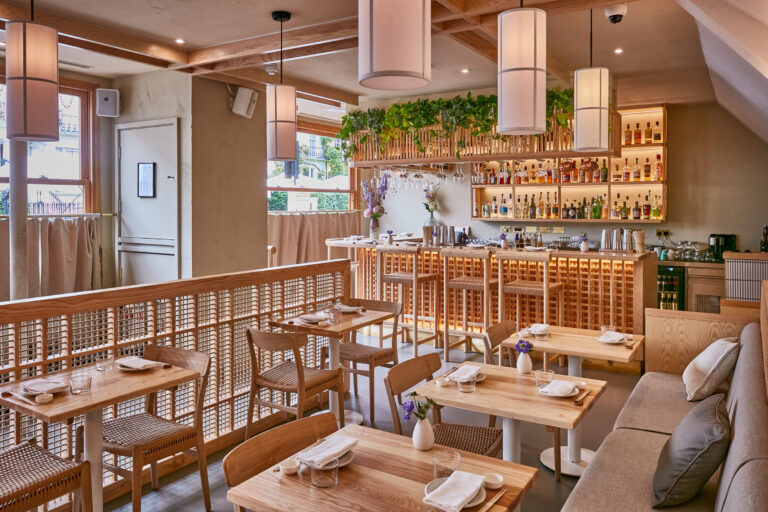 SUMI is the second venture from sushi master Endo Kazutoshi – the sister to Endo at Rotunda, his Michelin-starred knockout in Shepherd's Bush. This time however he's gone for something a little more neighbourhood friendly, somewhere that you can imagine taking a relaxed first date – or a 91st – and both leaving thoroughly impressed. It's got a sort of effortless elegance to it – everything from the Nordic-Japanese design, to their signature, Japanese-leaning cocktails. And of course the food. Stand out dishes include bright, colourful bowls of iced sashimi, their hand-rolled temaki and their salmon teriyaki. It's not cheap, but then true quality rarely is. And it's worth it… even if you do eat beans for the rest of the week.
Details: 157 Westbourne Grove, Notting Hill, W11 2RS | Book a table
–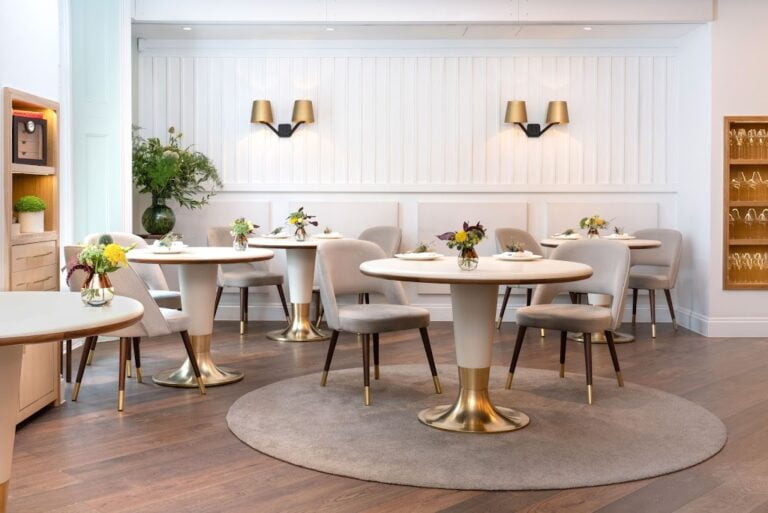 Sleek, sophisticated, and set around a huge kitchen separated only by a glass wall, Core by Clare Smyth is the first solo restaurant from the superb chef who maintained Restaurant Gordon Ramsay's three Michelin stars for four years (the first female chef in the UK to do so), and was recently named Best Female Chef in the World. So to say the food here is good is an understatement. Her trio of tasting menus has won Core universal critical acclaim – and a casual debut two stars in the Michelin guide, followed by a third not long after, joining her old gaff in that elite tier of triple Michelin star restaurants in London.
Details: 92 Kensington Park Road, W11 2PN | Book a table
–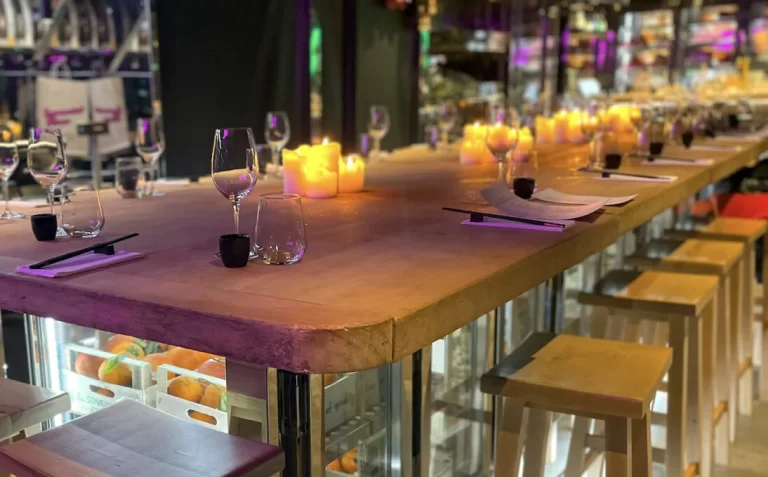 The Supermarket of Dreams lives up to its name… if the supermarket you think about when sleeping involves high-end sushi and expertly crafted Japanese food. It may be a humble grocer by day (okay, humble is stretching it… they sell St. John doughnuts), but at night the neon ramps up, the long communal table comes out, and it shifts into a sleek, exclusive izakaya. It's helmed by chefs with experience at two of London's best sushi restaurants – Jaime Finol (at Sumi) and Juan Cardona (at Endo at the Rotunda) – who carefully plate up monkfish tempura and tuna sashimi topped with caviar alongside a killer list of wines and sake curated by Nathan Ho (of Dorian) and the brilliantly named Ale Villa (Core by Clare Smyth).
Details: 126 Holland Park Ave, W11 4UE | Book a table
–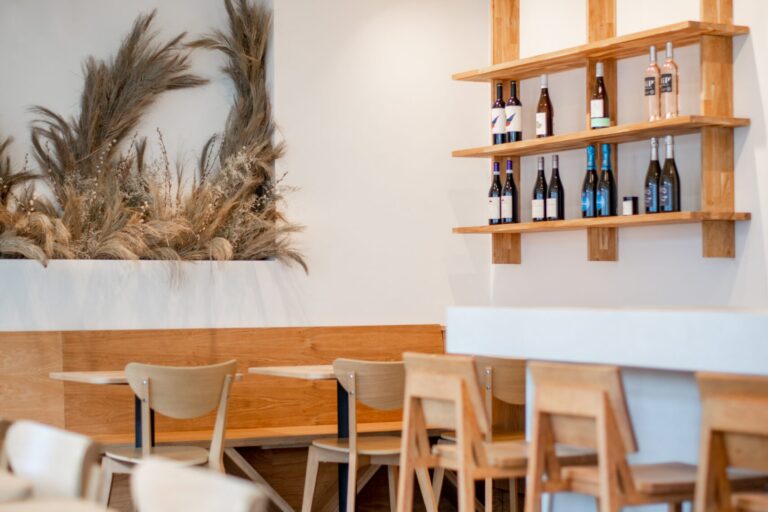 Dinky Notting Hill cafe Kuro Coffee leaves a strong impression on all its regulars – including Andrianos Poulis (a former chef at Hackney's Michelin-starred Cornerstone). When asked, he gladly accepted the head chef role at Kuro's restaurant across the road, a minimalist, neutral space called Kuro Eatery. Here, he's put together a pretty special menu interlacing Mediterranean and Japanese ​​techniques, like tagliatelle with egg yolk and crispy pork granules; and giant pork chop smothered in chilli pork fat and aged soy sauce.
Details: 5 Hillgate St, London W8 7SP | Book here
–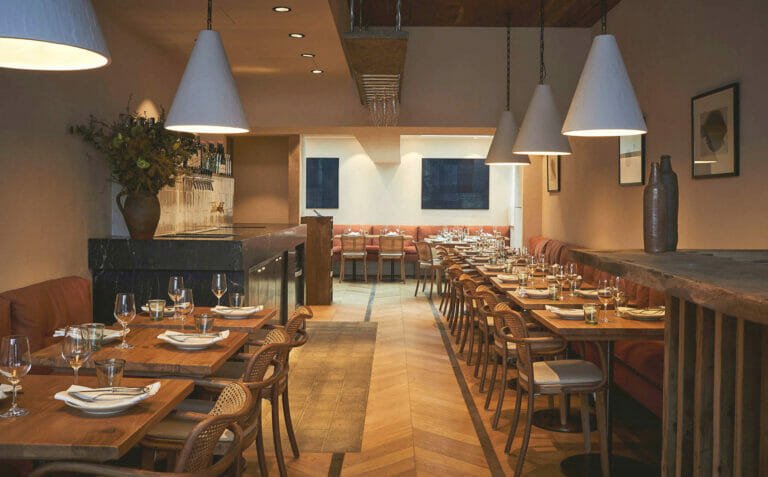 Brought to you by chef heavyweight Jackson Boxer (Brunswick House, St Leonards), seafood restaurant Orasay is his ode to the Outer Hebrides, where he spent family holidays as a child. That means well-sourced and exquisitely prepared dishes like grilled white-legged prawns with miso butter & kumquat; aged chalk-stream trout with green apple and smoked yoghurt; and an oyster happy hour every day at 5pm. For drinks, expect twists on classics like the blood orange and chilli Negroni, or explore the mostly European list designed to compliment the food – including bottles from Jacksons' own personal collection. Just ask for the black book…
Details: 31 Kensington Park Road, W11 2EU | Book a table
–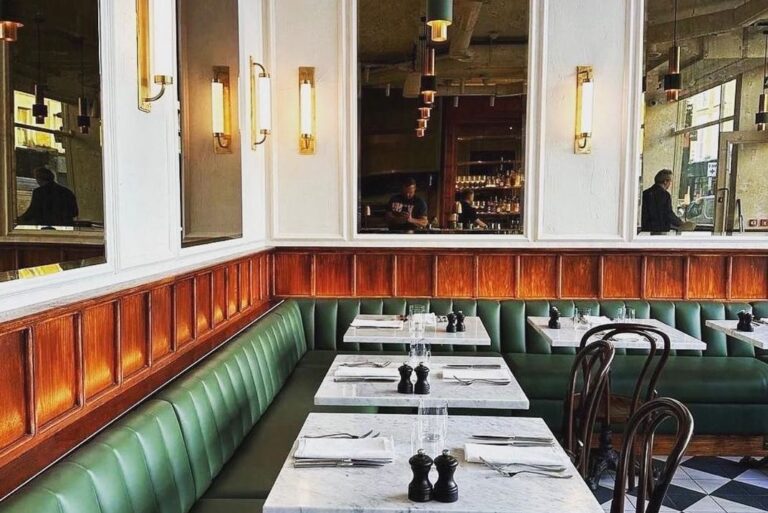 Designed to feel like a laid-back bistro and overflowing with atmosphere, Dorian is a neighbourhood-style restaurant in Notting Hill that even non-locals should flock to get to. A stellar team (whose collective CV includes big hitters like Core by Clare Smyth and Ikoyi) puts together a produce-led seasonal menu of meaty game and fresh seafood, bolstered by pitch-perfect starters and veg on the side. And the drinks list isn't just an afterthought – wine comes from Noble Rot suppliers, while the botanical cocktails provide the perfect aperitif.
Details: 105-107 Talbot Road, W11 2AT | Book a table
–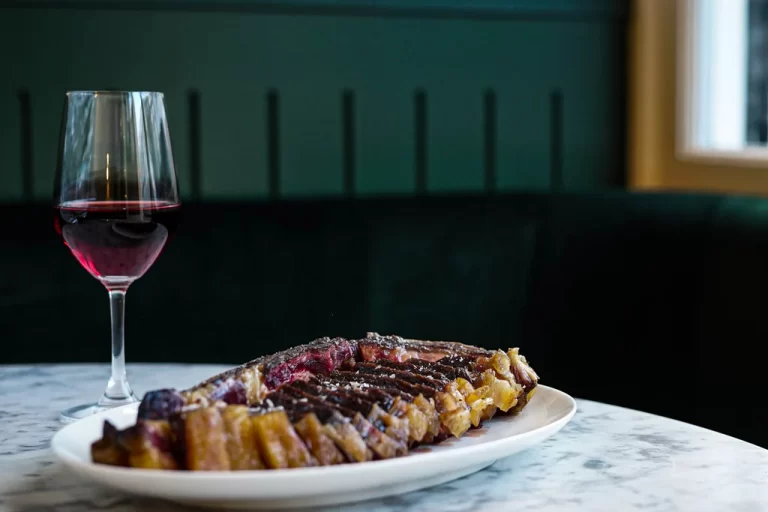 Straker's is a laid-back Anglo-Italian restaurant brought to you by the guy that gets over a million views on his TikTok cooking videos, Thomas Straker. And he hasn't just blown up on social media from luck, he's worked at his fair share of renowned restaurants, like Elystan Street and Dinner by Heston. Head on down to Golborne Road and get into some top-notch, hearty food: menu big-hitters include scallops and burnt chilli butter with puffy flatbread, and ex-dairy sirloin steak served on the bone.
Details: 91 Golborne Rd, London W10 5NL | Book a table
–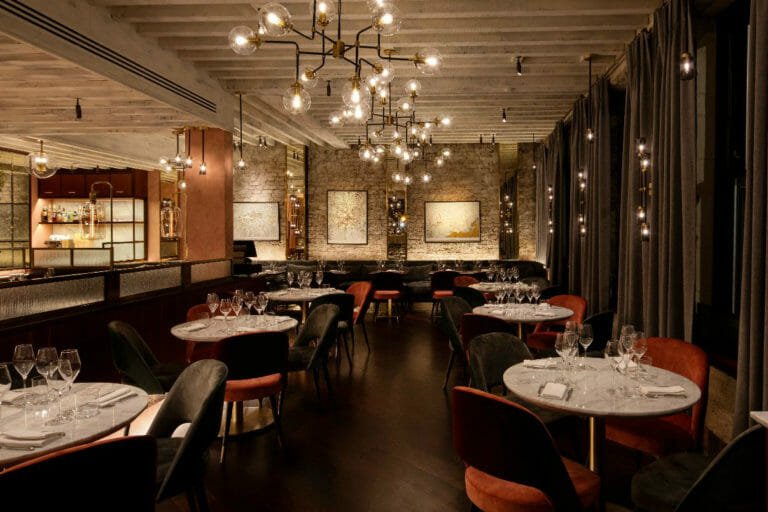 Caractère is run by Emily Roux and her husband Diego Ferrari — Roux of course being the daughter of Michel Roux Jr., the two-star Michelin chef still heading up Le Gavroche; and the grand-daughter of Albert Roux OBE, also of Le Gavroche, before his son took over. No pressure then. Together they've crafted a Franco-Italian menu that draws from each of their families' heritage, featuring dishes like celeriac cacio e pepe; wild turbot with black garlic & liquorice; and slow-cooked cuttlefish with potato gnoccho — all served in the comfort of their chic yet friendly spot on the glitziest stretch of restaurants in Notting Hill, Westbourne Park Road.
Details: 209 Westbourne Park Road, Notting Hill, W11 1EA | Book a table
–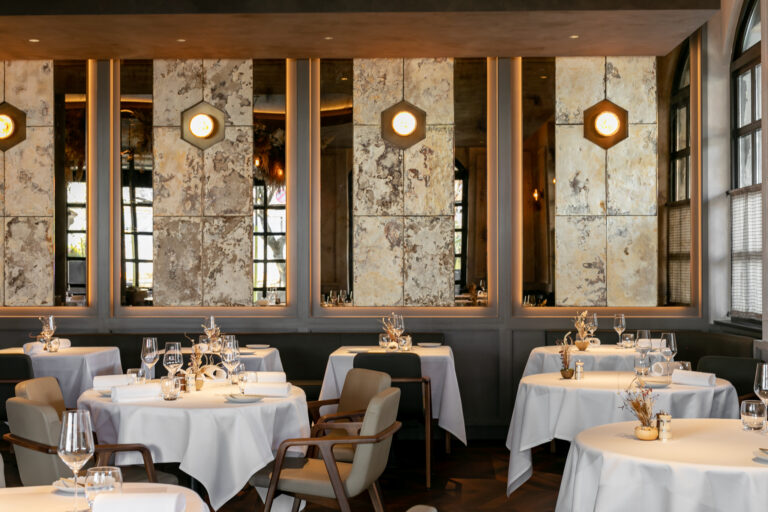 It's a hard act to follow, opening another restaurant after running a two Michelin-starred operation for 15 years. So when the pandemic shuttered The Ledbury, Brett Graham bided his time, finally opening his follow-up in 2022: The Ledbury. Yes, one of the most esteemed restaurants in Notting Hill has made its return, and it's firing on all cylinders, resuming its position on the Michelin Star list just months after re-opening. It's also now tasting-menu only, which removes the pesky issue of decision-making and instead allows you to sit back and surrender to a feast built around using whole animals, ethically and sustainably reared on Graham's own pastures in the Lake District.
Details: 127 Ledbury Road, Notting Hill, W11 2AQ | Book a table
–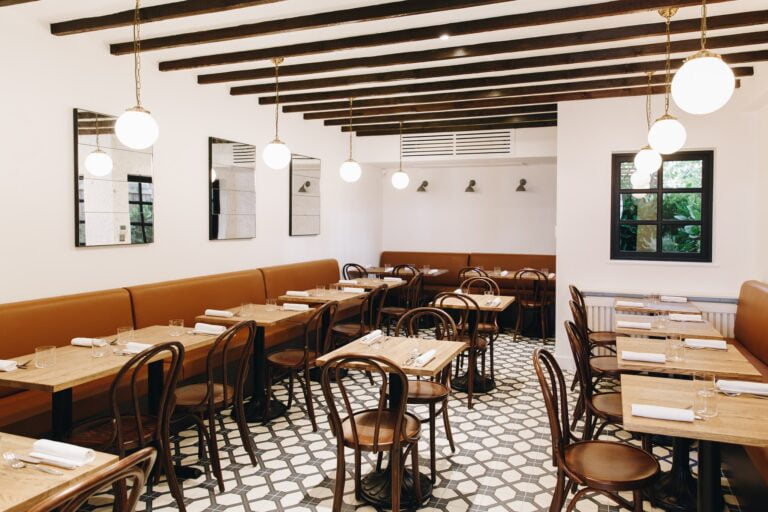 From the team behind other Notting Hill gem Mazi, Suzi Tros is an airy eatery focussing on Northern Greek cuisine. You'll find all your favourite holiday dishes here, but refined and elevated a couple of notches almost to the point of fine dining (though in thoroughly relaxed surrounds). There's Greek salad given extra crunch with Cretan rusks; gyro "tacos" with BBQ pork belly; braised octopus with kalamata olive cream; and Greek coffee profiteroles to finish, which it would be criminal to miss.
Details: 18 Hillgate St, London W8 7SR | Book a table
–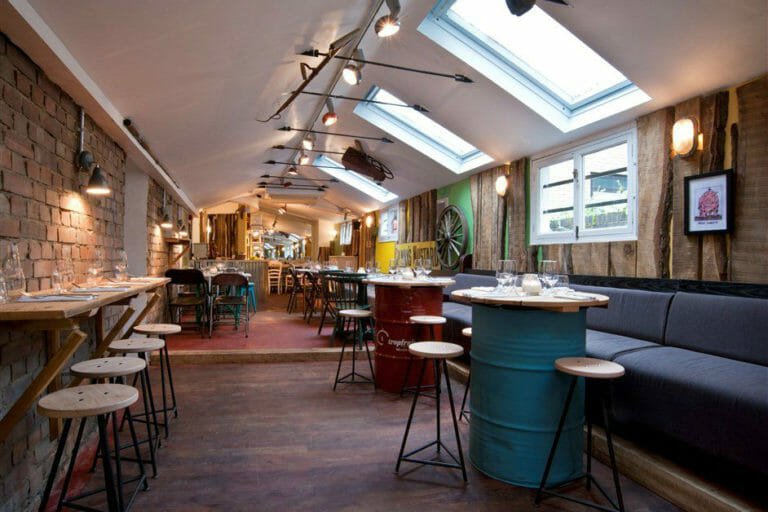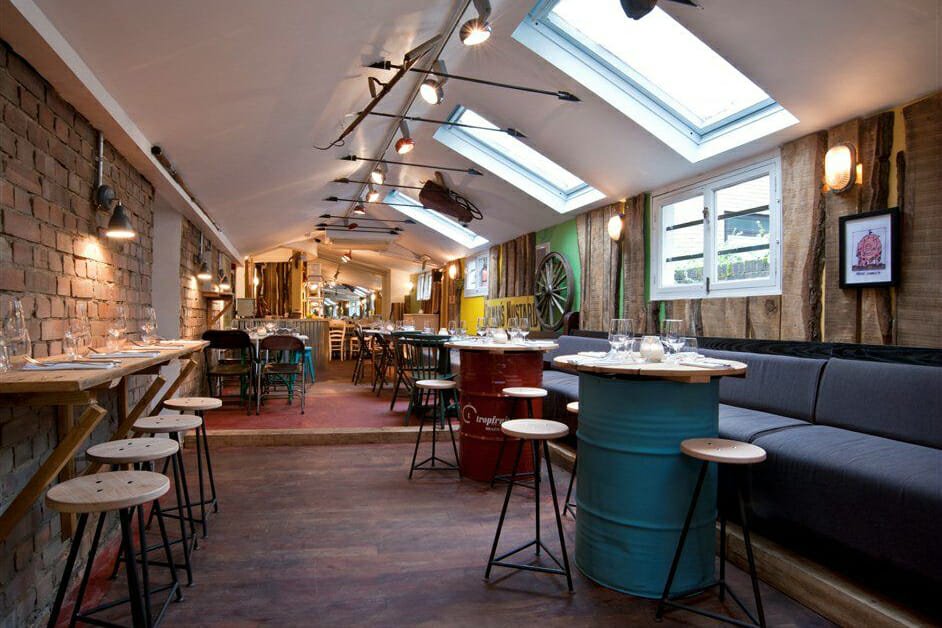 The roots of The Shed lie firmly in rural Nutbourne, Sussex… which means they've grown an impressive 45 miles in length. The idyllic farm and vineyard where the Gladwin brothers grew up now supplies the kitchen of their first restaurant with a bumper crop of the English countryside's finest ingredients.
As farmer, chef and restaurant-man respectively, they've formed the perfect family food cycle: turning already delicious things into more delicious things like lamb chops with lemon, parsley and harissa. And they're remembering those roots with a heavy dose of farm decor – you'll be dining among reclaimed tractor parts, oil drum tables and portraits of cows.
Details: 122 Palace Gardens Terrace, W8 4RT | Book a table
–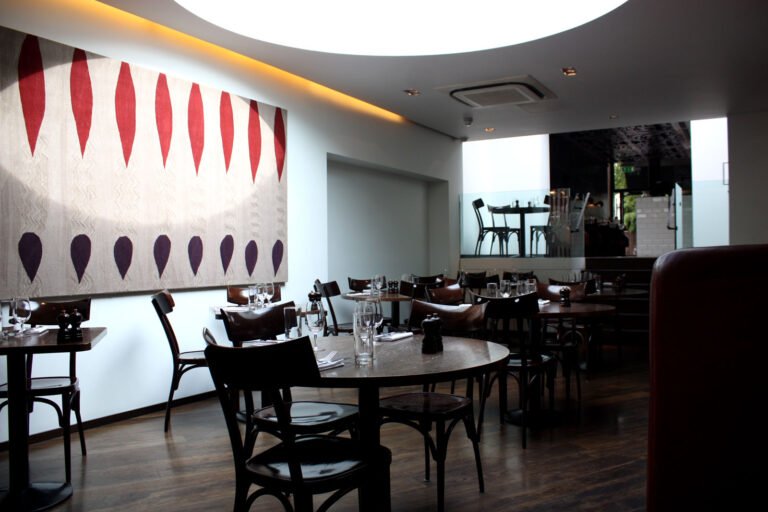 Want to upgrade your Sunday roast? Head to Hereford Road, where ex-St. John Bread and Wine chef Tom Pemberton reprises the nose-to-tail cuisine of his alma mater with a more wallet-friendly price-tag. The £20 set lunch changes regularly with the seasons, featuring numbers like duck livers with spinach & tarragon (or, for the less offal-inclined, hake with cucumber & kohlrabi). And on weekends? Expect that meaty expertise to be applied to some of the finest roast chicken, beef & pork in town.
Details: 3 Hereford Road, London W2 4AB | Book a table
–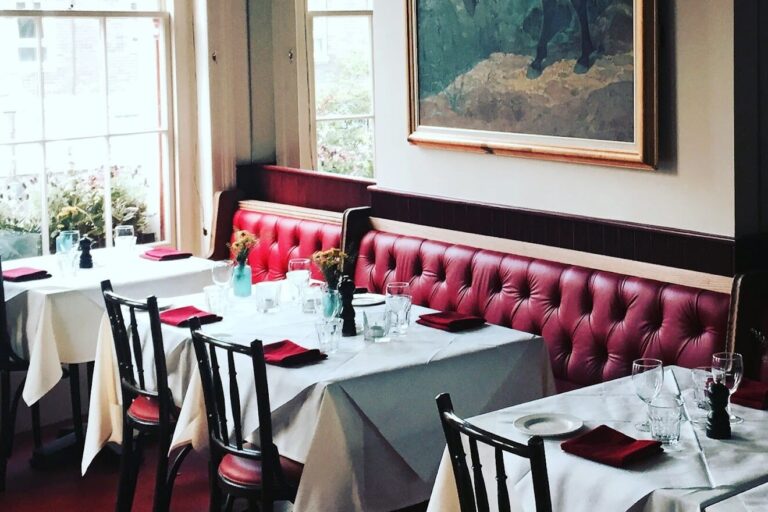 The Cow: a Notting Hill institution, beloved by celebrities but more importantly, people with tastebuds. Downstairs is a traditional pub that's barely changed in the almost 30 years it's been open (except for the addition of a mad Paul Slater mural). Upstairs is a crisp table-clothed dining room serving up exceptional, old-school British gastro fare, from Sunday roasts to platters of shellfish, best enjoyed with a cold pint of Guinness.
Details: 89 Westbourne Park Road, London W2 5QH | Book a table
–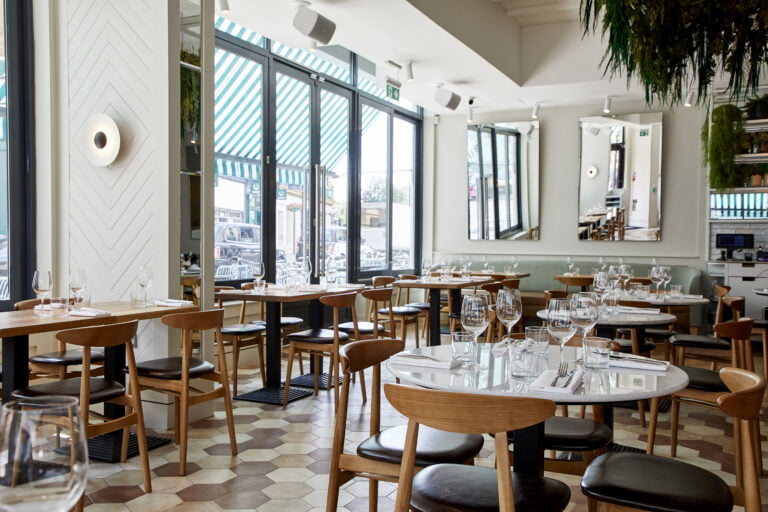 No offence to Saturday, but Sunday In Brooklyn (in Notting Hill) is the winner. The star dish at this brunch spot is the malted pancakes, covered in their signature hazelnut maple praline sauce. And to back them up, you can score some smoked salmon on brioche, a classic shakshuka, a zingy beetroot salad, and much more besides…
Details: 98 Westbourne Grove, W2 5RU | Book a table
And if the night still has potential after dinner…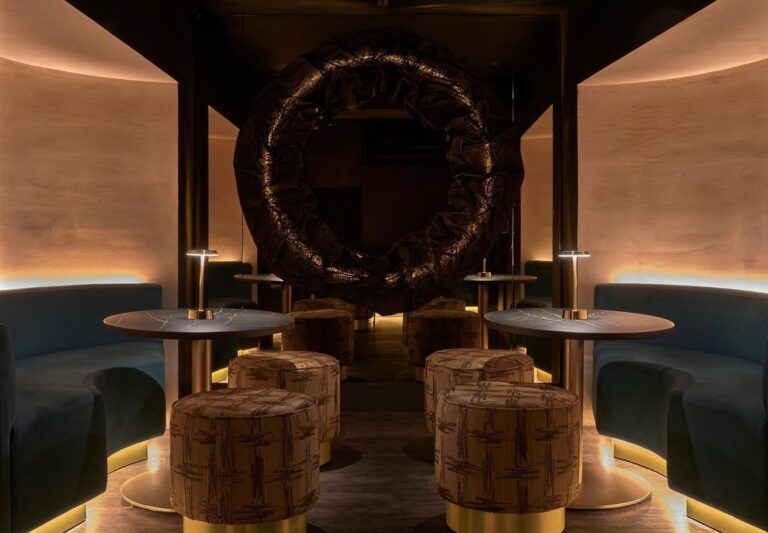 Well, you've just got to bite the bullet and head on over to one Notting Hill's best bars then, haven't you?
---
Check out all our local recommendations in your Notting Hill neighbourhood guide