Saying that the Kiln Rooms is the one of the best pottery studios in London is a bit of a bold claim.
But they've urned it.
After all, it's run by multi-award-winning director Stuart Carey, and all of the staff have trained under artist/potter and former chair of the Craft Potters Association, Richard Phethean. They've poured that talent into three spaces set across Peckham with classes catering to all levels of pot-heads, from total beginner to professional.
Now unless you're already a Swayze-level clay carver, you'll be interested in the Kiln Rooms space in Peckham Levels; it's where they hold their all their classes, and where you can dive into a taster session to see if it takes your fancy. They take the form of a Sunday afternoon (around four and a half hours) of crafting in which you'll be introduced to the clay, the art of throwing, ceramics, glazes, and more. You'll walk away having made 3/4 different pieces to take home (once they've been fired).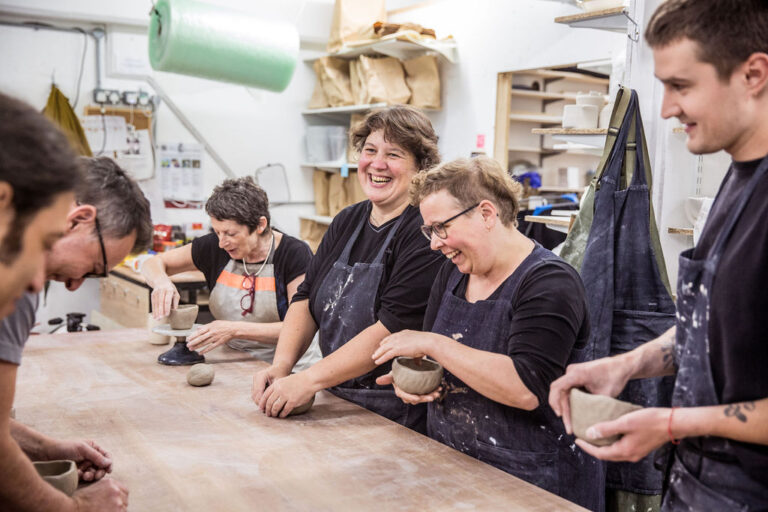 If you want to push past that, Kiln Rooms also offers a 5 week beginners course and a 12 week intermediate course covering all of the basic techniques, during which you can essentially learn how to make whatever you want, no matter how big or small. And if you want to push the envelope further still, then there are the specialist throwing courses, glazing masterclasses, and the option of drop-in access to the studio whenever you fancy.
And it turns out quite a few people actually *do* make it to that stage, because the name Kiln Rooms is pluralised for a reason. They also have a membership studio space in the Bellenden Road Arches, and a professional ceramics studio in Copeland Park.
Basically, they're kiln it.
NOTE: Kiln Rooms is open throughout the week. You can find out more, and book a class or course at their website right HERE.
Kiln Rooms | Peckham Levels, SE15 4ST | Railway Arch 198, Bellenden Road, SE15 4QJ | Unit 9C, Copeland Park, SE15 3SN
---
Like getting creative? Take a look at our guide on how to become a creative genius in 34 workshops