Leadenhall Market has the ring of a pretty grey place…
So you might be surprised to learn it's actually incredibly beautiful – a network of vaulted Victorian pathways, filled with a treasury of bars, restaurants and shops.
You'll find it in what was once the centre of Roman London… and what is now nearish Bank, in The City. As a market, it's existed since 1321, with a long history of selling meat (in fact, if you look close enough, you can still spy the hooks once used for stringing up cuts dotted amongst the shop fronts). Since then however Leadenhall's undergone a whole load of changes, most significantly after The Great Fire of London, when necessary repairs turned it from an open air market to being covered for the first time.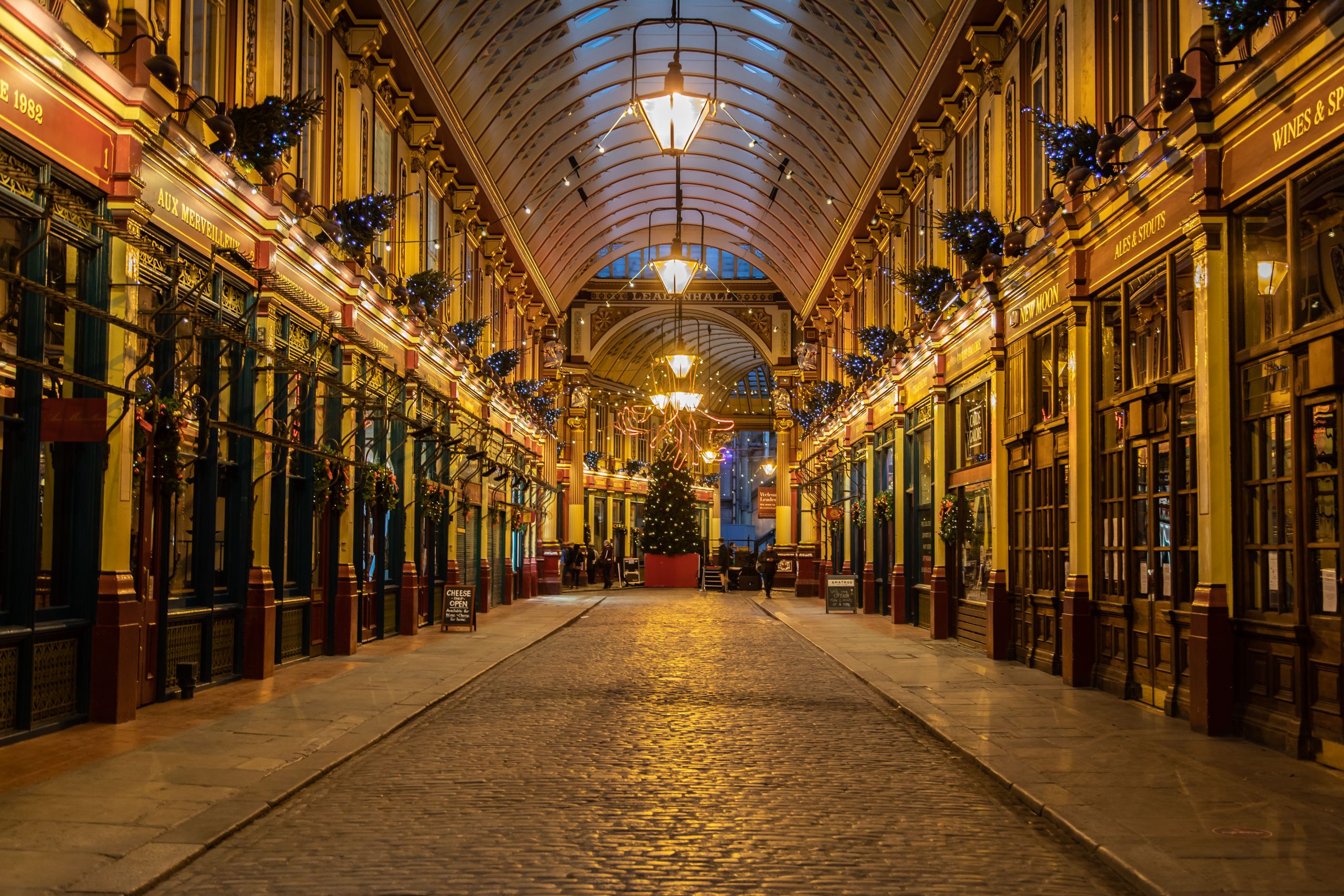 It now sports a rather grandiose interior designed by Horace Jones, who also designed Tower Bridge and Smithfield Market. The combination of deep greens and scarlet shop fronts with gold leaf lettering, hanging street lanterns, and an ornately painted iron and glass roof has earned it many a Hollywood role, including in Harry Potter and the Philosopher's Stone (the bit where Hagrid and Harry walk through Diagon Alley into the Leaky Cauldron Pub).
Unlike London's food markets, you won't find stalls popping up in Leadenhall Market – instead, it's an arcade filled with dozens of small shops, restaurants, cafés and bars. Highlights include cigar shop Kandies and wax jacket wizards Barbour; Cheese, the… cheese shop (and restaurant); Brokers Wine Bar; Osteria del Mercato for Italian; French patisserie at Aux Merveilleux De Fred; and The Lamb Tavern, a triple-storeyed, 240-year old pub…
…making it a historic baa.
NOTE: Leadenhall Market is best experienced in the week, with a lot of places closed on the weekend. For a full list of what to find there or for exact opening times, visit their website here.
Leadenhall Market | Gracechurch Street, EC3V 1LT
---
Feeling peckish? Check out the best restaurants in the City