NOTE: The Bletchley has now closed. But if you like immersive cocktail experiences, try on Avora or Moonshine Saloon for size.
---
Much like the code linked to its namesake, The Bletchley is a bit of an enigma.
So allow us to unravel it for you:
1. It's run by the people who brought you the Breaking Bad-inspired cocktail bar ABQ and dystopian escape mission-slash-bar, The Grid;
2. Who are also the people that ran The Bunyadi, a.k.a the naked restaurant;
3. The Bletchley includes all the fun and intrigue of ABQ and The Grid, with precisely none of the nudity of The Bunyadi.
Also, the bartender already knows what you'd like to drink.
They're confident in this assertion because they're taking inspiration from the code-breaking operations that took place at Bletchley Park during WWII to create a bespoke cocktail that caters to your unique taste.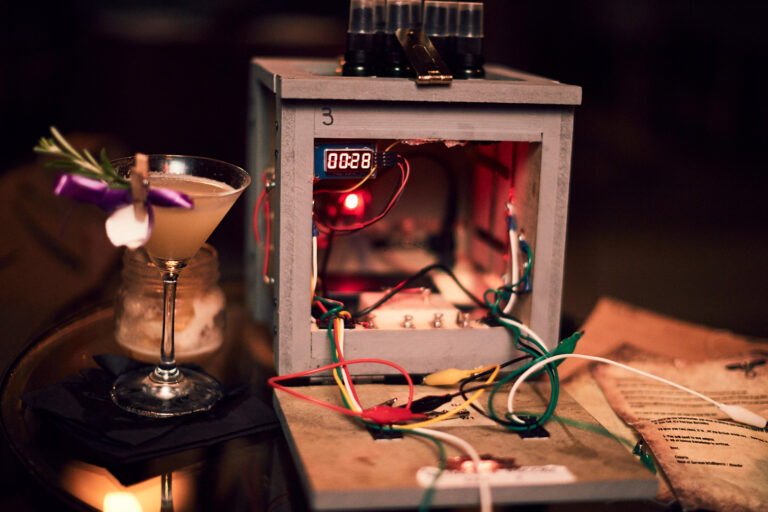 You'll make your way to a three-storeyed former gin palace in Chelsea that disguises an underground war room, where, naturally, you'll be given a military jacket to blend in. Here you'll start by inputting simple personality data into a cipher machine, that will translate your characteristics into different flavours and textures. Once you've decoded your personal scent and colour preferences, you'll transmit your unique code via radio to the back office, where The Bletchley's set of expert mixologists use these clues to concoct what could very well be your perfect drink. And just in case it's not, there'll be another two for you to try, just in case…
…the recipes for which, naturally, you'll receive in a top secret envelope.
Let's hope they're not written in invisible ink.
NOTE: The Bletchley has now closed.
The Bletchley | 459 King's Road, SW10 0LR
---
Like theatrical drinks? Check out the best cocktail bars in London