We know you like to keep a running list of London's biggest panoramic beer gardens in your head. We all do.
Well today, it's going to be upended.
Because Ally Pally has brought back its spectacularly large Terrace. And with 1,500 sqm of socially distanced tables, it might actually be the biggest beer garden in London full stop. And no, it doesn't have a lah-di-dah pub attached to it, but it does have a literal palace, so if anything that's a step up. And it's not like there's any less beer.
Perched right at the top of a classically steep North London hill, it has an absolute belter of a view stretching right out across the city in front of you, and some strikingly grand Victorian architecture behind you. There's a lovely little pergola, and the tables  can be equipped with umbrellas, just in case of British weather. And although all that space allows for up to 400 people at a time, thankfully there's app-assisted table service (with a built-in wait time estimate) meaning there's no risk of a traumatisingly long bar queue.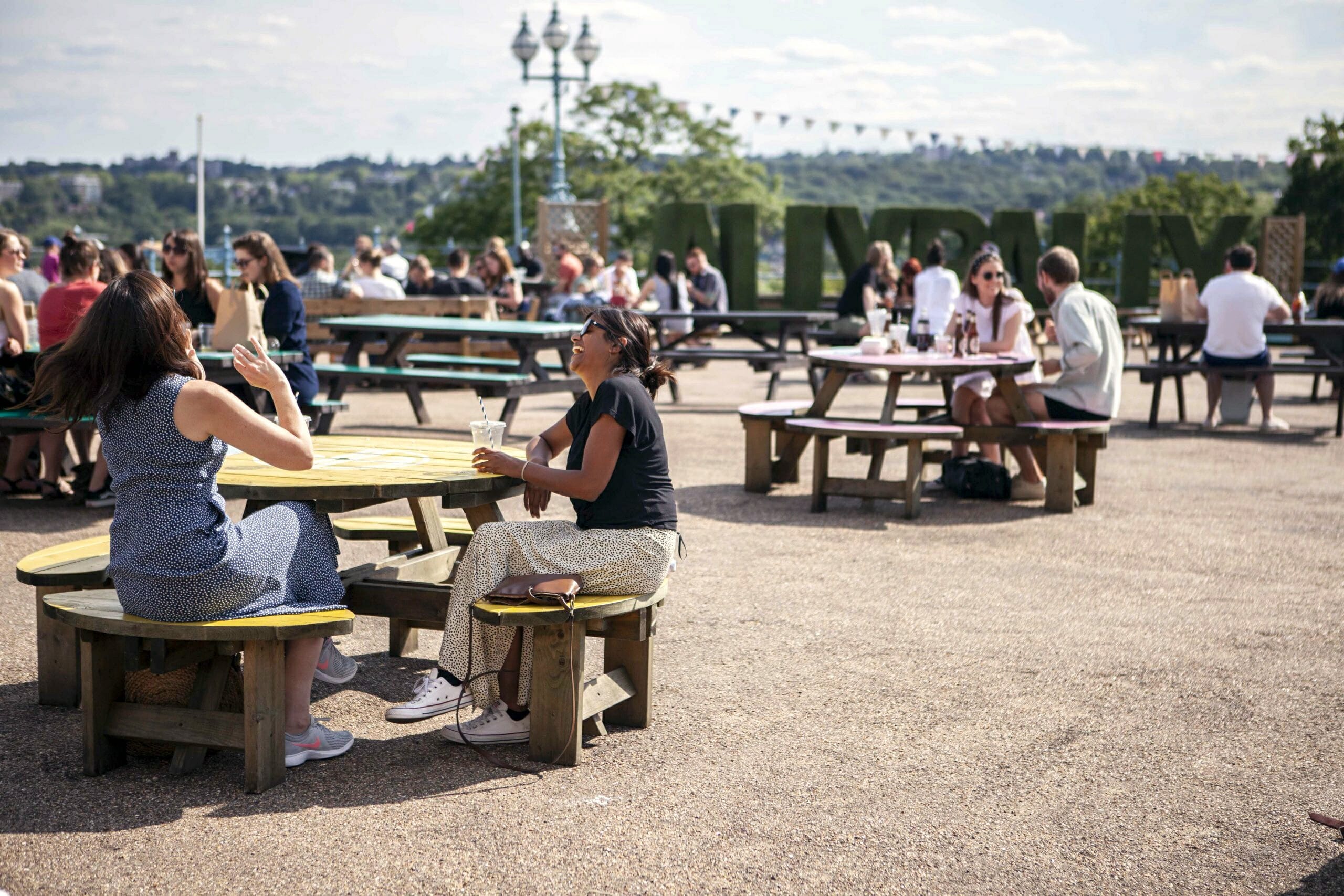 Speaking of which, there is of course a large & well-stocked bar, with everything from cocktails to crafts, plus street food from a regularly rotating lineup of top-shelf operators: think Bukowski Burgers for aged chuck steak & rib cap blend burgers, crispy chicken sandwiches, and fries topped with cheese & smoked bacon. And if you'd like that same satisfaction without the animal, then there's Last Night a Vegan Saved My Life, for Southern-fried seitan burgers and the like.
And if eating & drinking aren't enough, then you'll be happy to know that there's a program of al fresco comedy, live music, sports screenings (helloooo Euro 2021), and festivals lined up for the warmer months.
They like to take the long view, it seems.
NOTE: The Terrace at Alexandra Palace is open now. They're currently taking bookings up until June 20th. You can find out more, and reserve your table at the website right HERE. 
Alexandra Palace | Alexandra Palace Way, N22 7AY
---
Looking for outdoor dining ideas? Behold our list of (really good) places to eat outside in London