Prepare to enter the Underbelly of Earl's Court.
Turn's out, it's actually quite nice.
For the past few months it's been graced by the presence of a large, upside-down purple cow, in which a dazzling array of shows were performed as part of the Underbelly Festival.
Alas, the cows have now literally come home (to the Edinburgh Fringe). But the udder-shaped hole left behind has been swiftly filled, thanks to the urban beach that's popped up in its place.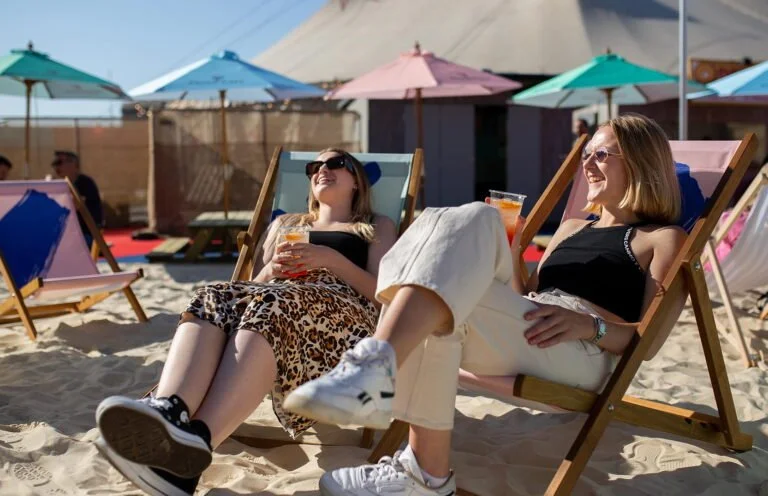 Head down to Underbelly on any day this August and you'll be able to recline on deckchairs with actual, legit sand between your toes. There's also a free boules pitch for a little light competition, as well as a bountiful street food market and plenty of pop-up bars to keep you refreshed.
They're not skimping on the entertainment, either: for the rest of the month Underbelly will also be home to a free outdoor cinema. Each day they'll be showing two films – amping up to three on weekends – spanning cult classics like Withnail & I, Breakfast at Tiffany's and Reservoir Dogs to more recent releases, like Little Women and Ghostbusters: Afterlife. And there's no need to book a ticket – you can just rock up on the day…
…and grab the bull by the horns.
NOTE: Underbelly is at Earl's Court until 3rd September 2022. You can find out more, and take a look at the film programme, right HERE.
Underbelly Festival | Empress Place, Earls Court, SW6 1TT
---
Want to know what else is on in London? Check out your monthly Agenda.