Eataly is finally here.
In case there was any doubt, it's a punny portmanteau between the words 'eat' and 'Italy'. If this was an English affair, it would be called the Chewnited Kingdom. Or Great Bitten. Whatever, we can probably all agree it wouldn't have the same ring to it, either figuratively or literally.
If you're not familiar with the Eataly brand, then let us give you the long and short of it: it's big. Massive. Jaw-dropping. It's like a food theme park, a comparison made all the more apt by the fact that Eataly literally has a food theme park with rides and everything in Bologna. That's just one of their 42 global locations, across 16 countries. And now, finally, it's in London.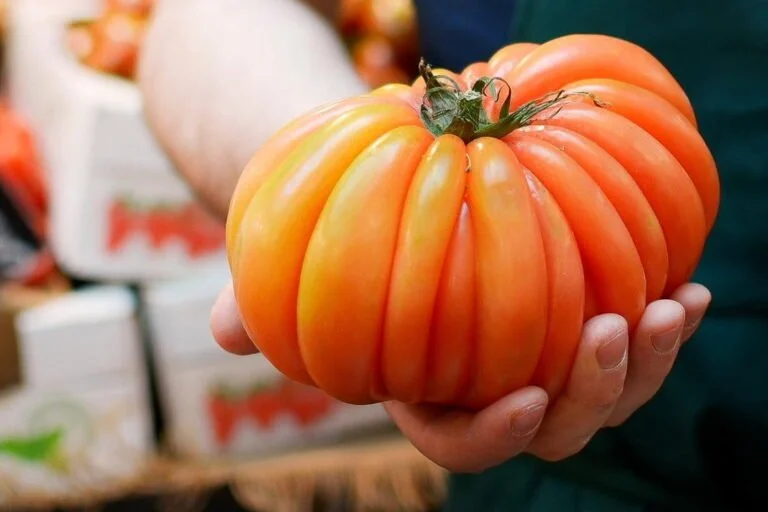 Specifically you'll find it in Liverpool Street, a stone's throw from the station. It's housed in a gigantic space that's like a kind of Aladdin's Cave of gastronomic wonders, it seems to go on and on, and just when you think it surely must be finished, it throws a warehouse-sized amount of wine at you.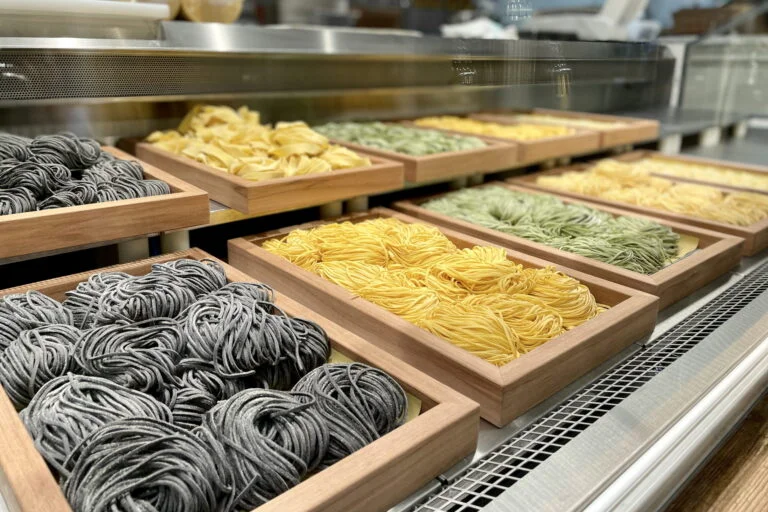 So let's say you're in town, and you're looking for a quick coffee. And a cannoli. And a pizza, a negroni, a loaf of bread, some fresh pasta, a few vegetables, some cheese, meat, fish, salami, sauces, olive oil, wine, chocolates, a meal at a fine dining restaurant, and a quick lounge on a cocktail terrace. And maybe a few other bits & bobs too. Well, wander into Eataly's grand, pillar-studded main entrance (there are two others), and we can begin the tour…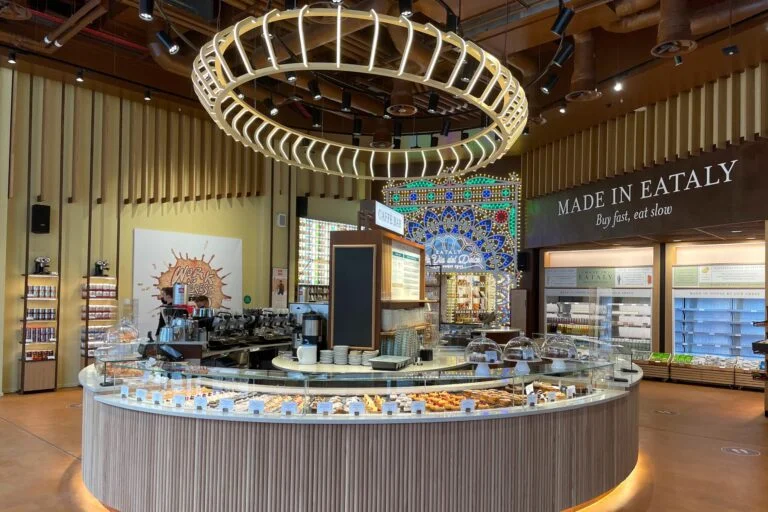 We start on the ground floor at the Gran Caffè, a huge circular coffee bar that acts as a strong opening statement. It's got all manner of Italian caffeine, pastries, breakfast bites, and a fresh gelato counter. The flavours change daily, they're made in-house, and you can take away a tubfull, should you feel like it. Here is also where you'll find the 'Made in Eataly' deli counter, for quick panini, salads, soups and whatnot.
Behind the counter is the next eye-popper: the Via Del Dolce, a vibrantly saccharine kaleidoscope of a corridor that will mark a solid 10.0 on the Instagram Richter Scale for the foreseeable future. This is where all the sweet things Italy has to offer are kept. We're talking chocolates, candies, more pastries, and even a canoli counter, where they'll make 'em & stuff 'em fresh to order.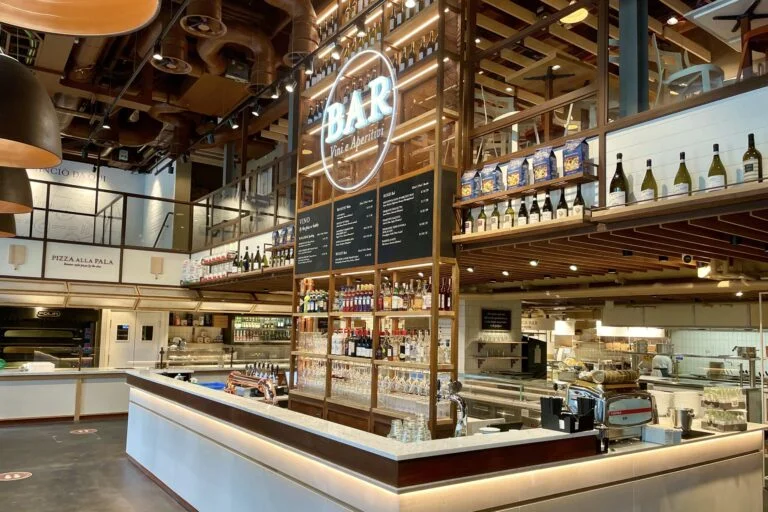 After this visual sugar rush, you'll emerge into the casual dining space. We say 'casual', but there's a fresh pasta counter, a huge double-height cocktail bar, a wood-fired oven putting out Roman-style pizza by the slice, another deli, a bakery, another bar (for wine), and some tables to eat everything at. Casual. And yes, while you could spend all day in here, it's best to move onto the grand escalator bank, where you can stare at the huge hand-painted mural as you're levitated to the second floor.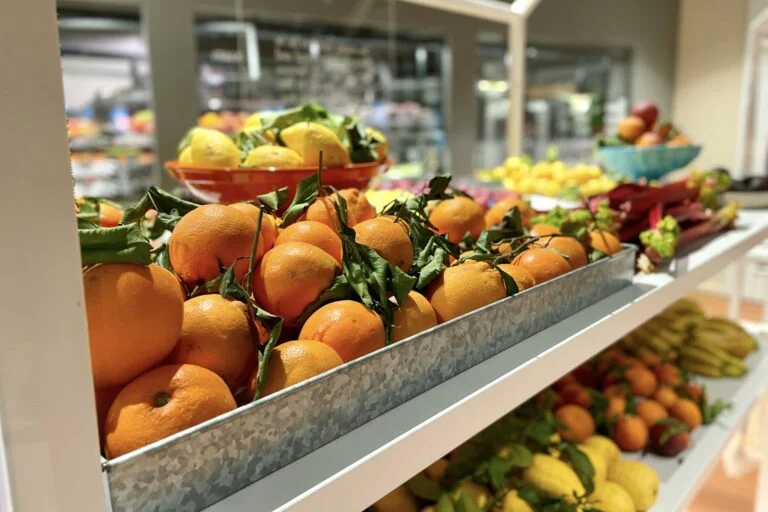 This is where you can find all the retail sections, which start off immediately with a selection of miniature greenhouse-style display cases filled with fruit & vegetables, all courtesy of Natoora. Next to them there's a vast, three-sided counter containing a fishmongers, a butchery, two hundred and fifty cheeses, and dozens of cured meats. And that's not counting the salami fridge behind you, which has dozens more. It's also here that you'll find the first sit-down restaurant, Cucina del Mercato (it literally means 'kitchen market'), which serves only food made from all of that produce.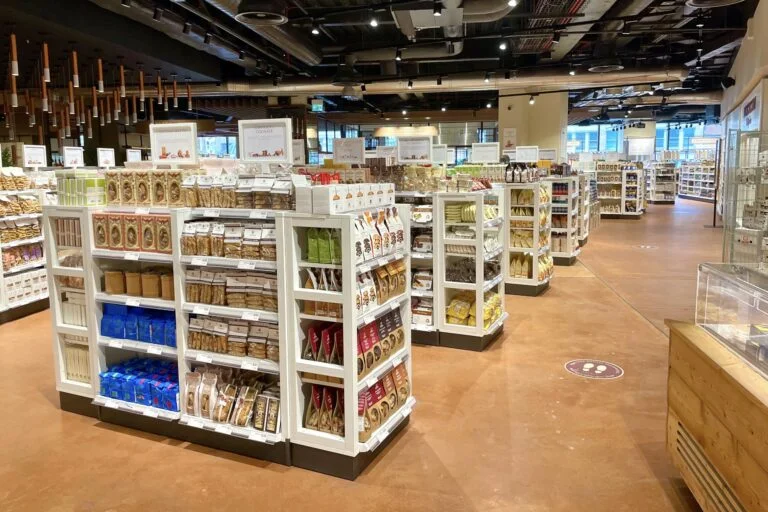 Moving on, we find the long-life foods – shelves upon shelves of them. From olives to oils, pastas to panettone, it's all there. There's even a zero-waste section, in case you bring your own containers. To the side, you'll notice their cheese laboratory where they make fresh mozzarella daily, and to the side of that you'll see their next restaurant, Pasta e Pizza (a name which also serves as a menu).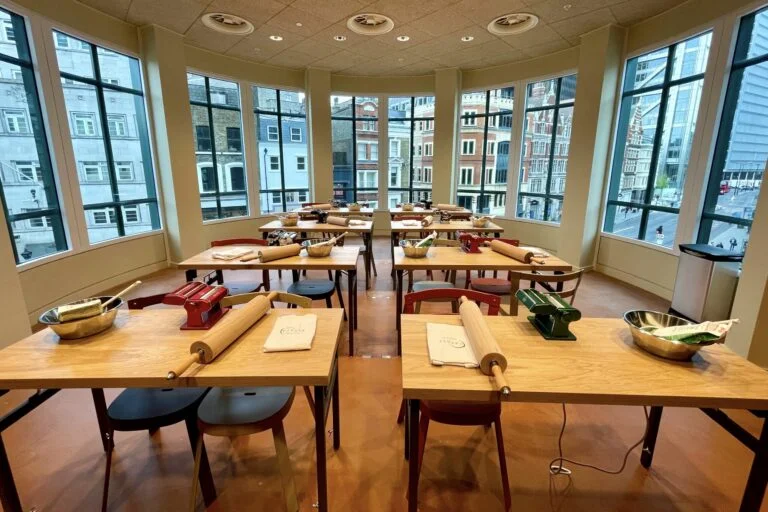 Taking a breather at the chilled drinks section, you'll then move past the cookery school, a delightful little room filled with pasta-making workstations. And beyond that? There's the wine. All 2,000 bottles of it. It's handily split up into regions of Italy, with a little map above each shelf to help you locate yourself. Of course, there's also a wine school here, too.
And then, last but not least, there's Terra. It's their crowning fine-dining restaurant. And that's finally it…
…except that it's not, because there's also a cocktail terrace out the front complete with a miniature silver Airstream trailer serving Aperol Sprizes on a little shaded veranda dotted with lemon-trees.
Then that's it.
NOTE: Eataly is open all day, every day. You can find out more, and book a restaurant table, at their website right HERE.
Eataly | 135 Bishopsgate, EC2M 3YD
---
Looking for outdoor dining ideas? Behold our list of (really good) places to eat outside in London