The story of Camden Market goes back over two hundred years.
And like most good stories, it's a tale involving gin, horse hospitals, and punks.
It all starts back in 1816, when the canal famously stretching through Camden (passing through Little Venice and along Regent's Park on the way) was built, soon followed by the London & Birmingham Railway in 1837. The old 19th century buildings and cobbled alleyways that now make up Camden Market were once part of a huge complex of warehouses, depots and trading posts that sprung up at the meeting point of these two routes, where they'd be used to both store and produce various goods, including Londoners' prized commodities of beer, gin… and pianos. Amongst these buildings were the stables and horse hospital built to look after the working horses that towed barges and train carriages (as well as plenty of pubs to look after the working men).
By the 1970s, however, the canals had become less busy, trade was conducted elsewhere, and these crumbling old buildings were at risk of being demolished to make way for a new motorway. But thanks to a small bevy of artists who rented studios along the canal, the old cobbled complex got a new lease of life as a Sunday crafts market, opening with just 16 stalls in 1974. And gradually this band of eclectic traders and the young, motley crew they attracted made Camden a natural home for London's countercultures, particularly punk. At its height in the 70s and 80s, Camden saw lock-side bar Dingwalls hosting gigs by The Sex Pistols and Blondie; punk bands buying bovver boots and DMs from The British Boot Company; and vintage clothing stores moving into the bare-brick arches and cobbled alleys.
Fast forward to 2019, and those original 16 stands have become 1,000, open daily, and attracting 100,000 visitors on weekends alone. The place is busier than ever, and that's not just down to its fame, but also redevelopment by the market's new owner (a billionaire who bought up Camden Market and the surrounding patches of land in 2014). And while this reshuffling has provided a springboard for lots of new businesses, some traders are concerned that the old cobbled quarter is at risk of losing its character. Craftsmen and women who have traded in the markets for decades have been squeezed out by rising rents, suffered from too many street food stands spilling onto their doorways or been served eviction notices of just two weeks.
The market was once home to Proud, a music venue, club and cabaret bar that over its 17 years hosted the likes of Amy Winehouse and Florence & The Machine. Owner Alex Proud was told that the market needed something "fresh", and saw his offer of £1 million to keep the lease rejected. In its place is a music venue, club and cabaret bar with "a live pianist playing all the commercial acoustic feels" and an Amy Winehouse tribute act.
At the same time, the investment's led to a lot of positive changes – they're hoping to clear out some of the more generic, 'touristy' shops lining Camden High Street (which all sell the same sunglasses, t-shirts and London keyrings) to encourage a more varied spread of traders, especially supporting start-ups and entrepreneurs. The CEO overlooking the redevelopment says their vision "is to keep the character and charm but try and bring back what the market was originally known for – music, arts, crafts, antiques, fashion, design." And with another new development across the road from the market (which will include a boutique hotel and more polished new retail space), and a shipping container food village yet to open, there's still plenty change to come.
So while it remains to be seen how much of its ethos will really be preserved, there may be hope yet for Camden Town and its markets – and despite the increasing number of chain stores and flagships popping up, there's still plenty of older, eclectic shops to support as well as newer businesses that add something unique to the area. Here's our pick of the bunch…
HOW TO VISIT CAMDEN MARKET
Camden Market is pretty much equidistant from two tube stations, both on the Northern Line. Camden Town brings you out into the thick of Camden; from there you can either walk north up to the market, or head down Parkway for a stroll down to Regent's Park. Chalk Farm is just as close, and you'll have far fewer crowds to battle through on your way in – look out for the Stables Market entrance opposite the Morrison's petrol station, and you'll find it much easier to explore. And if you get lost at any point, just listen out for the dulcet 112.8 decibel tones of the market's Town Crier, Alan Myatt (who not only has two Guinness world records for both volume and stamina, but also Town Cried the Queen Mother's 100th birthday, at which most of the guests probably told him to speak up).
The place is roughly split into two halves, which once operated independently. There's the Stables Market, set in the (mostly covered and underground) warren of tunnels and small shop nooks where the horses were once kept. Here you'll find most of the longer-standing traders; an Aladdin's cave of vintage gems, books, and various oddities. Towards the Lock, the market becomes a series of open-air yards as well as the three-storey market hall. In here you'll find newer traders selling handmade accessories and jewellery, as well as street food stands outside.
The markets are open from 10am till 6pm, every day except Christmas – and see, on average, about a quarter of a million visitors a week. So, you know, it's never going to be not bone-crushingly busy. But if you can be choosy, weekday mornings are generally quietest. And it's always best to go in with a plan…
WHERE TO EAT & DRINK IN CAMDEN MARKET
Perched by Camden Lock in the market's West Yard (turn off Camden High Street and head straight down the canalside entrance for the easiest route there) is a bustling outdoor street food market. It's home to a staggeringly wide array of international cuisines, from Venezuelan arepas to Malaysian rendang and jerk chicken, and it's hard to go wrong with any of them – just follow your nose.
Then there's the bricks-and-mortar spots lining the yards. Our tried-and-tested favourites are, in no particular order:
Pie and mash at the Young Vegans;
Liquid nitrogen ice cream at Chin Chin Labs;
All the fondue, curds and whey your heart could desire at The Cheese Bar
Kuku Riku's Josper-grilled chicken
WHERE TO SHOP IN CAMDEN MARKET
The Stables Market is a catacomb of eclectic boutiques and magpie's nests crammed with Moroccan lanterns, hand bound leather notebooks, Celtic jewellery, antique furnishings, vintage clothing, records, trinkets, books and more. Don't miss The Baggage Room for restored vintage luggage; Second Hand Books and Time Tunnel Vintage for rare finds; and Oi Oi for an authentic taster of old punk Camden.
Heading back above ground and over towards the West Yard, keep your eyes peeled for Half Hitch Gin, a microdistillery that's reviving Camden Market's long history with gin. It's genuinely some of the best juniper-hooch in London, and if you book in to a masterclass there you can distill literally anything you want into a bottle (Percy Pigs have, apparently, made an appearance). Opposite, you'll find a tiny games shop crammed to the rafters with unusual board games. From here, slip back round towards the market hall.
This three storey hall looks like an old 18th century trading exchange but was actually built in the 90s, and is packed with traders selling vintage cameras, second-hand bookstalls and what feels like hundreds of jewellery stands. Keep an eye out for Thamon, a vegan accessories stall who make beautiful bags, wallets and laptop sleeves out of preserved leaves rather than leather.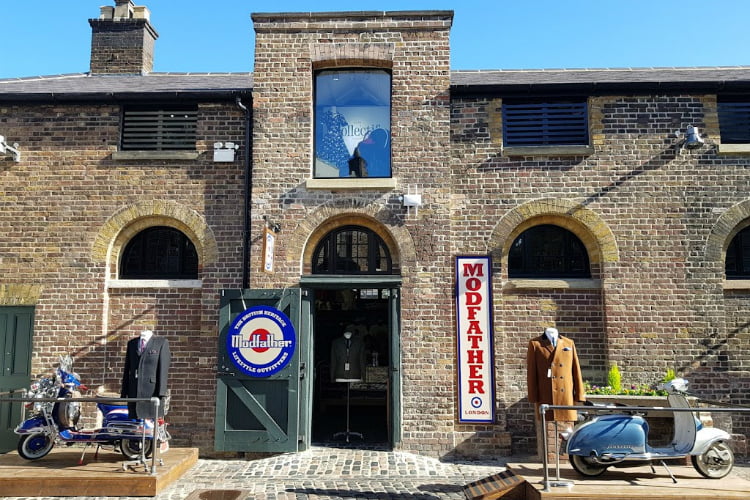 From here, head downstairs and across Camden Lock Place – a long cobbled plaza that plays host to the occasional al fresco film screening in summer – and finish your loop of the Stables Markets. Highlights lining the yards here include Modfather, a father and son-run store filled with Brit heritage brands immortalised in 60s mod culture, from Tootal to Lambretta; Cyberdog, for the sheer insanity of its day-glo rave gear and giant robots guarding the front door; Vera Black, opposite, for bohemian accessories that'll make you look like Captain Jack Sparrow fronting a glam rock band; and, in the North Yard, neighbouring shops Dandy in Aspic (which is packed, quite literally to the rafters, with outlandish vintage clothing) and Teddy Boy, which stocks beautiful suits and shirts hand-tailored by the owner, in a dimly lit, Victoriana-filled store worthy of a film set.
And after you've explored every nook of the market? It's time to head up and watch the sunset from Primrose Hill, round the corner.
Maybe with another Chin Chin ice cream for the road.
NOTE: Camden Market is open every day (except Christmas Day), 10am-6pm, and it's free to enter. Find out more on their official website HERE.
Camden Market | Chalk Farm Road, NW1 8AF
Last Updated: 16th May 2019 | Main image: Kevin Grieve
---
Like exploring markets? Check out our guide to London's best food markets