Sure, Canary Wharf might have changed a little since its days as an actual wharf.
But you can still come here for a little globe-trotting.
See, Canary Wharf's rapidly expanding dining scene has now got several of the world's most mouthwatering cuisines covered. So while you're saving up for your next trip, you can whet your appetite by ticking off a couple of bucket list destinations – in restaurant form – here first.
Fancy a little four-year aged jamón Ibérico? Or some whole tandoori fish inspired by old Bombay? How about hand-made Korean dumplings, Kiwi brunch staples or freshly-made pasta? It's all here in Canary Wharf, so hop aboard our virtual hot air balloon and join us on a culinary tour around the world in 10 restaurants…
A Modern Chophouse: Blacklock Canary Wharf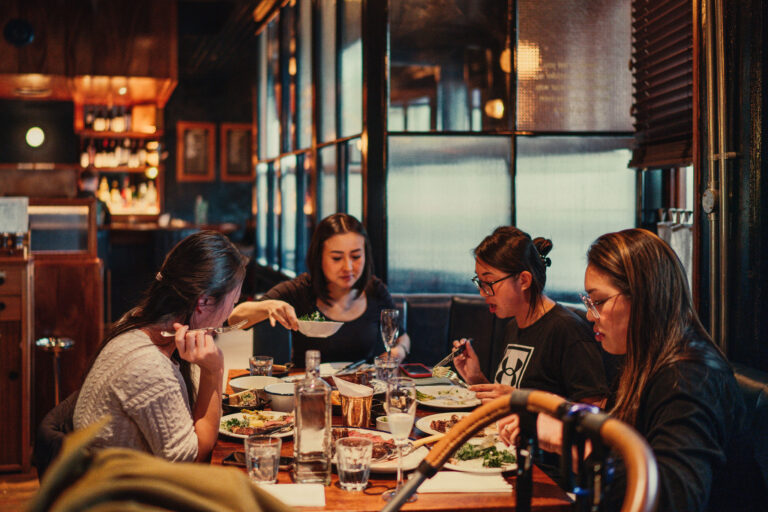 To know where you're going, you need to know where you've been. So kick off your global tour on home turf, in a modern rendition of the classic British chop house. The Blacklock family is now five-strong, and the newest member is right here in Canary Wharf, combining an industrial aesthetic with sleek touches in the leather banquette seating, the wooden floors, and the glossy bar. That bar's important, because this is the only branch where you can enjoy a menu of bar snacks, accompanied by a slew of exclusive wines and cocktails you won't get anywhere else. As for the main menu? All their big-hitters are here: great value-chops, mouthwatering sides, and the option to go all-in with every cut on the menu heaped onto a giant sharing platter.
Details: 5 Frobisher Passage, London, E14 4PA
–
Warming Indian Fare: Dishoom Canary Wharf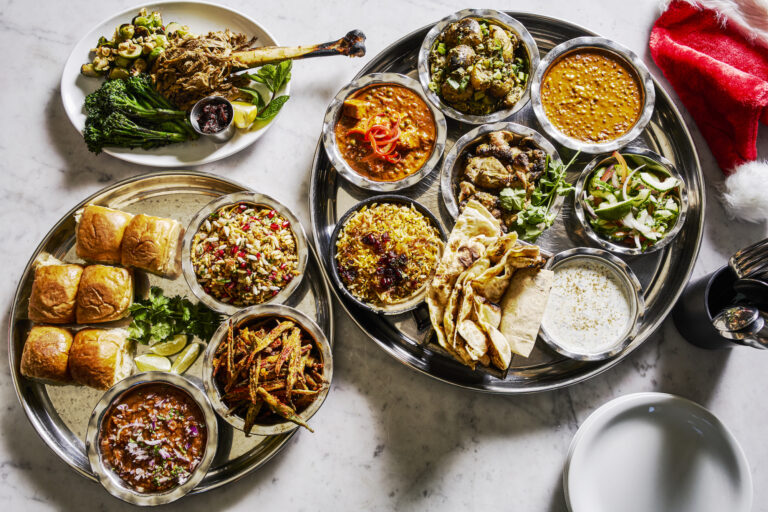 Dishoom looks as good as its 24-hour, slow-cooked black daal tastes: i.e., exceptionally good. Their latest restaurant, perched on the waterfront in Canary Wharf, promises to transport you to the heady days of 70s Bombay with its glitzy marble flooring, louche armchairs dotted around the bar, and the colourful murals in the dining room. And the food… We're probably preaching to the choir at this point, but Dishoom is easily one of the most popular Indian restaurants in London, and for good reason: everything from the crispy prawn koliwada to the spicy lamb chops, marinated overnight, has been prepared with skill, care, and most importantly, love.
Details: 13 Water Street, E14 5GX
–
Globe-Trotting Sharing Plates: Caravan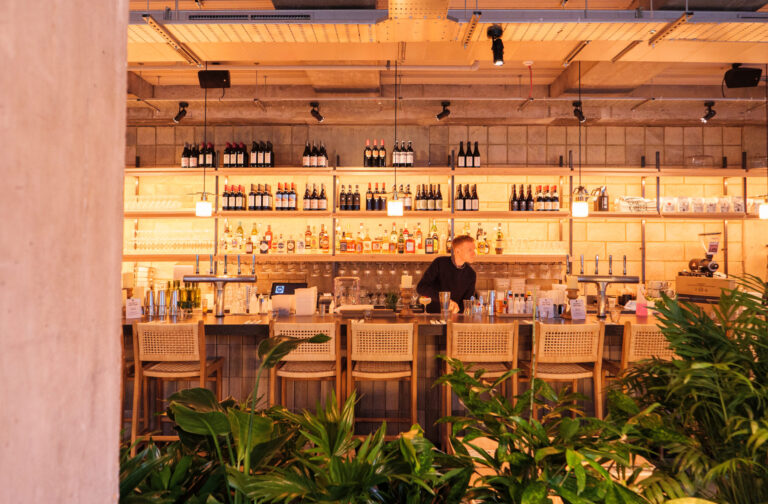 A caravan can take you anywhere – even Bognor Regis! But this Caravan's a little better-travelled, set up by a trio of Kiwis who got homesick for good coffee when they moved to London (so was everyone else in London; they just didn't know it yet). Their Canary Wharf spot is a gorgeously cosy café-meets-restaurant-meets bar that's a perfect setting at any time of day, serving excellent coffee (of course) and an all-day menu of globe-trotting dishes. So while you can come here for Antipodean brunch classics like cream cheese pancakes and the ultimate smashed avo on sourdough, you'll also find slow-fermented pizzas; baked miso cod; broken lamb meatballs and jamón croquettes.
Details: Unit 2, Reuters Plaza, London E14 5AJ
–
Unparalleled Steaks: Hawksmoor Wood Wharf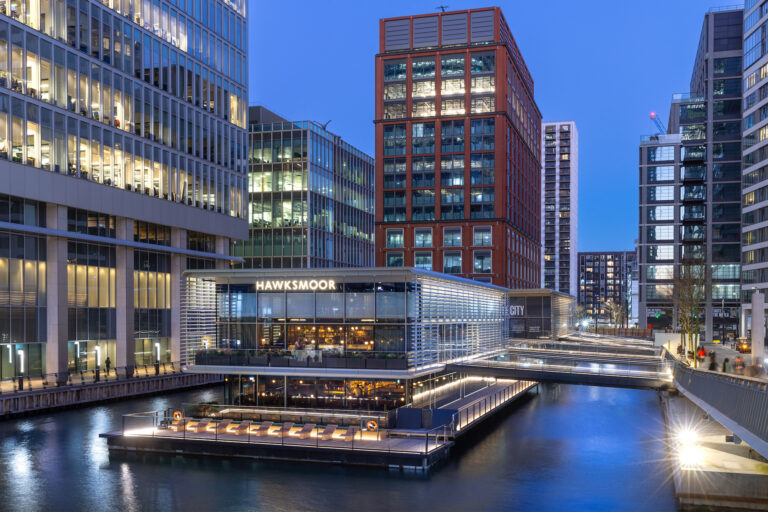 Time to indulge in the ultimate steak – without crossing the Atlantic. That said, going in to dine at Canary Wharf's Hawksmoor feels a little like stepping onto an actual cruise liner. You'll enter along a private gangway off Wood Wharf and find yourself in an elegant, two storey floating restaurant, with the art deco-styled Lowback bar below.
It's a steakhouse that could stand up to any in America (they've managed to open a Hawksmoor in NYC, after all) and that's down to their tried-and-tested formula of mouthwatering dry-aged, dictionary-thick steaks; exceptional sides; and a well-picked wine list. And if you feel like keeping one foot back in Blighty? Come in on a Sunday for their legendary roast, served with beef dripping roasties, huge Yorkshire puds, and bone marrow stuffing…
Details: 1 Water Street, Wood Wharf, London, E14 5GX
–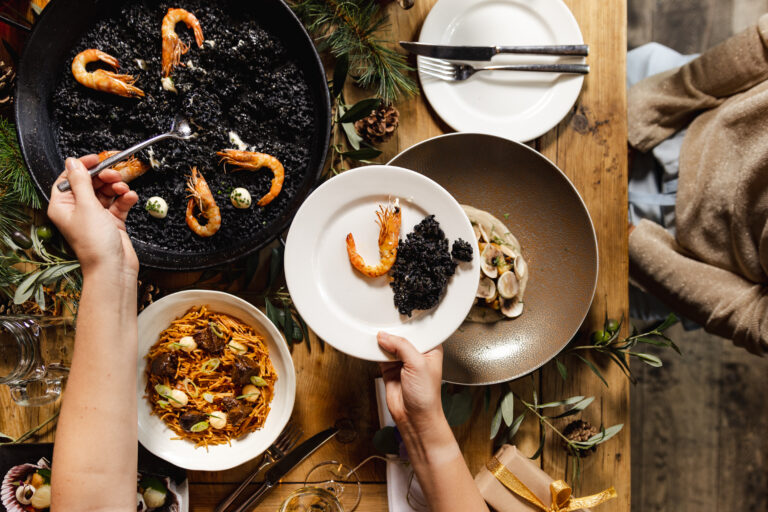 Sadly, this isn't really Spain, and you're unlikely to be able to enjoy Iberica's al fresco terrace all year round. But the good news is that inside feels like a holiday whenever you visit, thanks to the old posters, black-and-white photographs, and the, er, bull's head over the bar. Classic. And, of course, the incredible tapas dishes: they've all been dreamt up by Nacho Manzano (chef patron of the two Michelin-starred Casa Marcial in Asturias), and are crafted here daily by his protégé Cesar Garcia. Come here for classics like melt-in-the-mouth jamón Iberico, grilled octopus, and milk-fed lamb leg, then branch out with more unusual numbers like mussels cooked in vermouth & double cream, and the hake tempura in pil pil sauce.
Details: 12 Cabot Square, London, E14 4QQ
–
Speedy Japanese Comfort Food: Marugame Udon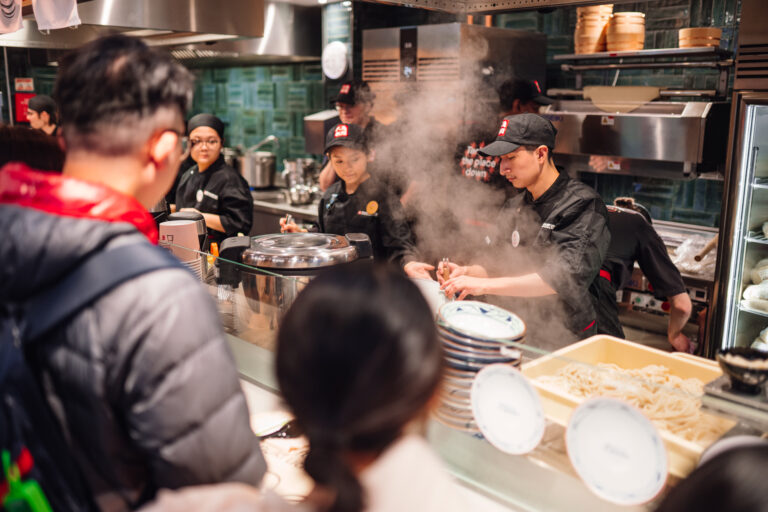 Marugame Udon has over 800 restaurants – and that's just in Japan. So it's safe to say they know their way around a bowl of udon (thick wheat noodles). Decorative noren curtains flutter in a sleek, blond wood-panelled space that feels as though it's been plucked right out of Tokyo. There's also a huge open kitchen, where you can see the chefs making the noodles, dashi broth and tempura from scratch. Choose your own adventure with customisable bases and toppings – beef curry, tonkotsu soup, panko-crumbed pumpkin, chicken karaage and the like – then customise it even further at the condiment station, with sliced spring onions, pickled ginger, and more.
Details: Upper Level 2, Cabot Place, London, E14 4QT
–
Hand-made Italian Goodness: Emilia's Crafted Pasta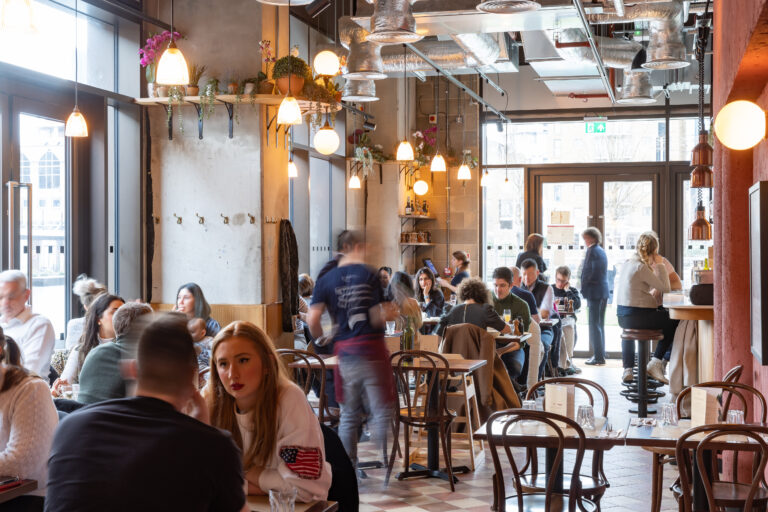 London's been blessed with a bounty of fresh pasta restaurants recently, but this spot is one in Emilia. For starters, it's inspired by the owner's travels around the Emilia-Romagna region of Italy, which is where parmesan, tortellini, tagliatelle and San Marzano tomatoes come from. Basically, they can't help but create amazing pasta there. And all of that knowledge and skill has been soaked up and brought back to the team here at their flagship restaurant, who conjure up fresh pasta each morning, pair each shape perfectly with a particular sauce, and serve it all up for under £20 a pop. Just dropping by for a drink? Take a perch up at the bar and order a signature cocktail with a platter of artisan cured meats.
Oh, and secondly? It has an indoor bocce table, so you can build up an appetite the way the Italians do.
Details: 12 George Street, Wood Wharf, London, E14 9QG
–
Exquisite Japanese Dining: ROKA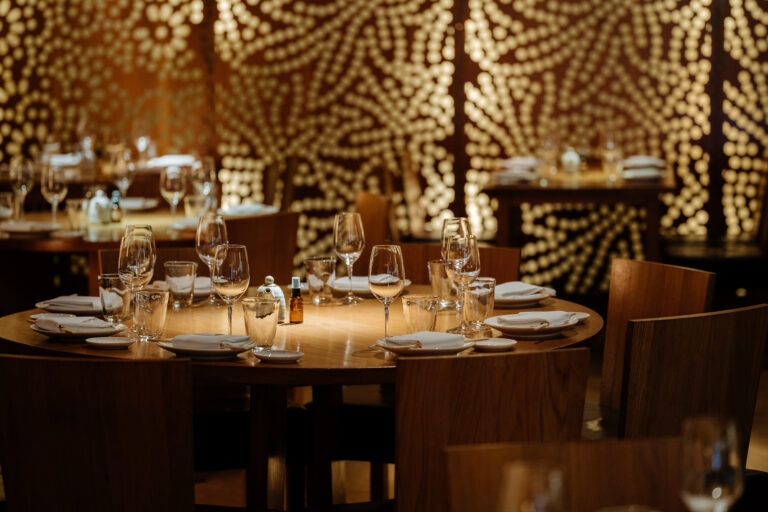 If you need to impress someone – date, client, stranger with a highly competitive spare room to let – ROKA is where to go. This fleet of sleek, utterly luxurious Japanese restaurants comes from the founder of Zuma and Oblix in the Shard, which should give you some idea as to what to expect. The Canary Wharf branch, however, is unique in having an expansive heated terrace, designed with a nod to traditional Japanese landscaping and overlooking Canada Square Park. Inside is just as inviting, all sleek woods and intimate tables, with the chance to score front-row seats to the action at the robata grill…
Details: Upper Level 1, The Park Pavilion, London, E14 5FW
–
Inventive Vegan Delights: Mallow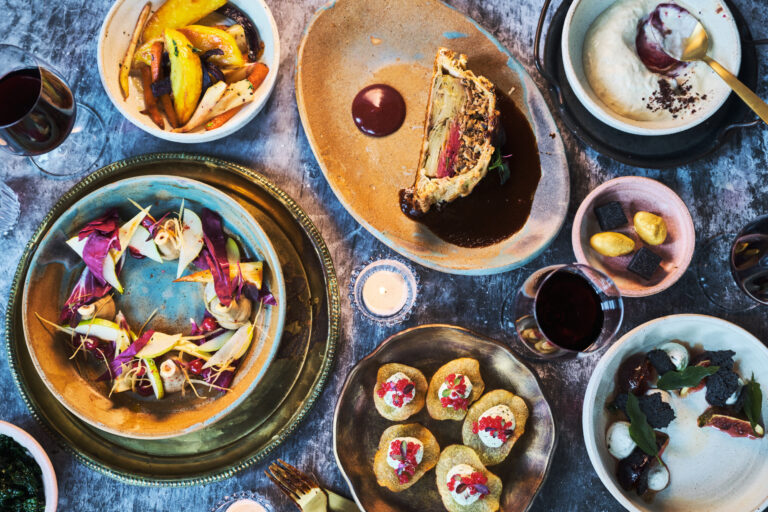 All-vegan restaurant Mallow gets its name from the plant that marshmallows were originally made from – yep, they're basically vegetables. And while you won't find any on the menu at this Mildreds spin-off, you will find a spread of plant-based dishes that pluck their inspiration from all corners of the globe – meaning you can enjoy a little dahl with sour cherry & tamarind chutney; wild mushroom tortellini with miso butter; Korean dumplings with chilli oil and a sweet potato laksa… without taking a single step. No meat and no air miles? That deserves a pat on the back.
Details: 12 Park Drive, Wood Wharf, E14 9ZW
–
Street Food From Around The World: MMy Wood Wharf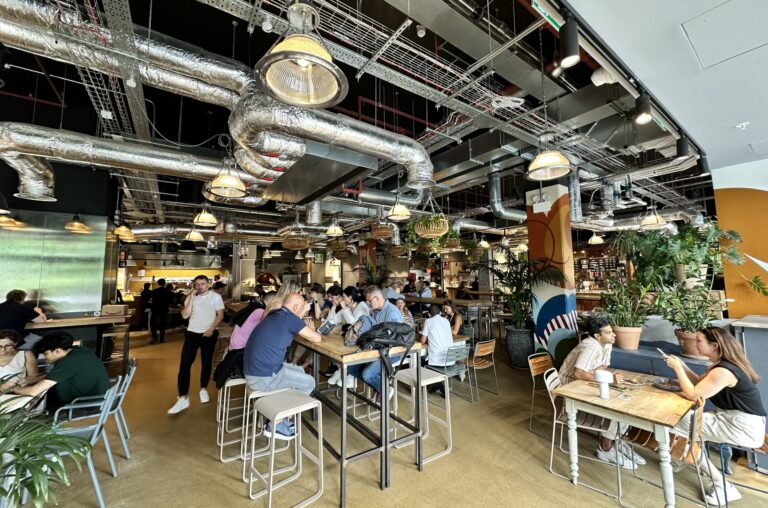 If you want to get a taste of half a dozen global cuisines at once, then MMy Wood Wharf is ready to oblige. This Canary Wharf outpost of Mercato Metropolitano houses no fewer than nine food and drink stalls under its roof, spanning from poke bowls to modern Lebanese, Chinese street food to fresh pasta. What's more, they've taken the liberty of slinging a live music bar underneath it all, featuring a cosy – and very unexpected – array of vintage bric-a-brac and industrial stylings.
Details: 6 George Street, Wood Wharf, E14 9QG

---
Starting to feel cosy? Take a peek at these festive spots in Canary Wharf