NOTE: Garden Room has now closed.
Ah, the rooftop date spot.
It is, as you well know, a crucial ingredient in the romantic toolkit of every adventurous Londoner – and for good reason. For what superior aphrodisiac is there (other than mad honey and bufo toad, obviously) than that beautiful combination of candlelight and panoramic views of London?
So it's always nice to find a new one…
…which we just have, on the roof of the Assembly Hotel.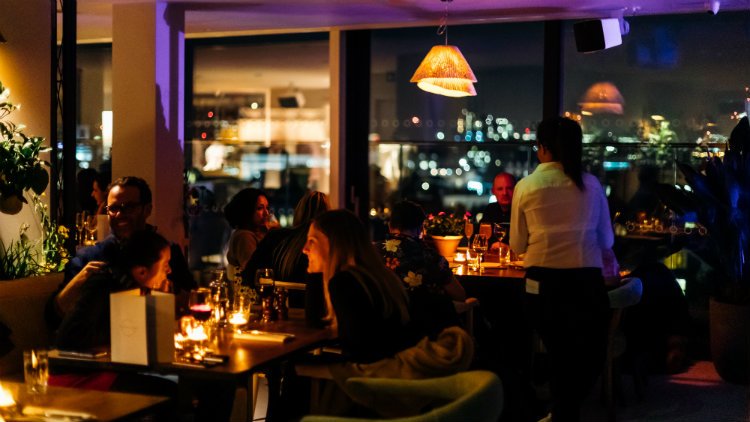 Garden Room is the fourth venue in London by Bourne & Hollingsworth (alongside B&H Buildings, Bourne & Hollingsworth Bar and Reverend J W Simpson) and you'll find it by following a strip of purple neon lights into the Assembly Hotel's dark, cyberpunkey lobby, before riding a very small lift up into the sky… and then emerging into a serene, verdant space filled with patterned rattan seating, whitewashed floorboards, and lush living plants surrounding the floor-to-ceiling windows. It's intimate, it's candlelit, and the view is genuinely amazing. You'll spot everything from the London Eye, Nelson's Column and St Paul's Cathedral, to The City's ever-expanding skyline poking up into the distant stratosphere.
That botanical theme (which is more muted here than at other B&H venues) has filtered into the drinks too, with cocktails on the menu like the Middle Earth, whose gin & chartreuse are topped with a thick dollop of strikingly aromatic basil foam; and the punchy-yet-smooth Rumble In The Clouds, combining the house five-rum blend with pineapple, peach, bitters and spiced falernum.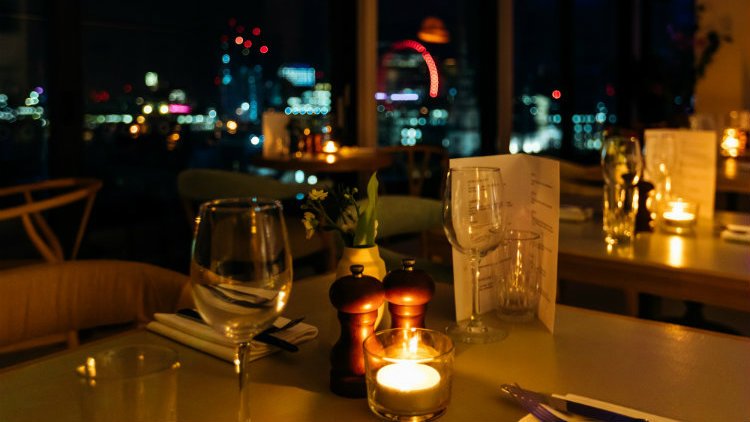 This being a restaurant, Garden Room also does food. And you'll be thrilled to hear that it's good too, featuring starters like burrata with beetroot and candied lemon and grilled prawn & chestnut mushroom skewers with a hearty béarnaise dip; main courses like duck confit with potato & celeriac gratin and blackberry sauce; pulled jackfruit chilli with avocado relish; and cod with braised puy lentils and salsa verde; plus desserts like the spiced plum crumble with custard, and an Espresso Martini affogato….
No bufo toad, though.
NOTE: Garden Room has now closed.
Garden Room | 10th Floor, Assembly Hotel, 27-31 Charing Cross Road, WC2H 0LS
---
Like places with a view? Check out London's best rooftops