Saltine's a cracker.
It's the latest opening for the Fink's team, whose empire has been steadily expanding across North London since 2014. While their first café originally operated as a restaurant by night, in recent years they turned to focussed purely on the daytime stuff. Saltine heralds their return to evening service, and it's a welcoming, casually sophisticated endeavour.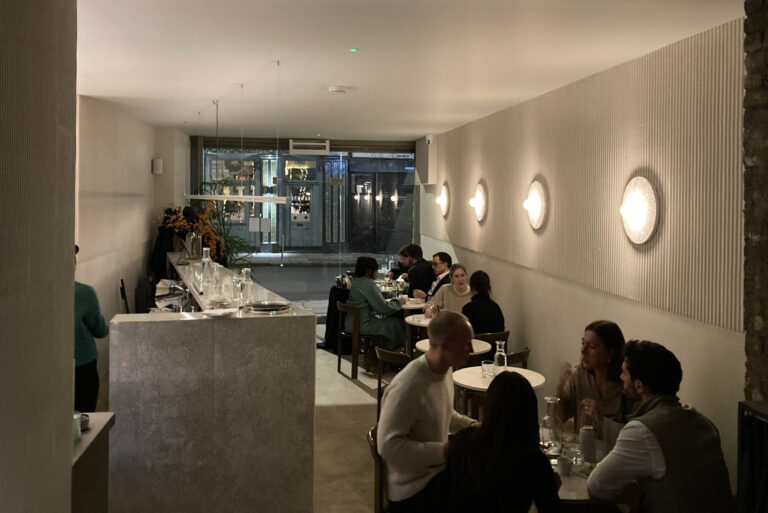 Its home on Highbury Park was once a chicken & pizza joint; now it's dressed in a kind of futuristic elegance. The bar area at the front – a coffee and pastry counter in the morning – opens up into an airy back dining room, with half-plastered walls, poured concrete floors, and an enormous glass roof which floods the room with daylight at lunchtime. By night, tables are individually lit by minimalist lamps, while statuesque potted plants cut alien figures against the muted walls. It's buzzy, with the sense that everyone's excited to be players for the night on a stage that's so hot right now.
The food at Saltine is the domain of St John Marylebone alumnus Phil Wood. There's glimmers of that legacy in starters like chicken liver parfait or beef tartare served with the eponymous saltines; and a curried salt cod brandade on toast with soft egg. But Wood's forging his own path here, and vegetables frequently shine in dishes like the pumpkin scapece, whose meltingly soft chunks are nestled in radicchio leaves and flakes of Spenwood cheese.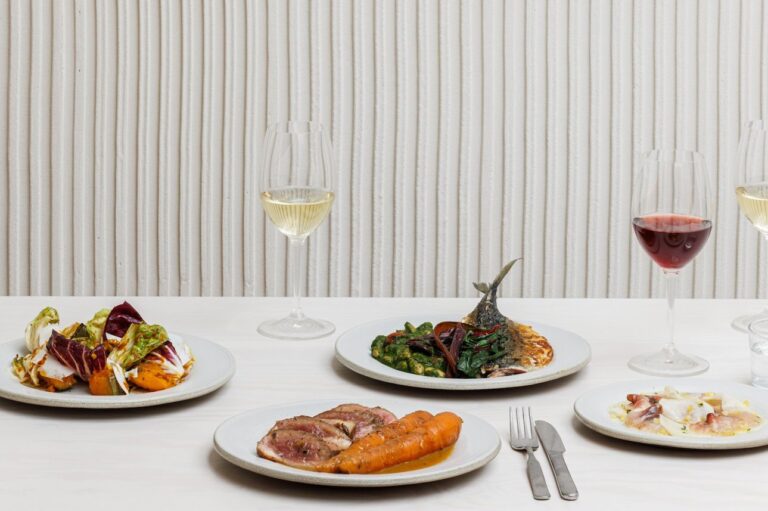 The menu at Saltine is concise but changes regularly, and has been smartly designed so that you can have a three course meal to yourself, or order a couple of plates to share. However you do it, leave room for dessert, which offers some of the best dishes including the rich chocolate mousse cut through by sharp candied kumquats, and the sticky toffee apple cake. This is quickly becoming Saltine's signature dish, and rightly so: it's a pleasingly hefty but delicately spiced pud with an autumnal slant.
Going with all this is a list of European natural wines, including a couple produced up at Renegade in Walthamstow, and a set of grown-up cocktails – the Adonis is a perfect aperitif, foreshadowing that apple cake with warming sherry and sweet vermouth.
And yes, it looks pretty good too.
NOTE: Saltine is open Wed-Sun for breakfast, lunch and dinner, closing 3-5.30pm most days. You can find out more and book HERE.
Saltine | 11 Highbury Park, London, N5 1QJ
---
Like staying on top of the latest openings? Here are the best new restaurants in London