Established in 1828, Simpson's in the Strand has seen the reigns of eight monarchs, two world wars, the Great Depression, and the Cats movie.
It started out as a cigar lounge and coffee house, where gentlemen would come to play chess against other coffee houses in the city, and top-hatted messengers would run between the clubs to announce the next move. A mere twenty years into its storied history it developed a reputation for fantastic roast dinners, with silver-domed trolleys wheeled up to the chess tables and the meat carved up in front of the diners. Over the years regulars have included Charles Dickens, Winston Churchill and P. G. Wodehouse, who called it "a restful temple of food." It was also one of the first British restaurants to be awarded a Michelin Star, and made the radical move in 1984 of, er, allowing women into the dining room.
The place remained placidly unchanged for almost two centuries, until Covid came along and hit Simpson's in the Strand like a big antigen-studded wrecking ball. The restaurant never reopened after the pandemic, and in summer 2023 most of its historic furnishings were auctioned off, including the famous silver carving trolleys, crystal chandeliers, grand pianos and even the fireplaces.
But now, one of London's oldest restaurants is getting a new lease of life – and who better to revive it than the man who's dedicated his career to reviving top-class, old-school dining in a way that's modern, fun, and surprisingly affordable: Jeremy King.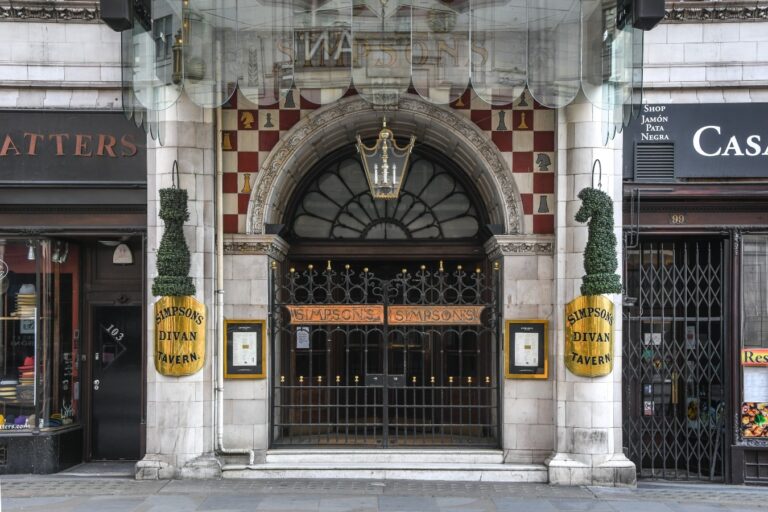 Along with Chris Corbin, he recreated the glamour of European 'grand brasseries' with beloved London establishments like The Wolseley, The Delaunay, and Brasserie Zédel. The tables turned for them around the pandemic, too, when they found themselves ousted from their own company by majority stakeholders. But after a quiet couple of years, King is back firing on all cylinders, and in 2024 he's planning to open a new restaurant in Kensington and revive two London institutions: Le Caprice (reopening as Arlington), and now, Simpsons-in-the-Strand – in what he considers to be "the apotheosis of [his] career."
Details are still under wraps, but given King's affinity for nostalgic charm it seems likely that he'll lean in heavily to the place's wood-panelled, fancy plaster ceiling aesthetic. The building will house two dining areas alongside a basement bar and a private dining room, and is expected to open in the first half of next year…
…not bad for a 196 year-old.
NOTE: Simpson's in the Strand is expected to reopen by mid-2024. Watch this space…
Simpson's in the Strand | 100 Strand, London WC2R 0EW
---
Like knowing what's coming up? Take a look at our guide to London restaurants opening soon