There's nothing more soul-nourishing than a big bowl of noodles.
Can we get a ramen?
Especially if they're coming to you courtesy of ex-NOPI and Berber & Q chef Luke Findlay, who started out running an underground supper club Sūpa Ya Ramen in his very own home. That house quickly became home to a string of sell-out pop-ups, collabs, and take-overs. Enough, indeed, to warrant a permanent restaurant.
That restaurant is a modestly furnished nook down on Dalston's Kingsland Road (conveniently located near the excellent cocktail bar Three Sheets), with just a dozen or so stools & tables skirting the white wall. But for every ounce of glamour & pizazz that you don't find painted on the walls, you'll find ten poured into the big porcelain bowls of top-quality, 'traditionally inauthentic' noodles.
The current menu is a typical showcase of creativity & skilful execution: the pre-ramen small plates include a small bowl of crunchy 'noodles' spiralized from long black radishes and dressed in a green peppercorn crab sauce with melted XO butter, as well as a creamy tofu whip with summer tomatoes & green tomato sauce to go atop some Ararat bread.
The actual ramen, meanwhile, includes a soup-less bowl of Ham, Egg, and Chips 'Mazemen' that puts beautifully umami-loaded shredded ham hock next to house-made pickles, spring onions, and crisp shoestrings of salt & pepper potato. Another inventive Anglo-Japanese take on there is the Cumberland tantanmen which drowns English sausage, noodles, sesame miso, and chilli paste in chicken soup.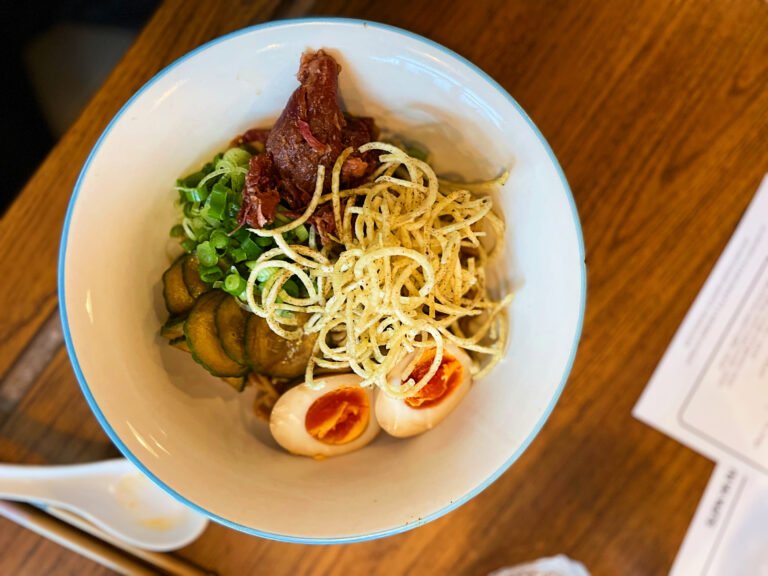 And yes, to answer your next question, you can get noodles for dessert. They come in the form of noodle ice cream drizzled in miso caramel. Or, you could spring for the salted caramel & Sichuan pepper truffles.
They're so hot right now.
NOTE: Sūpa Ya Ramen is open for dinner Tues-Sat, plus Saturday lunches. You can book a table HERE. You might also be happy to hear that you can now find Sūpa Ya Ramen in Peckham, too…
Supa Ya Ramen | 499 Kingsland Road, E8 4AU
---
Want noods? Check out London's best ramen restaurants