Masa Takayama needs no introduction.
But imagining a crazy world in which there were people who didn't necessarily keep a mental rolodex of legendary Japanese sushi chefs, here's what an introduction would look like: Masa is one of the pioneers of Japanese food in the US, opening some of the country's first omakase bars, then gaining three Michelin Stars at his venerated New York restaurant (the first Japanese restaurant in America to do so).
And now he has a restaurant in England.
Specifically, in the Harrods dining hall, because a prestigious name needs a prestigious address (and the kind of diners who are willing to treat themselves). The space is essentially a large figure-8 sushi bar topped with glossy marble, and lined by elegant leather seating that takes up the centre of the hall. And it very much is the centre of the dining hall, both physically and spiritually too.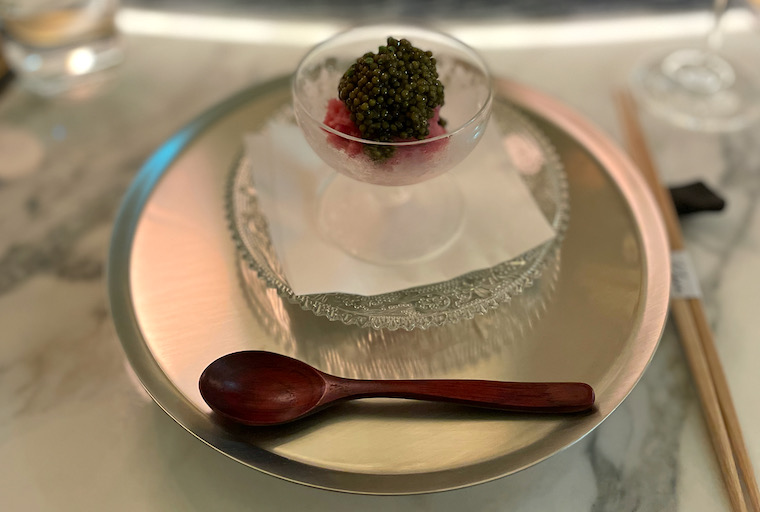 Sit yourself down in one of those comfy chairs, and you'll find a well-curated menu of swimmers ranging from the standard sushi table-stakes (yellowtail, mackerel, salmon, etc.) through to the considerably more upmarket cuts, like their uni sea urchin, and fatty toro tuna belly. Those ingredients are also transformed into signature bites & rolls, including Akune Gold A5 wagyu beef tartare with caviar & truffle; black cod with miso butter; and Masa's famed Toro Toro Rolls made with diced toro tuna, which simply melt in the mouth.
To go with all of those, there are plenty of wines (with several by the glass), plus sakes, and even a few cocktails – the Lychee Highball is particularly nice, with melon, nectarine wine, and gin…
…which should need no introduction either.
NOTE: Sushi by Masa is open now in the Harrods Dining Hall. You can book seats & find out more at the website right here.

Harrods | 87-135 Brompton Road, SW1X 7XL
---
Want to meet the neighbours? Here are the best restaurants in Knightsbridge