Alexandra Palace's huge annual fireworks festival is back with a bang.
Both literal and metaphorical.
See, not only will it play host to what has to be one of London's finest fireworks displays – they're also promising a German bier festival; a massive bonfire; a ton of street food; a funfair; a cabaret tent; a disco on ice; and something called 'lightning magic'.
Anyone who's been to Ally Pally previously will know it boasts a pretty spectacular panoramic view of London on any day of the week, however nothing compares to when it's lit-up by a series of dazzlingly multi-coloured whips, crackles, and bangs, soundtracked either by club classics (Friday night) or iconic film soundtracks (Saturday). Oh, and the fact that they'll be painting the sky in vivd laser light, too.
If the weather's particularly cold – after a quick whip around the ice rink disco, a couple of retro rides at the fairground, and taking in a couple of brilliant cabaret acts in the Cafe de Pally tent (curated by The Glory) – you can head to see the Lords of Lightning, who fire "multi-million-volt bolts from their bodies". Honestly, we're not really sure how that got past health and safety, but it sounds like they're essentially going to be human fireworks.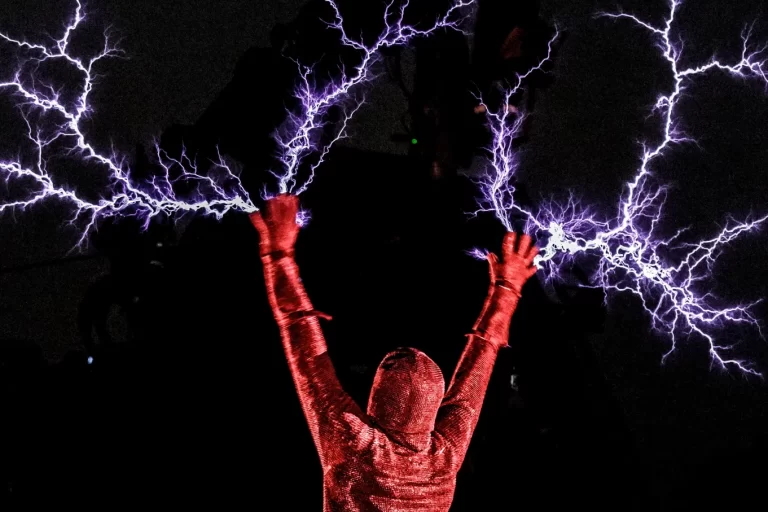 Should you get peckish, you can head over to StrEATlife Village where not only will you find an array of over 35 street food vendors and booze, you'll also find DJ sets from the legendary Fat Tony and DJ Spoony. The folks behind German Bier Festival will also be making an appearance, filling the Great Hall with an oompah band, and a veritable army of lederhosen-clad waiters, serving the finest German Bier.
Annnnd that's where you'll also find Elton John and Kylie Minogue tribute acts performing on stage…
…so you can expect a little oompah-dam.
NOTE: The Alexandra Palace Fireworks Festival takes place on Friday 3rd & Saturday 4th of November 2023. Tickets start at £17 – for more information, or to book, visit their website here.
The Alexandra Palace Fireworks Festival | Alexandra Palace Way, N22 7AY
---
Tis the season… to check out these Autumn Date Ideas