Okay, call off the search.
We've found the fanciest festive dinner possible.
And its all-conquering majesty is really the result of two ever-so-slightly-awe-inspiring works of art colliding above you like a vast meta-collage. So what makes this so special? Well, the short version is that it's all taking place in Greenwich's magnificent Painted Hall, which is currently home to a stunning installation from artist Paul Cocksedge.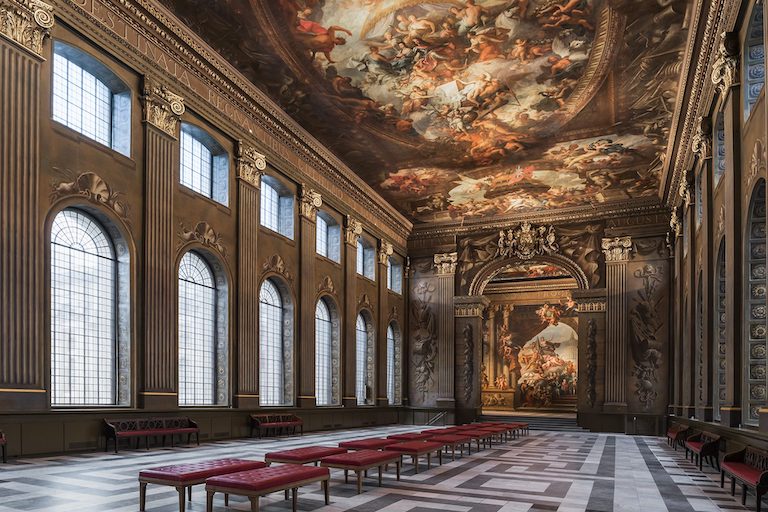 The slightly longer version is that it's taking place in a venue that's frequently called "Britain's answer to the Sistine Chapel", housed in a building designed by Sir Christopher Wren, and whose 40,000 sq ft interior is completely covered in meticulous & extraordinary murals of mythical, allegorical and historical figures, which all took artist Sir James Thornhill a full 19 years to plan and paint. And that's just the backdrop for the new, more modern piece that's currently dominating the space – called Coalescence, it's a gigantic, glittering fragmented sphere made from over 2,500 pieces of coal (which, we're told, is the amount consumed by a single 200W light bulb in a year).
And then there's the fact that you're eating a three-course dinner below it all.
With live entertainment.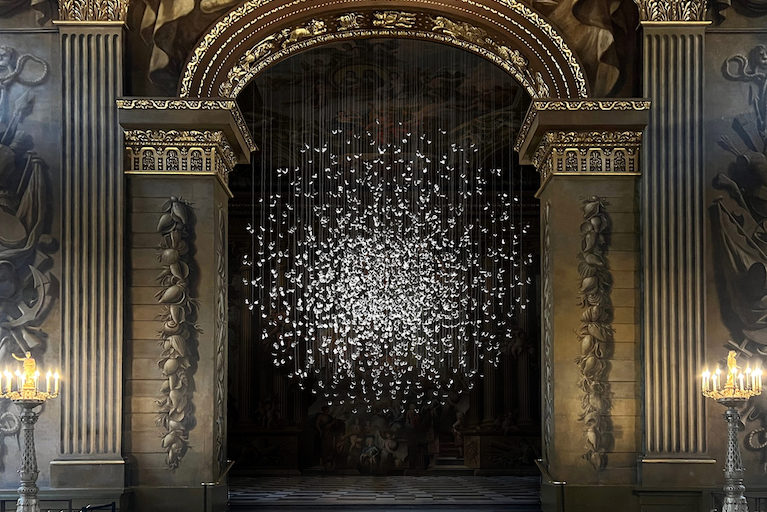 Step inside, and you'll have a welcome glass of English sparking wine handed to you, before dishes are whisked out, including the likes of yellowfin tuna (or beetroot) tartare with chimichurri & coal dressing; duck confit with red cabbage and a Tosier chocolate & orange sauce; or a hefty Red Leicester, mushroom, lentil & chestnut Wellington. Then, for dessert, some ginger loaf or an orange panna cotta.
Of course, there's always the problem of how to top this next year…
NOTE: The Festive Dining Experience: Coalescence will take place on December 15th. Tickets cost £125pp, including live entertainment, three courses, and a welcome glass of sparkling wine. You can find out more at the website right here.
Old Royal Naval College | Romney Road, SE10 9NN
---
Love art? See what's on at every London art gallery now