Don't be alarmed.
But there's a small tear in the space-time continuum.
The good news is that it's just by Liverpool Street, it'll only set you back a few bob (um, guvnor?) and it doesn't pose any significant risk to life and limb. It will, however, almost certainly be unlike anything you've experienced before.
Perched on the edge of Spitalfields Market is the atmospheric Folgate Street – an almost undisturbed stretch of 18th century houses once occupied by Huguenot families (French weavers fleeing religious persecution). Take a closer look, and you'll see that number 18, with the flicker of candlelight behind its windows and sombre gas lantern hanging over the front door, looks particularly undisturbed. And that's because the American artist Dennis Severs bought the place up in the '70s, and, living much like its former residents, set about painstakingly restoring each of the dilapidated rooms around him to their former glory, as if inhabited by an imaginary family of Huguenot silk weavers.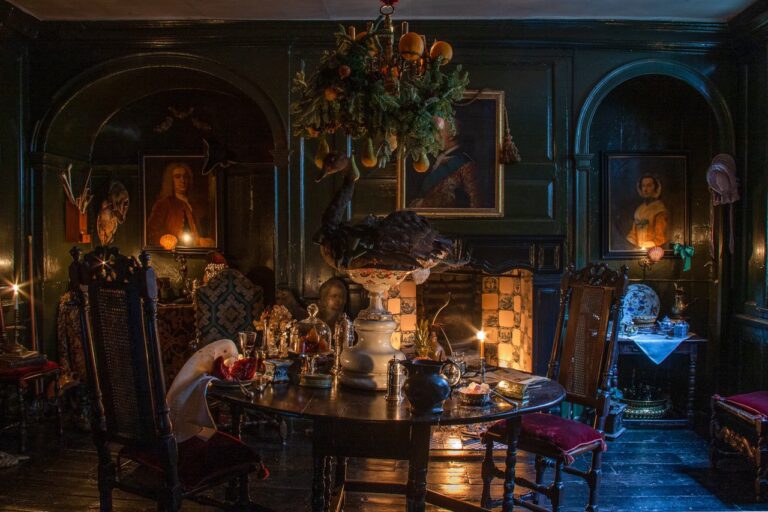 Open to the public for four evenings a week (Thurs-Sun) plus weekend daytimes, the house has variously been described as "a still-life drama", "post-materialist, and – according to David Hockney – "one of the world's five top experiences". We would add "it's a bit creepy, and definitely one of the oddest places you can go to in London".
Ordinarily the tours around the house are entirely silent and self-guided. But during the lockdown, whilst the space was being painstaking restored by a team of specialists, staff discovered a trove of over 200 cassette tapes of Dennis Severs himself. From them, they've edited together an audio tour of the space, so you can book in to hear how Severs himself would have done it. There's an actor guiding you through as you listen, and you get every ounce of Severs' intense & enthralling energy and fascination.
And every Christmas, the show-runners doll the place up in extravagant Victorian garb, festooning the walls with evergreen bows, ribbons, and cat-shaped paper chains. Classic Christmas. There's also a beautiful tree, sprigs of mistletoe, and the scent of freshly baked cakes in the air.
All told, you'll make a pilgrimage through ten candlelit rooms, each designed to feel as though the house's inhabitants have just walked out, leaving their unmade beds, half-eaten bread and unfinished letters paused in time. Dennis Severs was fascinated by the 'light' and 'moods' of old paintings – the smoky haze, ticking clocks and cats lying around in the background – and this is what he's recreated in the house: a living, three-dimensional painting for you to step into. "Your senses are your guide", he said, and besides the sumptuous period furnishings, footsteps, voices, and wafts of cooking from the kitchen commingle to create an immersive installation in its truest sense.
A visit to Dennis Severs' House isn't your typical mooch around a stately home, with fenced-off furniture and a tea room. To him, the art wasn't the setting itself, but the role that you, the visitor, play by imagining the house's residents, who you so nearly brush past in every room. His professed intention was that, as you pass from room to room – spanning two centuries in their design – your journey is not just temporal, but psychological. "Feel, don't think; look, don't speak", he said.
The basement kitchen, designed to feed basic needs, is simple and soulful; the politically tumultuous Baroque period is represented in a living room fraught with stylistic contrasts; ascending the stairs takes you onwards and upwards through the age of Reason and Enlightenment; before you ultimately progress from logic into sentiment in the Romantic-era boudoirs. You know, standard interior design stuff.
At this point, you're either misty-eyed with the poetic romance of it all, or your eyes have rolled full circle. Which, presumably, is why the house's motto is "You either see it, or you don't".
And there's only one way to find out.
NOTE: Dennis Severs' House is open at staggered times from Thursday to Sunday each week. Entry starts at £21 for a silent, self-guided tour, and £75 for the Dennis Severs tour. You can find out more, and book ahead HERE.
Dennis Severs' House | 18 Folgate Street, E1 6BX
---
While you're in the area… you may want to swing by one of these great Shoreditch restaurants.