Edward Scissorhands | Cult Dance Show Returns
Poor old Edward Scissorhands.
Misunderstood by his neighbours. Doomed to unrequited love. Really easy to beat at Rock, Paper, Scissors.
So it's about time he was shown some love, and as luck would have it, the critically acclaimed dance adaptation of the cult 90s film is getting a revival at Sadler's Wells at the end of this year.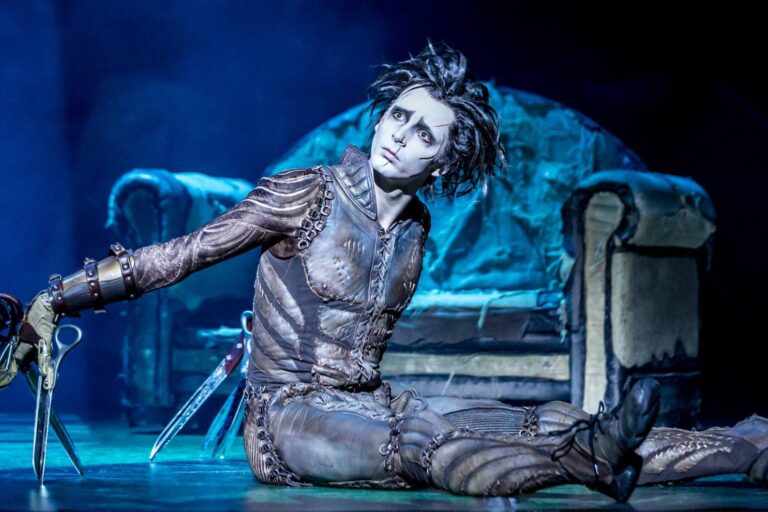 For anyone unfamiliar with the story, it's a modern fairytale set in '50s American suburbia about a mechanical boy who, thanks to the sudden death of his inventor (and not a real-life game of Would You Rather), is left with scissors for hands. And while this leads to a thriving garden topiary and hairdressing business, it also, as you can imagine, has its downsides.
In 2005, choreographer Matthew Bourne transformed the box office smash into a creative new piece of 'dance theatre' (you might know him for his famous reinvention of Swan Lake with an all-male chorus). Reworking Danny Elfman's haunting music and the film's iconic costumes for the stage, it won a slew of 5* reviews from critics and went on to tour the UK and US. And this year, the production receives its third revival as Bourne's dance company New Adventures tour the country once more, with seven weeks of performances at one of London's best dance theatres right over the Christmas period.
So what can you expect? Well, the storyline is essentially the same, though there's a little more backstory to how Edward got his scissorhands, and a bigger focus on the wider community (which allows for some show-stopping group numbers). And, of course, the whole tale is told purely through dance, like a musical without talking or singing. That means you can expect impressive choreography and glitzy effects, including showers of confetti as Edward perfects his ice sculptures. And there's a few other surprises thrown in there too, such as dancing hedges, an exploding Christmas tree, and an orgasmic washing machine.
Tickets are on sale now, and the performance on 7th December is followed by a post-show talk with Sir Matthew Bourne himself.
So if you want to get in there, don't cut it too fine.
NOTE: Matthew Bourne's Edward Scissorhands runs at Sadler's Wells from 5th December 2023 – 20th January 2024. Tickets start at £15 – you can book HERE.
Edward Scissorhands | Sadler's Wells, Rosebery Avenue, London EC1R 4TN
---
Love the stage? Check out our guide to the best London theatre shows on now