Wherever you go to watch ballet in London…
…the dancing will always be en pointe.
There are four specialist dance theatres in London; three in Covent Garden and another a little further east in Islington. Each see an impressive slew of both home-grown talent and international ballet troupes pass through their doors throughout the year, culminating in some amazingly festive Christmas shows – and it doesn't cost as much as you might think to go and see them do their thing.
If you're short on time, or want to see behind the scenes of it all, the bigger theatres offer open rehearsals, where you can sit in and watch the dancers practise with the choreographers (and they're usually only about a tenner to watch). But sometimes you just want to immerse yourself in a full, bells-and-whistles production, with hand-painted scenery, elaborate costumes, big chorus numbers and a full orchestra (including bells and whistles).
Here are the best places to do that…
–
Possibly London's most grandiose theatre, the Royal Opera House is home to year-round ballet and opera productions from its two in-house companies, the Royal Opera and the Royal Ballet. Some of the world's most famous dancers have graced the stage here (Margot Fonteyn reopened the theatre as Sleeping Beauty in 1946), and you can expect global companies to drop in between the Royal Ballet's longer seasons.
The opulent, velvet-clad main theatre space offers the quintessential London ballet experience – especially around Christmas when glittering classical productions take to the stage with breathtaking fairytale sets and costumes. But it's not all traditional ballet; you'll also find more experimental and contemporary work staged in the smaller Linbury Theatre, and world premieres from brilliant choreographers like Crystal Pite, Wayne McGregor and Christopher Wheeldon. Either way, you can wet your whistle nicely with a glass of Champagne in the main bar, with its soaring curved glass ceiling.
Besides the main performance programme, there's also dozens of other events at the Royal Opera House, from behind the scenes tours to free lunchtime recitals; open rehearsals where you can watch ballet dancers at work and classes where you can have a go yourself.
Book now for: The Dante Project (18th November – 2nd December), Wayne McGregor's bold interpretation of Dante's poems that was showered with praise when it debuted in 2021; magical Christmas classic The Nutcracker (6th December – 13th January); and the utterly heartbreaking Manon (17th January – 8th March).
How to get cheap tickets: You'll have to be quite quick in booking, but there are £4 and £9 tickets for every performance in the Amphitheatre and Slips (the highest tiers in the auditorium). Anyone aged 16-25 can also sign up for free Young ROH Membership which gets you the best seats in the house for £30, plus exclusive Lates.
Address: Royal Opera House, Bow Street, London, WC2E 9DD | BOOK TICKETS
–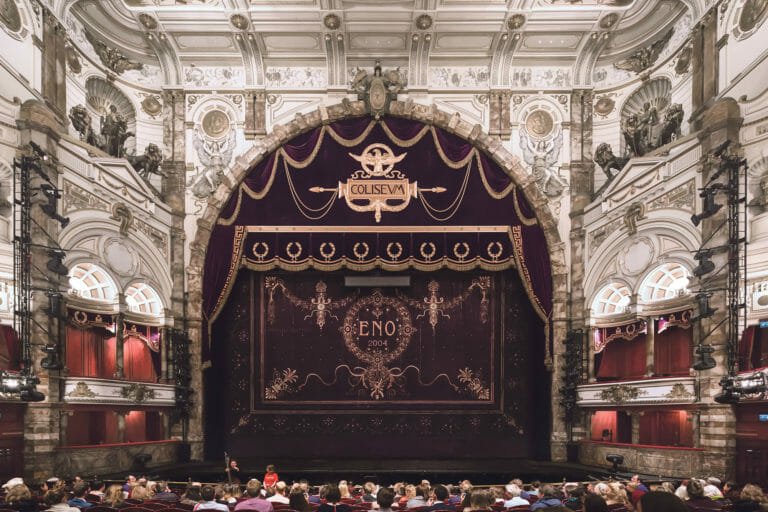 Equally ornate is the Coliseum, home to the English National Opera (for now at least, though they had all their funding cut last year) and a number of international and London ballet companies throughout the year. Ringside boxes and seats bring you right into the thick of the action, but as the largest theatre in the West End, there's a lot of fairly priced seats, too – you can usually find somewhere up in the gods for £10 or £20. Performances lean towards the more traditional ballets, staged with elaborate sets and costumes – and the Nutcracker returns every year for a snow-dusted Christmas run.
Book now for: A snow-dusted production of the Nutcracker (14th December 2023 – 6th January 2024), as well as the haunting classic Giselle (11th-21st January 2024), plus the Ballet Icons Gala (17th March 2024), an annual variety show of classical and contemporary ballet that's basically like a big Quality Street box of dance, performed by some of the world's most talented artistes.
How to get cheap tickets: The Coliseum has plenty of discount ticket deals for operas, not so much for the ballet shows… but you can usually get tickets for about £15 if you don't mind being high up.
Address: London Coliseum, St Martin's Lane, London WC2N 4ES | BOOK TICKETS
–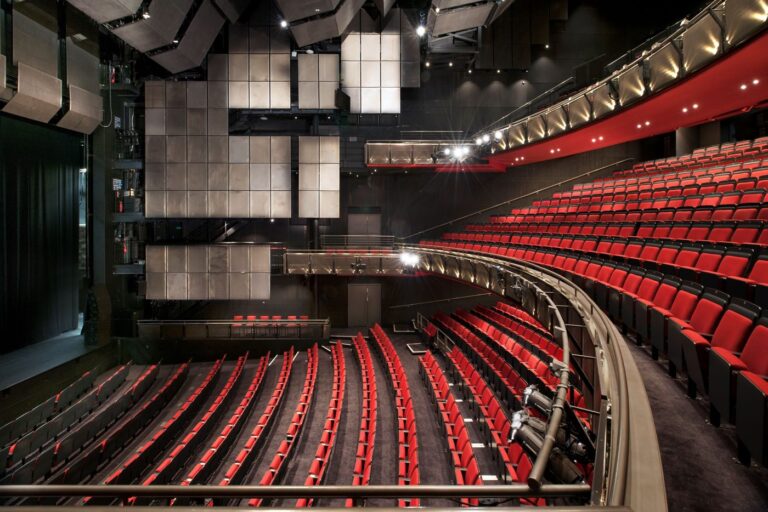 Sadler's Wells is entrenched in London's ballet history, starting out as a dance theatre and music hall back in 1683 (with the bonus attraction of a nearby well full of healing waters). There's nothing special about the tap water there today, but the venue is entirely dedicated to dance in all its forms, and is particularly renowned for its avant-garde and progressive productions. Both the Birmingham Royal Ballet and English National Opera had their origins here, and it's also where Matthew Bourne's famous all-male production of Swan Lake made its debut. Now, you can catch radical new shows either in their (relatively intimate) 1,500 seater auditorium, and the smaller Lilian Baylis studio. East London dance fans should get excited about Sadlers Wells East too, set to open in early 2024…
Book now for: Matthew Bourne's take on Edward Scissorhands (5th December – 20th January) and the visually stunning Nelken by Pina Bausch (14th-22nd February 2024), which features an ensemble cast dancing on a stage littered with 8,000 silk carnations.
How to get cheap tickets: There are reasonably priced seats available for all shows, but the real hack for under 30s is to sign up for the Barclays Dance Pass, which gives you and a friend £10 tickets to any performance.
Address: Sadler's Wells Theatre, Rosebery Avenue, EC1R 4TN | BOOK TICKETS
–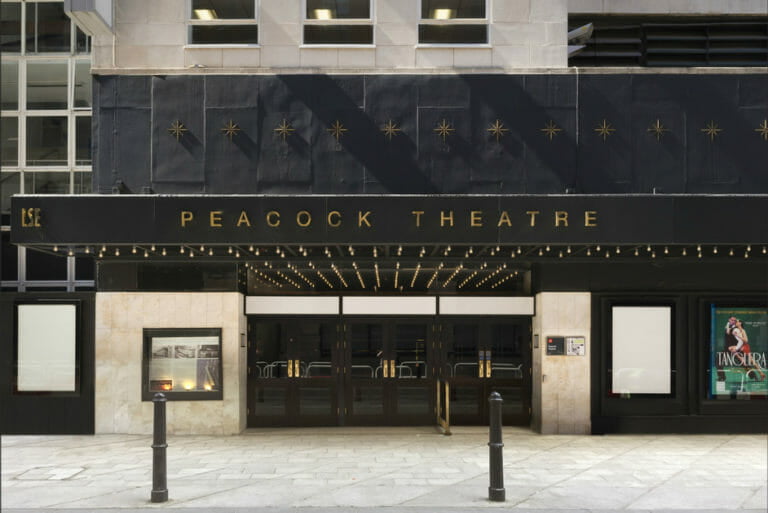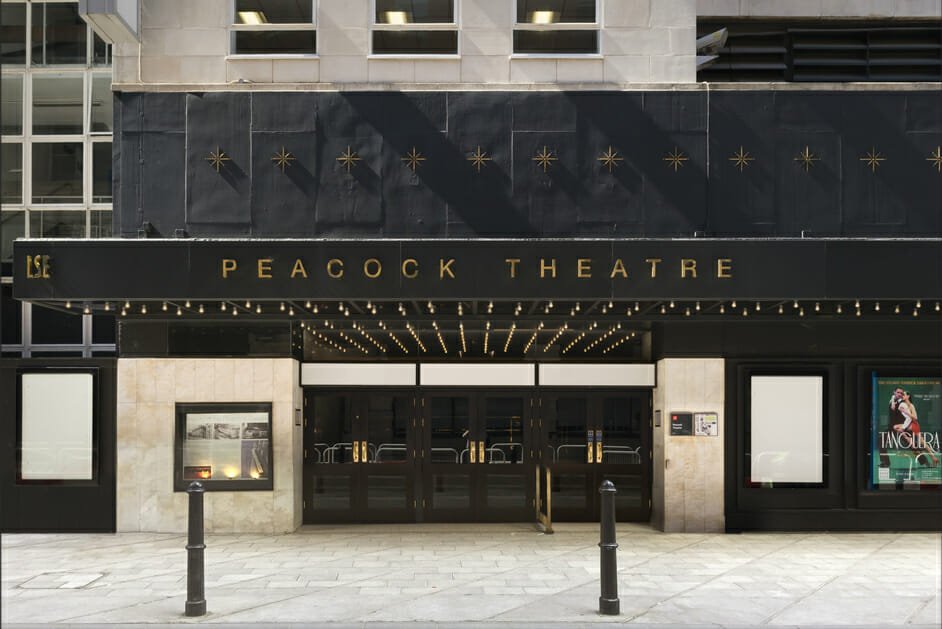 The Peacock Theatre is said to be haunted by the ghosts of two dolphins who were kept in tanks beneath the stage for their (clearly necessary) appearance in 'The Great International Nude Show'. But when its halls aren't echoing with – and we quote – "spectral squeaking", it acts as the more central offshoot of Sadler's Wells. This means that the shows here tend to be more pizzazzy and universally appealing than boundary-pushing stuff you'll find over in Clerkenwell, and they're also less frequent since the theatre doubles as a lecture hall for LSE.
Book now for: This year's festive production of The Snowman (18th November – 30th December). That's it in terms of dance for a while, but the acclaimed musical Everybody's Talking About Jamie lands here in the spring (8th February – 23rd March 2024).
Address: Peacock Theatre, Portugal Street, WC2A 2HT | BOOK TICKETS
–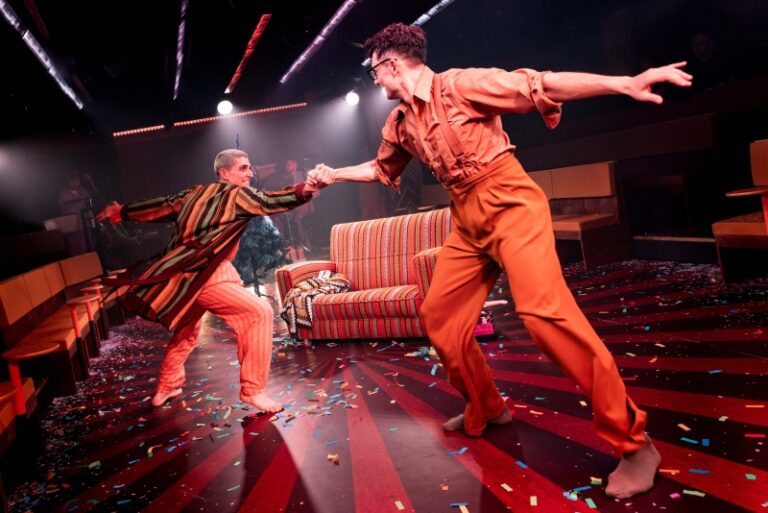 A bonus mention for this pop-up jazz bar at the Southbank Centre, which is home to a brand new Christmassy production of The Nutcracker. It's a playful adaptation from the McOnie dance company, led by Olivier Award-winning choreographer Drew McOnie & Mercury Prize-nominated jazz artist Cassie Kinoshi. A live band plays a jazzy interpretation of the classic Tchaikovsky score, while dancers whirl before your eyes – and the band keep playing after the show on weekends if you fancy getting up and whirling about yourself.
Details: Until 6th January | Tuff Nutt Jazz Club, Level 1, Royal Festival Hall | BOOK TICKETS
---
Like the performing arts? Check out the best theatre shows playing in London right now