The Best UK Festivals 2023 | Countryside Camping Extravaganzas & London Day Festivals
If you're someone who enjoys standing in extremely close proximity to mass numbers of other humans; swigging on warm pints; and bobbing your head to a thumping bass… then you've come to the right place. For we have seen some stuff and done some things in our quest to compile a list of only the very best UK festivals this year (along with some great ones that are happening right here in our own backyard, London); which you can read all about below.
---
JUMP TO: LONDON FESTIVALS
---
–
Glastonbury | The Big One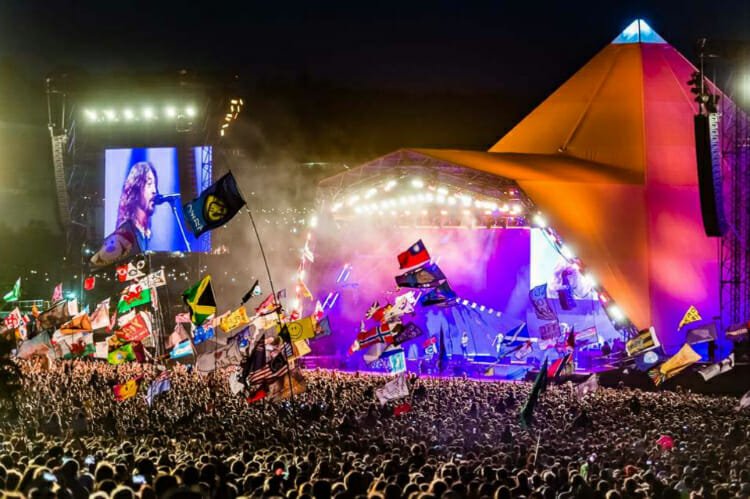 It's the grandaddy of them all: Glastonbury is an annual pilgrimage for many and not just the biggest of UK festivals but perhaps the entire planet. It started out in 1970 (originally called Pilton Festival) and has grown in size ever since; measuring up to around 1,200 acres of English countryside, transformed into a musical/artistic/creative haven for 5 days of the year.
Where: Worthy Farm, Somerset
When: 21st – 25th June
On sale: Sold out (tickets are like gold dust) – info for next year
Music genre: Any and all
Size: 203,500
Previous headliners: David Bowie, Muse, Coldplay, Arctic Monkeys, Oasis
–
Lost Village | The Mysterious One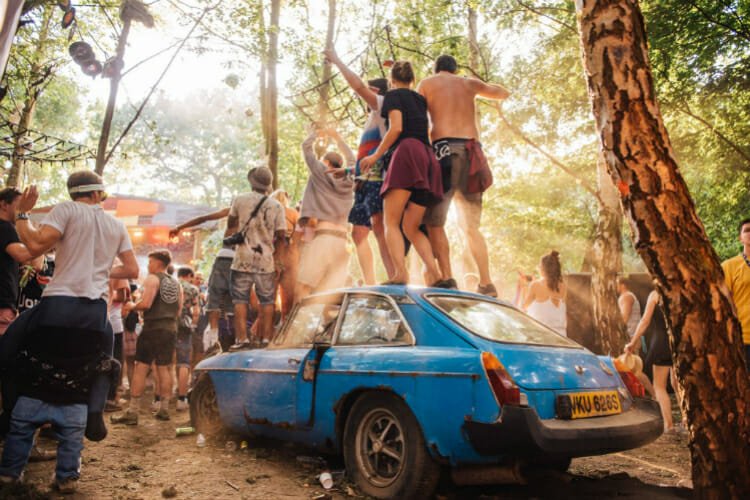 Located in an 'abandoned forest', Lost Village is still on the young side of UK festivals, having being founded in 2015. When navigating your way through the woodland, you'll not only come across derelict buildings and junkyards; but decadent lakeside banquets, a 28-seater chef's table experience with KOL's Santiago Lastra, feasts whipped up by the British-Indian restaurant gurus Kricket, comedy, theatre, talks, wood-fired hot tubs and massage therapies.
Where: Lincolnshire
When: 24th – 27th August 2023
On Sale: Final release in March
Music genre: Mostly dance
Size: Around 5,000
Previous headliners: Maribou State, Little Dragon
–
Wilderness | The Foodie One
A weekend of laid-back music, game-changing grub, and lakeside wellness, Wilderness is one of the more relaxing, cushty UK festivals. This year, feast in a forest with chefs like Jeremy Lee (Quo Vadis) and Dom Fernando (Paradise); bop to Christine & The Queens and Fatboy Slim; learn to salsa, or craft with the V&A; and do things you never thought you would – like helping to make the noise of a snail for a live animated cinema soundtrack.
Where: Cornbury Park, Oxfordshire
When: 3rd – 6th August 2023
On sale: now
Music genre: Big-hitters
Size: Around 10,000
Previous headliners: Bombay Bicycle Club, Nile Rogers & Chic, Grace Jones
–
Camp Wildfire | The Adventurous One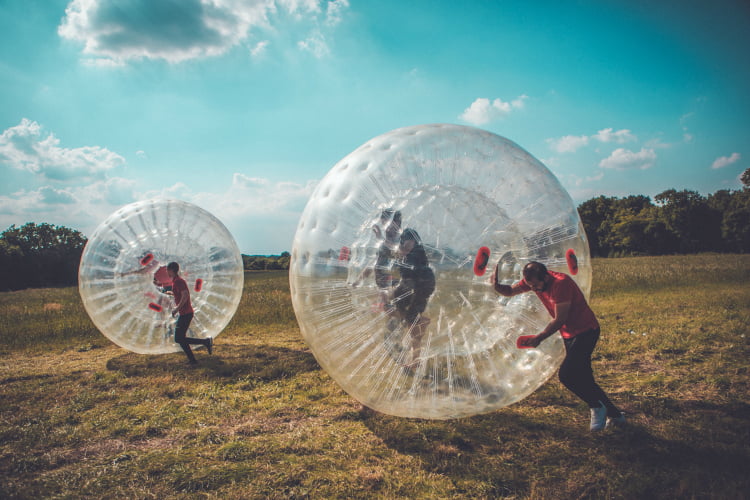 If you've ever imagined what an American Summer camp might look like in the UK, then head for Kent. Particularly over one specific weekend each summer, when Camp Wildfire sets up shop in the Heritage Pine Forest; where you'll have the chance to try out hovercrafting, yoga, tie-dying, parkour, quad biking, paddle boarding, axe throwing, screen printing and zorbing. To name a few.
Where: Heritage Pine Forest, Sevenoaks, Kent
When: 25th – 28th August; 1st-4th September
On Sale: 'soon'
Music genre: A mixture of genres
Size: Intimate
Previous headliners: DJ Yoda, Little Gay Brother, Grandmaster Flash
–
Latitude | The Kid-Friendly One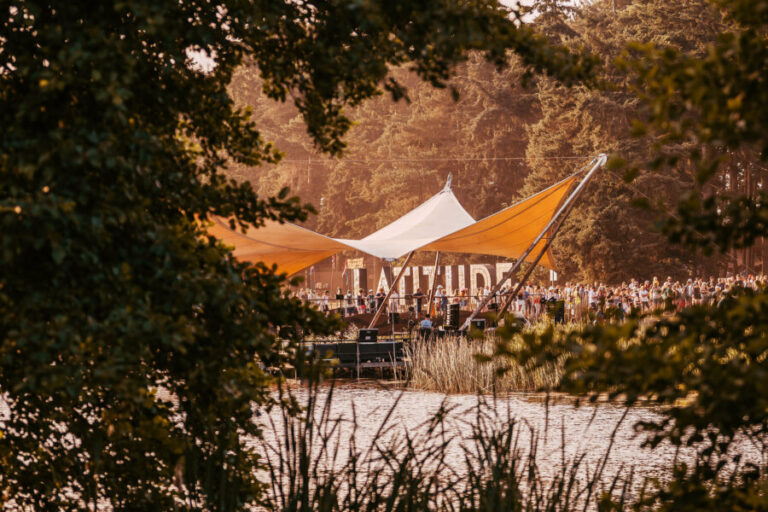 Noted for pink sheep, Suffolk's beautiful woodland scenery and for showing that UK festivals can indeed count as a family weekend away, Latitude is a winner for all ages. While there's the mandatory music and DJs (for the latter, think raves in the woods that go late into the night), there's also poetry, drama shows and comedy on offer..
Where: Henham Park, Suffolk
When: 20th – 23rd July 2023
On sale: now
Music genre: Mostly pop and alt-rock
Size: 35,000
Previous headliners: Foals, Phoebe Bridgers, Snow Patrol
–
We Out Here | The Edgy New One
Combine Gilles Peterson's top music picks with the idyllic Dorset countryside and you've got We Out Here, a festival from the mind of the famed French broadcaster and DJ. The lineup includes Peterson himself, of course, and the rest of it is as en-trend as you'd expect with Ezra Collective, Omar S and Nia Archives among 2023's main acts. Need a breather away from it all? There's a wellness zone too, and the area – with woodlands and a seven-acre lake – is very walkable.
Where: Wimborne St Giles, Dorset
When: 10th – 14th August, 2023
On sale: now
Music genre:  Jazz, disco, soul, house
Size: 10,000
Previous Headliners: Underground Resistance, Overmono, BadBadNotGood
–
Green Man | The Eco One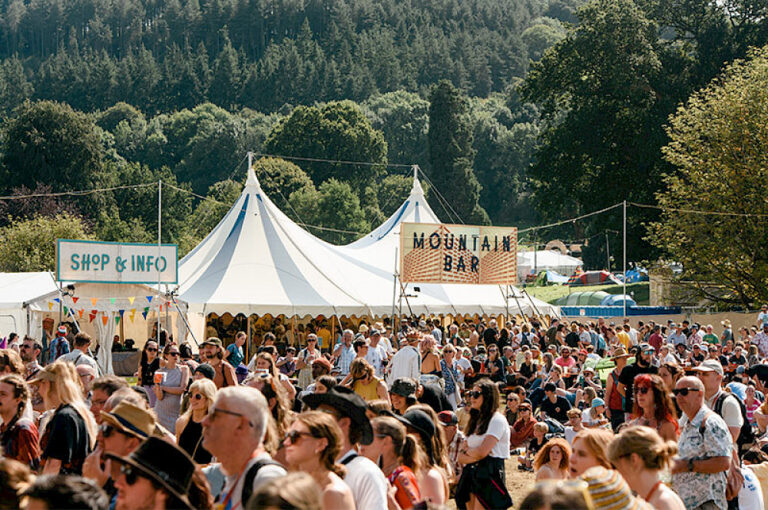 Besides an always impeccably-curated lineup that results in close-to immediate sell-outs, Green Man is revered for its ethical practices and environmentally-friendly engagement that includes drawing upon local Welsh vendors for the food and drink, using solar power, compost loos and banning single-use plastics.
Where: Brecon Beacons, Wales
When: 17th – 20th August 2023
Music genre:  An eclectic mix
Size: 25,000
Previous headliners: Kraftwerk, Michael Kiwanuka, Beach House
–
Smoked & Uncut | The Boujie One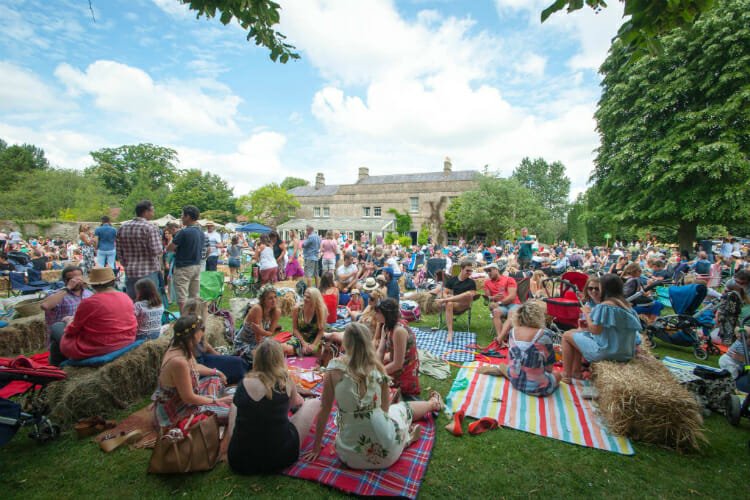 Based at the luxury Pig Hotels in Somerset and Hampshire, alongside Lime Wood; Smoked & Uncut is more of an opulent weekend in the countryside than a festival. You can enjoy their long-table locally sourced feasts, hosted by none other than the esteemed Angela Hartnett of Café Murano, before heading off to catch a headline set by Razorlight.
Where: Lime Wood, Lyndhurst, New Forest; The Pig-At-Bridge Place, Canterbury, Kent
When: 8th July, 12th of August
On sale: now
Music genre: Noughties indie
Size: Intimate
Previous headliners: Kaiser Chiefs, The Vaccines, Sister Sledge
–
The Big Feastival | The Family-Friendly One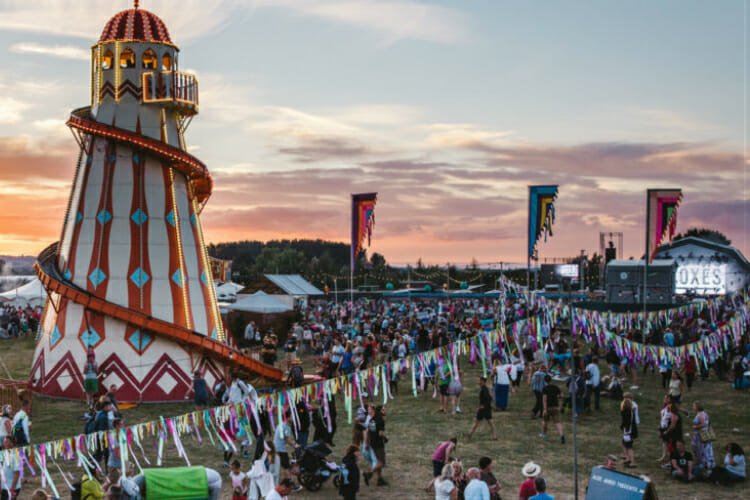 Held on Blur bassist Alex James' farm, The Big Feastival is clearly on to a good thing. This year, the laid-back, family friendly festival features live cookery demos with Darjeeling Express founder Asma Khan; craft workshops; a double-decker disco; a vintage funfair and 3 stages of varied music from the likes of Sigrid, Blossoms and Rick Astley. Oh, and amazing loos.
Where: Alex James' Farm, The Cotswolds
When: 25th – 27th August 2023
On sale: now
Music genre: A mixture
Size: 55,000 across 3 days
Previous headliners: Rudimental, Mark Ronson, Lewis Capaldi
–
Camp Bestival | The Action-Packed One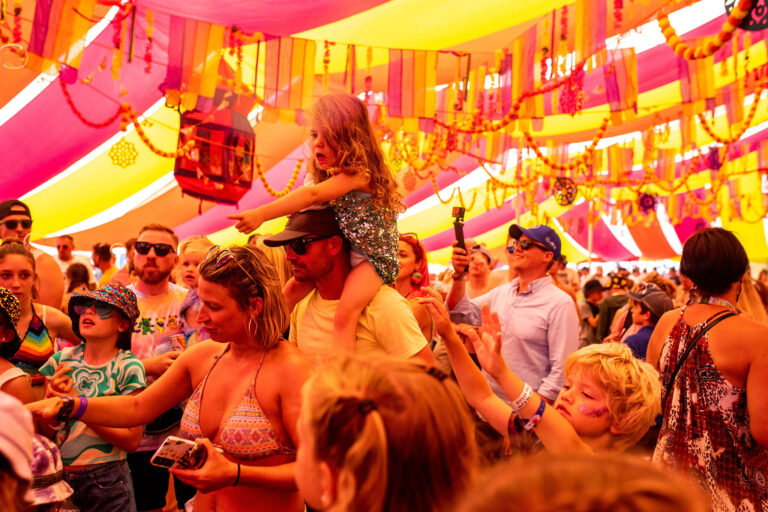 The more family-orientated version of the now defunct Bestival (RIP) – this year set to the theme 'Animal Snap!' (so get your wild animal fancy dress ready) where there'll be loads of activities and attractions to appease the little ones (think circus performers, bushcraft and face painting) while adults can have their moment at the main stage dancing to the likes of Craig David and The Kooks. 
Where: Lulworth Castle, Dorset; Weston Park, Shropshire
When: 27th-30th July (Dorset); 17th-20th August (Shropshire)
On sale: now
Music genre:  A focus on indie and dance
Size: 10,000
Previous headliners: Rag'n'Bone Man, Kool & the Gang, Rudimental.
–
End Of The Road | The Independent Rock and Folk One
Having started up in 2006, End of the Road festival is far from it. It remains independent, meaning you won't have to stare at any huge sponsorship banners whilst enjoying the music; comedy; food trucks, and potential peacock sightings.
Where: Larmer Tree Gardens, Dorset
When: 31st August – 3rd September
On sale: now
Music genre: Rock and folk
Size: 14,000
Previous headliners: Vampire Weekend, Mac Demarco, Metronomy
–
Houghton | The Ravey One
Remember those nights stumbling out of Fabric at 7am? Probably not… Well, this is a bit like the iconic London club only in festival form, masterminded by its resident DJ Craig Richards and with a 24-hour music licence. Expect similar dusk to dawn euphoria, in a hidden forest, with explosive sets coming from some of the most in-demand artists working the underground electronic music scene today. 
Where: Houghton Hall, King's Lynn, Norfolk
When: 10th – 13th August
On sale: now
Music genre:  Electronic
Size: 10,000
Previous headliners: Calibre, Ben UFO, Jane Fitz, Joy Orbison
–
Shambala | The Hippie One

Every year, hordes of free spirits and pleasure seekers arrive in Northamptonshire (the actual location is kept secret right up until just before the event) for a sustainably-minded weekend of hedonism; the food is entirely vegan, festival-goers are encouraged to create their own outfits from recycled material and alongside the 12 music stages, there's also workshops, talks and movie screenings that seek to underline the importance of protecting the environment. 
Where: Secret Country Estate, Northamptonshire
When: 24th – 27th August
On sale: now
Music genre:  World music, folk, rock, pop and dance… the whole spectrum, really.
Size: 7000
Previous headliners: What So Not, CloZee, TOKiMONSTA
–
Edinburgh Fringe | The Theatre One
Deemed one of the world's largest arts festivals, Edinburgh Fringe was started up in 1947; allowing absolutely anyone to participate. Although artists can partake in any kind of performance, the majority are broken down into 10 main categories; cabaret and variety; children's shows; comedy; dance, physical theatre and circus; events; exhibitions; music; musicals and opera; spoken word; and theatre.
Where: Edinburgh, Scotland
When: 4th-28th August 2023
Size: Hundreds of shows, in variously sized venues
–
El Dorado | The Bohemian One
There's an escapist Burning Man-esque vibe to El Dorado – a vibrant UK festival from the people behind Cirque du Soul that takes you out of reality and drops you into the heart of a sun-drenched (on a good day…) valley in Herefordshire, inhabited by colour-splashed set designs, glittered-up costumed party-goers and the current crop of must-see artists making headlines in dance. 
Where: Herefordshire
When: 6th July – 9th July 2023
On sale: now
Music genre:  House and disco, drum and bass, jungle, dubstep
Size: 12,000
Previous headliners: Groove Armada, Earth, Wind & Fire, Kojey Radical
–
Standon Calling | The Boutique One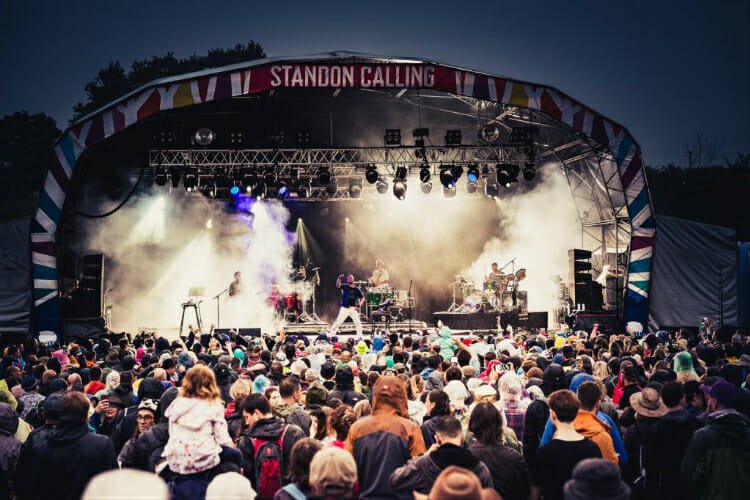 From what originally started out as a small birthday barbecue, Standon Calling has come a long way. Today, it's more than earned its place as one of the best UK festivals thanks to the fancy dress themes, hot tubs and seriously strong music line-up.
Where: Standon, Hertfordshire
When: 20th – 23rd July
On sale: now
Music genre: A mixture
Size: 10,000
Previous headliners: Paloma Faith, George Ezra, Nile Rogers & Chic, Rag'N'Bone Man
–
Boomtown | The Immersive One 
Held in the Winchester wilderness every August, the Boomtown experience involves fairytale villages (there's 14 of them, each with a special, distinct theme), giant storybook-like stages, heavy metal moshes in a dystopian hanger and secret dance parties in the woods. As all the music and mayhem goes on, there's also a plot unfolding in the background… told through hundreds of roaming actors (dressed up in-character) who interact with the crowd and set challenges which can be then completed for festival currency. Expect high-production values and incredible visuals. 
Where: Matterley Estate, South Downs National Park, near Winchester, Hampshire
When: 9th – 13th August
On sale: now
Music genre:  Reggae, metal, folk, techno – every genre you can think of and there's around 500 acts on the bill over the five days.
Size: 66,000
Previous headliners: Noisia, Lauryn Hill, Die Antwoord, Damian Marley, The Specials, The Streets
–
Black Deer | The Americana One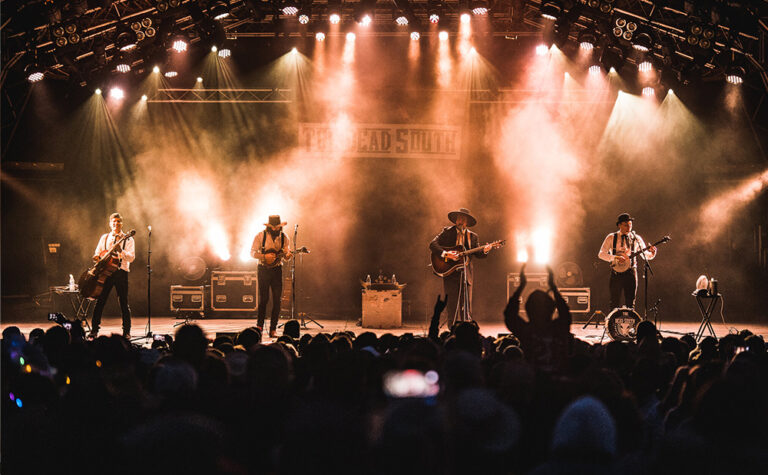 Not saying you have to bring your plaids, old washed jeans and cowboy hats to this, but if there was ever a festival in the UK for it, it's Black Deer; a three-day celebration of Americana, meaning country, blues and roots music (The Pretenders and Bonnie Rait are headlining this year), massive barbecues and mighty smokers, live fire demonstrations, gospel brunches, custom motorcycles and more than a few drunken campfire songs…
Where: Eridge Park, Kent
When: 16th-18th June
On Sale: now
Music genre: Americana
Size: 1500
Previous headliners: Van Morrison, John Butler Trio, Band of Horses
–
Boardmasters | The Seaside One
Boardmasters has one of the most scenic festival backdrops in the world in its locker – down Watergate Bay and along Newquay's coastline – and partners it with surfing competitions, water sport activities, beach bars and crowd-pleasing acts that for this year include Lorde, Liam Gallagher and Florence And The Machine.
Where: Newquay, Cornwall
When: 9th – 13th August
On sale: now
Music genre:  Rock, indie, dance
Size: 53,000
Previous headliners: Kings of Leon, Disclosure, George Ezra
LONDON FESTIVALS
Field Day | The Classic One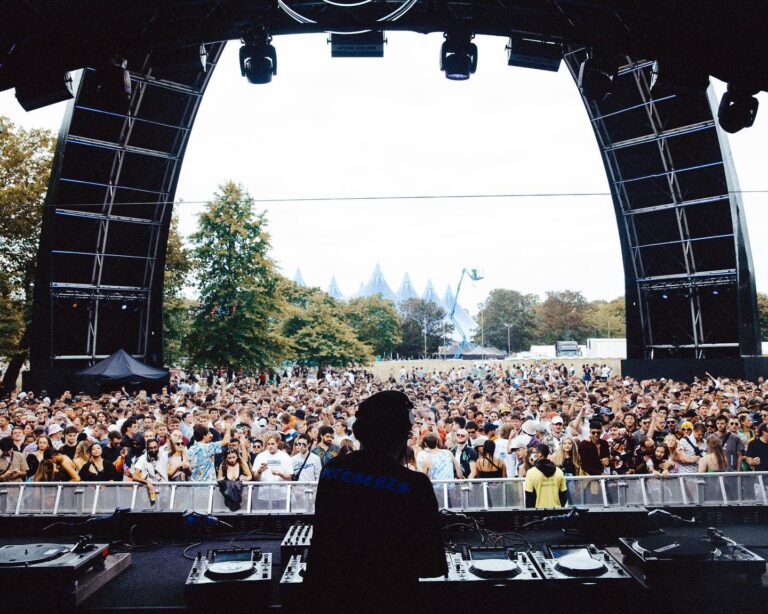 Having started out in 2007, Field Day is now getting ready for round 16 having made its grand homecoming back to Victoria Park last year.  The music is geared towards the dancey crowds – last year you had Peggy Gou followed by the Chemical Brothers on the main stage, and with legendary electronic producer-artists Bonobo and Aphex Twin fronting 2023's proceedings and the likes of Jon Hopkins, Moderat and Juliana Huxtable filling out the rest of the it, the festival is shaping up to be another massive day-out in London.
Where: Victoria Park, London
When: 19th August 2023
On sale: now
Music genre: Electronic
Size: 10,000
Previous Headliners: The Chemical Brothers, Jorja Smith, James Blake
–
Mighty Hoopla | The Pop-tastic One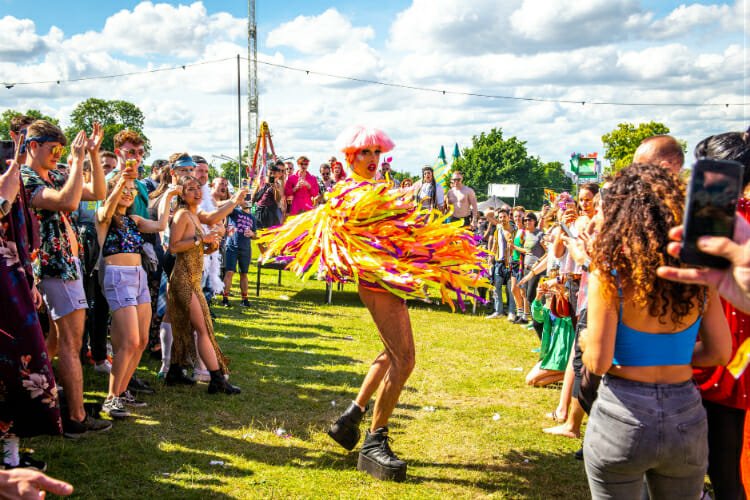 A pop-tastic glittery extravaganza, with a little LGBTQ+ fabulousness thrown in; celebrating diversity and all things pop-centric with disco, funk, dancing and club nights/venues including Sink the Pink, The Grand and Guilty Pleasures.
Where: Brockwell Park, London
When: 3-4th June 2022
On sale: now
Music genre: pop
Size: 16,000
Previous Headliners: Chaka Khan, All Saints, Years & Years, TLC
–
BST | The Star-Studded Lineup One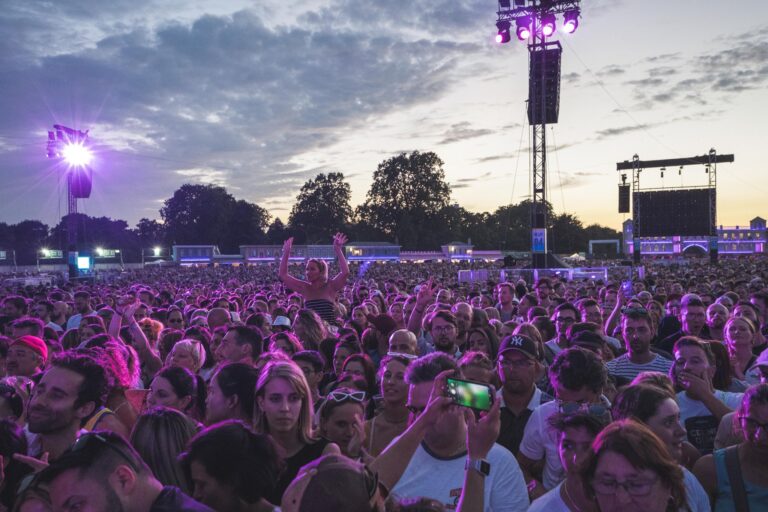 Running for three successive weekends over July, BST (British Summer Time) is where to catch rock-n-roll legends, pop groups that dominated the charts at the turn of the millennium and, well, essentially every artist with multiple entries on the best-selling single and albums lists. This year you'll be able to climb up on somebody's shoulders to see the likes of Pink, Guns N' Roses, Take That and Billy Joel.
Where: Hyde Park, London
When: 24th June – 8th July
Music genre: The biggest names in the business
Size: 65,000 across 8 days
Headliners: Elton John, The Rolling Stones, Adele
–
Kaleidoscope Festival | The Hilltop One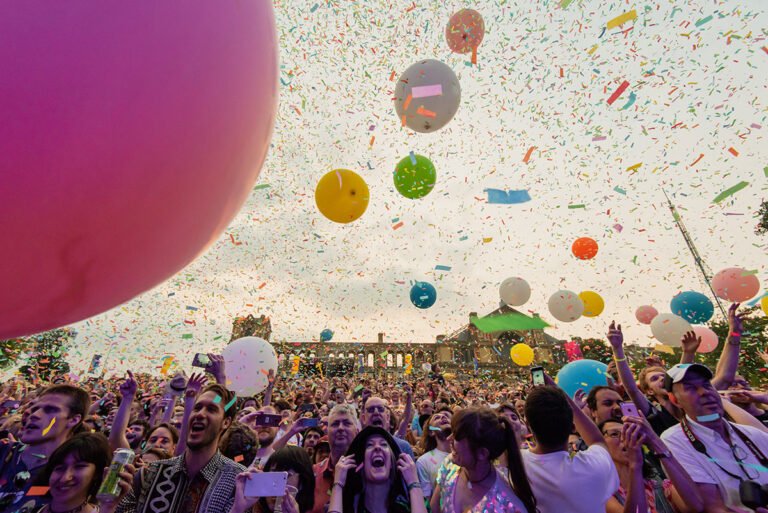 Live music at Alexandra Palace is normally linked to iconic indoor gigs, but for one day in the summer, the party travels outside where 10,000 sun-kissed, beer-swigging punters take over the grass bank in front of the Pally and let their hair down under the laser lights with a peach of a panorama across the city. Headlining 2023's edition will be Hot Chip…
Where: Alexandra Palace
When: 15th July
Music genre:  Indie, pop, electronic
Size: 10,000
Previous headliners: Groove Armada, The Flaming Lips, Orbital
–
GALA | The Hip One
If you want to give off the impression that you've got a cutting-edge, ultra-cool taste in music just peruse and memorise the GALA line-up. This year's all-dayer features Overmono (their only London festival slot in 2023), Kerri Chandler and Jordan Rakei, and is held in Peckham Rye Park over the late May bank holiday weekend. 
Where: Peckham Rye Park
When: 26th – 28th May
Music genre: The hottest names currently doing the rounds in the UK's underground circuit
Size: Intimate
Previous Headliners: Honey Dijon, Horse Meat Disco, Eliza Rose
–
Meltdown Festival | The Long-Running One

The lineup to this London festival, held at the Southbank Centre every year, always manages to make us collectively lose our heads…. Mostly because every year the line up is handpicked by one of the most respected names in the industry to reflect his/her musical tastes. In the past that might have been David Bowie or Grace Jones, but this year it's French pop star Christine and Queens, who's called upon Sigur Rós, Django Django, Bat for Lashes and Warpaint, among others, to ensure his edition will be another head banger…
Where: Southbank Centre
When: 9th – 18th June
On sale: now
Music genre: whatever the curator likes
Previous headliners: Solange, Peaches, Skunk Anansie
–
All Points East | The Up-and-Coming One
Spread over three days in East London's leafy Victoria Park, All Points East is a new kid on the festival block, only starting up in 2018. Despite this, it's made quite the splash; already winning an award for Line-Up of the Year at the UK Festival Awards. And no wonder – for 2023 they've got Stormzy, The Strokes, Aphex Twin and Bonobo on the roster.
Where: Victoria Park, London
When: 18th – 25th August 2023
On sale: now
Music genre: Electronic, indie, rock
Size: 40,000
Previous Headliners: Bon Iver, The XX, Tame Impala
---
Want this, without the portaloos? Check out the best bars in London with live music