Royal Opera House | Gorgeously Plush Arts Venue
Big fan of opera, aria?
In fact, even if you're not, it's well worth visiting the Royal Opera House in Covent Garden. It's a stunningly grand place to spend an evening, and as well as housing the Royal Opera company (London's only resident troupe after ENO's arts council funding was removed), it's also home to the Royal Ballet, a hyper-talented group of dancers who perform several different shows here a year.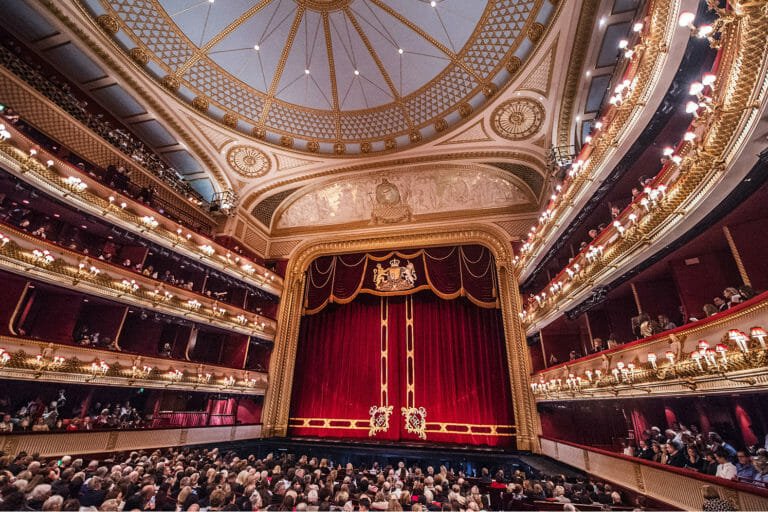 A theatre's been on this site since 1732, with the first ballet and opera shows performed a couple of years after opening. The Royal Opera House you see today is actually the third incarnation of the theatre, after the previous two buildings burnt down. And it's stunning – built in the 1850s, the grandiose, Grade I listed auditorium is dripping in candelabras, gilded balconies and red velvet seating. The surrounding areas – the bars, the roof terrace & restaurant, and the second, smaller Linbury Theatre – were renovated much more recently, however, and provide a smart, modern contrast that makes your first view of the stage all the more breathtaking.
Add in a Champagne bar and terrace in a triple-height conservatory, and it starts to sound… expensive. And yes, front row seats are going to set you back a pretty penny. But there are ways around it: tickets for seats right up in the gods start at £7. If you're aged 16-25, you can also sign up to their free Young ROH scheme for £25 tickets for some of the best seats in the house (plus invitations to exclusive Lates with voguing performances, live music and more). And if you're an elderly 25+, you can still try for Friday Rush tickets (released weekly at 1pm), where new seats at every price-point are released (even for sold-out shows).
As for what you can expect from the performances, well, the standard is consistently astronomically high. The two companies perform several different productions a year in 'seasons', with each show led by a rotating line-up of principals so that no performer gets too exhausted by doing two nights in a row.
Highlights for summer 2023 include the Verdi opera Don Carlo, directed by Nick Hytner; Massenet's Werther, inspired by the Goethe novel, a glittering production of The Sleeping Beauty; and a birthday celebration with legendary dancer Carlos Acosta, who, leaping around the stage at 50, will make you feel like a crinkly OAP. Over in the Linbury Theatre, you can catch smaller-scale works that might spotlight an emerging choreographer or visiting companies, like the premier of Universe: A Dark Crystal Odyssey, a new ballet adaptation of the cult 80s film from lauded choreographer Wayne McGregor.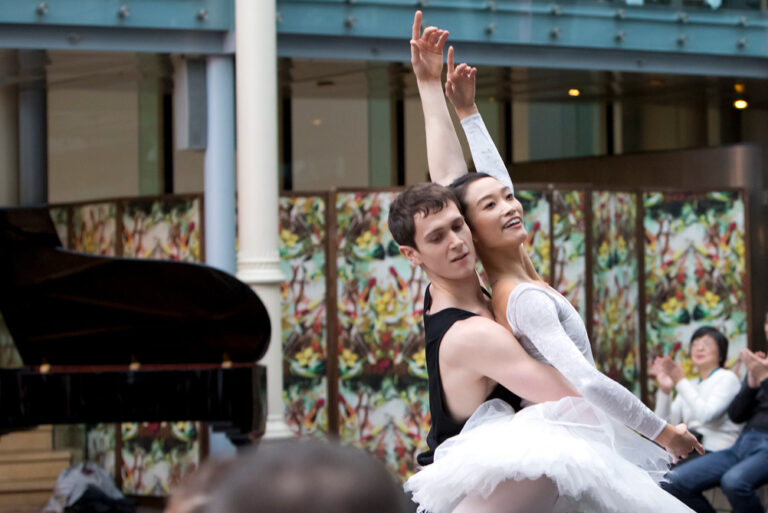 All these shows are staged alongside a varied events programme, from free lunchtime concerts to backstage tours, ballet classes and public rehearsals. And if you miss a production, you can always catch the 'Encore' screenings of recorded livestreams at some of London's plushest cinemas.
So it's not just curtains after the final show.
NOTE: The Royal Opera House has several productions a year – you can see what's on, or find out more about the bars & restaurants, HERE.
Royal Opera House | Bow Street, London WC2E 9DD
---
Love dance? Check out what's on at London's ballet theatres