Organoke | Mass Sing-A-Long Bangers With A Twist
Everyone loves a big organ.
And the one in Battersea Arts Centre is huge.
All the better then to bang out some tunes for a night of Organoke this Christmas. And yes, Organoke is exactly what it sounds like – a portmanteau of 'organ karaoke', in which a classically trained organist quite literally pulls out the stops to provide live accompaniment for a raucous evening of sing-a-long bangers, all backed up by a full band, while people sing, dance, drink, and generally soak up the euphoria.
The concept has been running strong since its inception in 2016 at the original venue in St. Giles church in Camberwell. And after successfully dipping their toes into running the event at BAC last year, the team are back again for this festive special on 13th December.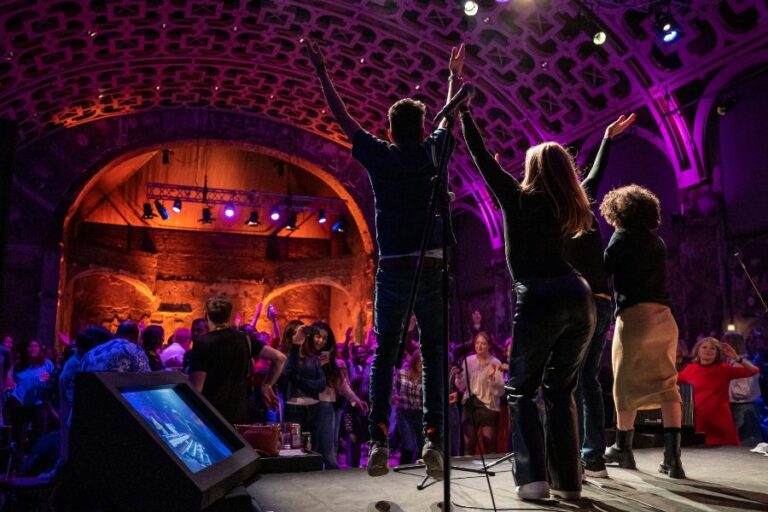 If you've never been inside, the Battersea Arts Centre's Grand Hall is, as the name sort of suggests, one of the largest stages outside of the West End. Originally built back in 1893, it's a Grade-II listed beauty whose entire back wall is effectively a house for its organ, which was fully refurbished back in 2019. It also has a bar that's open throughout the evening, and plenty of space for moshing about as you throw your arms around strangers and belt out some classic ballads.
As always, the evening will be hosted by the inimitable Ida Barr, an old school Energizer Bunny of an M.C. who shakes off their age and gets the room roaring in unison like you wouldn't believe. The all-important organ will be jockeyed by classically trained maestro Ashley Valentine, and the proceedings will be split into two halves: first, there'll be a mass sing-a-long to classic Christmas tunes, then a short break, and finally the second half will involve requests (randomly drawn from a hat) in which people will be invited to come up and sing on stage with the band. After running these events for seven years now, it all seems to just flow…
…organically.
NOTE: Organoke takes place at the Battersea Arts Centre on 13th December 2023. Tickets cost £25pp, and are available right HERE.
Organoke | Battersea Arts Centre, Lavender Hill, London, SW11 5TN
---
Got the pipes? Time to hit up the best karaoke bars in London…