Roll up, roll up to the Waltham Forest Light Show Spectacular.
You've probably already got the gist of what it entails.
But for the avoidance of any doubt: it's a three-day multi-sensory extravaganza promising to drench Waltham Forest Town Hall and the whole of Fellowship Square in a dazzling display of light and sound, taking place across the Bonfire Night weekend.
The Grade II listed building is impressive enough as it is, but the 1930s facade will be brought to life with a dazzling array of hypnotic visuals and 'fire effects' designed by artists Zarah Hussain, Josh Garner and Amelia Kosminksy (who's previously worked on Christmas at Kew). And before the show, your eardrums will be treated to a rousing live percussion act from Drum Works, a musical collective which empowers local young people by sharing drumming skills.
As performances go, it'll take some beating.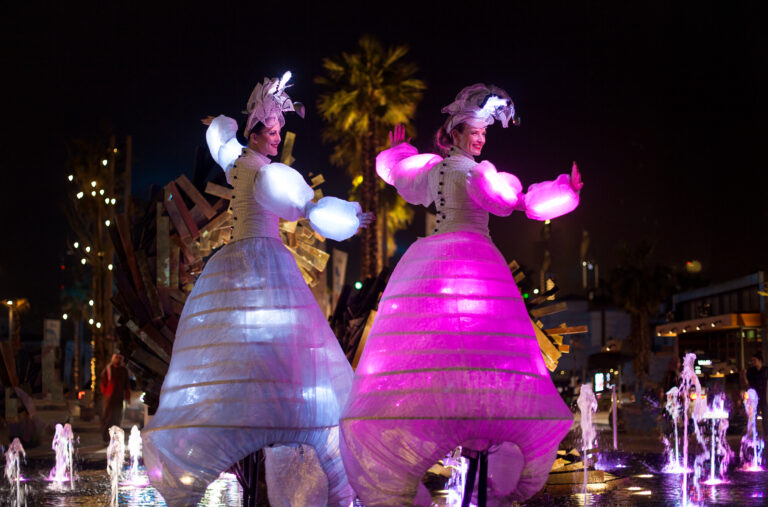 And if you're thinking, 'hmm, this would be even more spectacular if there were a fleet of illuminated stilt walkers wading around', then the organisers have read your mind. International street performance troupe Fool's Gold will be working the crowd with their eclectic acts, from the 7ft tall juggling 'Ice People' to ballet dancers dressed as glowing lanterns, and the impressively terrifying Juggling Inferno, who toss around fiery batons to create glowing patterns against the night sky.
Once the show's over, you'll be free to peruse the KERB+ street food stalls: packed with local vendors, it's an environmentally-focussed marketplace from the organisers behind some of London's best food markets. And taking care of the drinks side of the equation is Big Penny Social, the enormous taproom-turned-community hall on the Blackhorse Beer Mile. They'll be setting up a huge festoon-lit tent with a fully-stocked bar including mulled wine, mulled cider, and a new limited-edition beer brewed especially for the light show.
Must taste spectacular.
NOTE: The Waltham Forest Light Show Spectacular takes place on Friday 3rd – Sunday 5 November 2023 in Fellowship Square. You can find out more, and book tickets (£8.50 + booking fee), HERE.
The Waltham Forest Light Show Spectacular | Fellowship Square, Waltham Forest, London E17 4JF
---
Want to discover more quirky events? See what's on in London this month