Nestled in between Holborn, Barbican, Clerkenwell, and The City is Farringdon, a major commuters' hotspot famed mostly for Smithfield Meat Market and hedonistic nightclub Fabric.
It's technically divided – by name – into Farringdon Within and Farringdon Without, a decision made in 1394 to mark which parts did and didn't fall inside the London Wall, a defensive wall built by the Romans around what was then Londinium, a significant trading town on The River Thames.
Nowadays only part of the wall still exists, however you can still get a sense of where it was from the aptly named London Wall Road.
Whichever side you find yourself on, you'll still find your fair share of things to do. As well as some more historical sites, Farringdon boasts a burgeoning food and drink scene, the best of which we've sussed out and summarised for you below.
Talk about convenient.
---
JUMP TO: THINGS TO DO | FARRINGDON RESTAURANTS | FARRINGDON BARS
---
THINGS TO DO IN FARRINGDON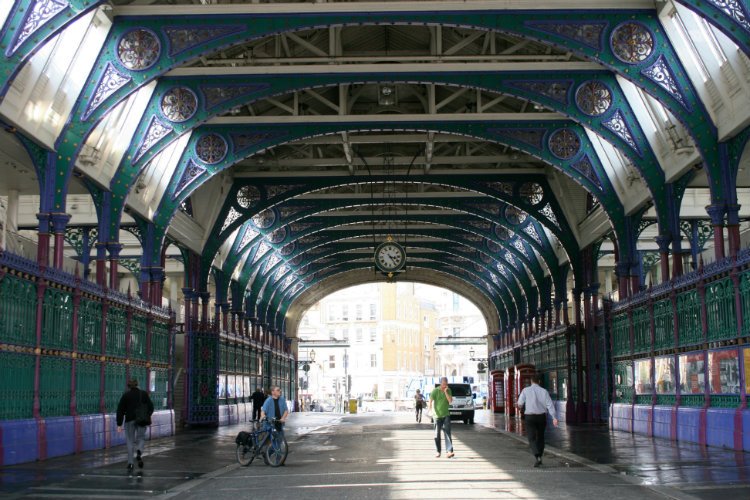 Low on knuckles or after some rump? Running for over 800 years, the unexpectedly picturesque Smithfield Market started off as a livestock market, before becoming a wholesale meat market (dealing solely with…the dead). It attracts Londoners and tourists alike: chefs and butchers there to stock their businesses; the general public bartering for their dinner; and visitors up early to immerse themselves in the chaos. It's open Monday-Friday from 2am, although thankfully you have until a leisurely 7am before some of the stalls start packing up. The site is loaded with history (during the reign of Mary Tudor, around 200 people were burnt at Smithfield for their religious beliefs), and once a month City Guides run an official walking tour round the area.
Details: Grand Avenue, EC1A 9PS | Market open weekdays 2am-7am
–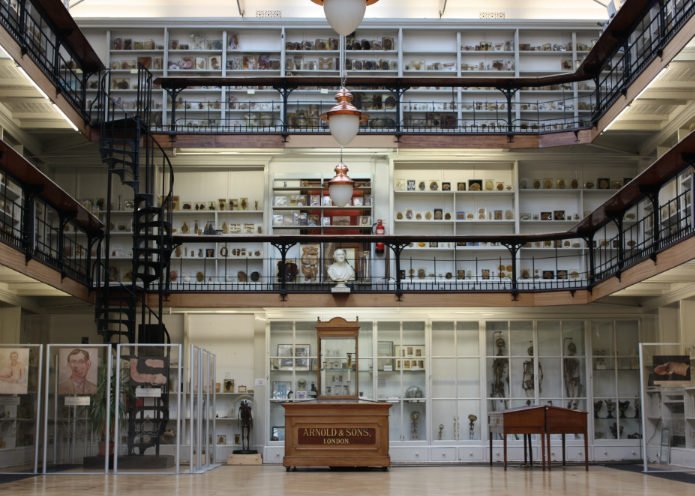 Housed in St Bartholomew's Hospital, it's home to over 5,000 medicinal specimens, displayed over 3 mezzanine levels. Specimens include a gout-inflated hand; a 'tight-laced' liver, almost split in two from the continuous tight-lacing of a woman's corset; as well as a Chinese woman's bound foot. You can also see the skull of John Bellingham who assassinated British Prime minister Spencer Perceval in 1812. It's primarily reserved for the use of medical students, although they do occasionally open to the public for events including beginner taxidermy classes, ideal for those days for when a single dose of dead just doesn't quite… cut it.
Details: St Bartholomew's Hospital, 24 West Smithfield, EC1A 7BE | Open for events only – check here
–
Whether you're in the market for something shiny or just fancy ogling beautiful things, you'll be well-placed in Hatton Gardens: London's jewellery quarter and the centre of the UK's diamond trade. There are over 300 jewellery businesses there – 55 fully-fledged shops, as well as big bazaars full of people heckling for your attention – selling both new and vintage treasures.
Details: Hatton Garden, EC1 | Shops open Mon-Sat 9.30am-6pm, Sun 10.30am-5.30pm
–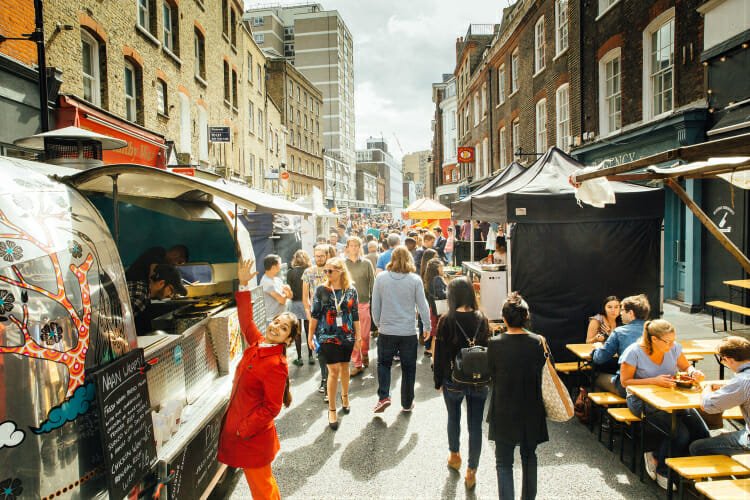 One street over from Hatton Garden is Leather Lane, home to a bits-and-bobs market that's been running for over 400 years. Up until recently it was best known for selling mostly cheap shoes, clothes, and fruit and veg. It's also got a couple of pot-luck grocery stalls selling bourbon biscuits pass their sell by date. Nowadays however it's seen an influx of street-food traders, meaning you can head down there at lunch and indulge in everything from pie and mash to a box of vegetarian, Indian street food for £5.
Details: Leather Lane, EC1N 7TP | You probably want to visit early (11.30am) or late (2pm) to avoid the office lunch-time rush. Most things will have wrapped up by 4pm.
–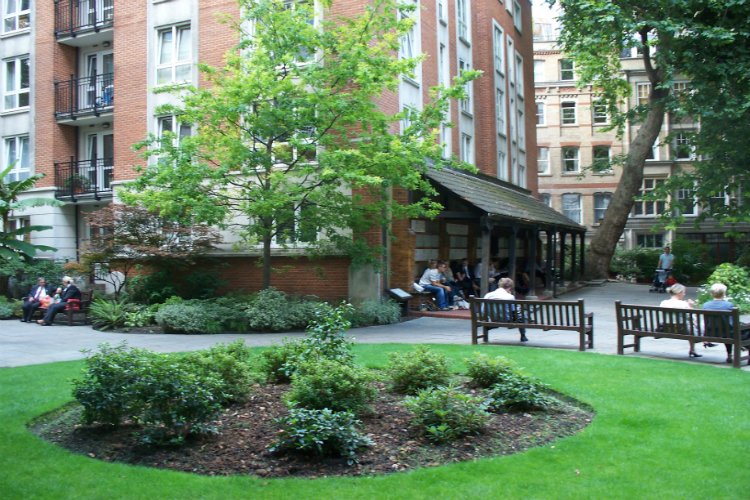 If you're on the lookout for a little green space, whether to tuck into your lunch or for a little mid-morning meditation, then head to Postman's Park. Though hidden, it's actually one of the largest open spaces in Central London. It's famously home to 'The Memorial Of Heroic Self Sacrifice', a sheltered row of 56 plaques, each dedicated to an 'everyday' person who sacrificed their life in order to save others. It was started in 1887 by artist George Frederic Watts, and admittedly some of the plaques show their age – 'Frederick Alfred Croft. Inspector. Aged 31. Saved a Lunatic Woman From Suicide in Woolwich' – however it's moving nonetheless, and thought-provoking, with 66 spaces left to fill.
Details: King Edward Street, EC1A 7BT | Open daily 8am-7pm
–
The Cloister Garden At The Museum Of St John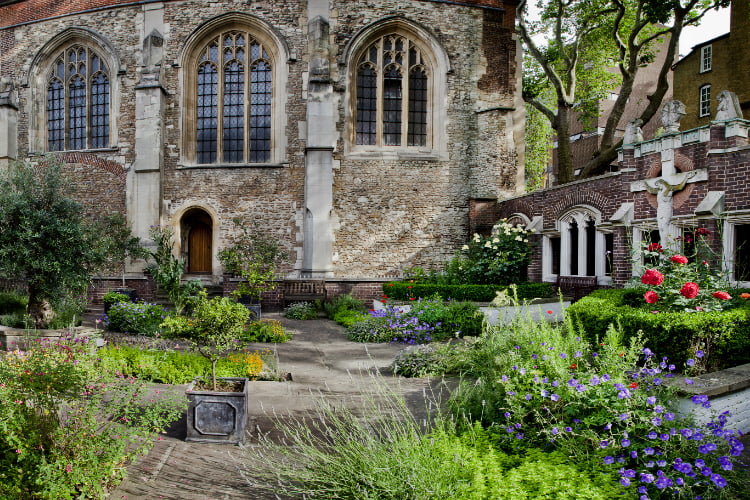 This beautiful, crumbly old building is full of history. Over its near-900 years, it's been a monastic priory, HQ for the 'Master of Revels' in the 16th century, a coffee house run by artist William Hogarth's father, a pub (where Charles Dickens is said to have drunk), and, for the past century, a museum detailing the history of an ancient order of 'knights hospitaller' (who now make up the St. John's ambulance service). The place is filled with hand-illustrated manuscripts, medieval maps and a cannon from Henry VIIIth – and you can even take a stroll in their hidden garden, where the monks grew medicinal herbs in the 1400s.
Details: St John's Gate, St John's Lane, EC1M 4DA | Open Mon-Sat 10am-5pm, closed Sundays
---
BEST RESTAURANTS IN FARRINGDON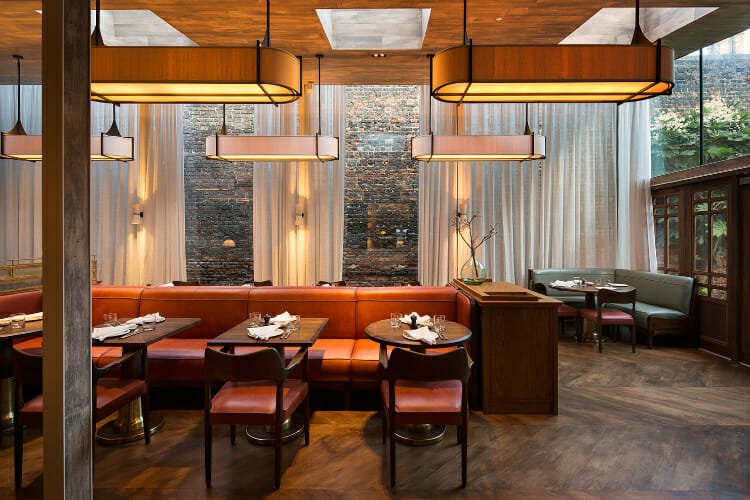 It's a 1950s-styled Italian joint brought to you by the team behind The Clove Club. Head Chef Robert Chambers  (previously of Michelin-starred The Ledbury), along with Isaac McHale (of Young Turks and Noma fame) have developed an all-Italian menu of dishes like parmesan gnocchi with nettles and cured egg yolk, using solely seasonal British ingredients. READ MORE.
Details: 88 St John Street, Farringdon, EC1M 4EH| Open Mon-Sat 12-10pm
A stripped-back British restaurant courtesy of Mark Jarvis (previously at Michelin-starred Texture and, before that, Le Manoir aux Quat'Saisons under Raymond Blanc). Jarvis set the place up with the hope of providing a space to eat exquisite food, yet without any of the pretentiousness that often comes alongside fine-dining. Fortunately that's exactly what he's done, serving exclusively tasting menus of beautifully plated food, paired – should you wish – with cider and top-shelf wines. READ MORE
Details: 30 St Cross Street, EC1N 8UH | Open 12-2.15pm, 6-9.15pm Tues-Sat
–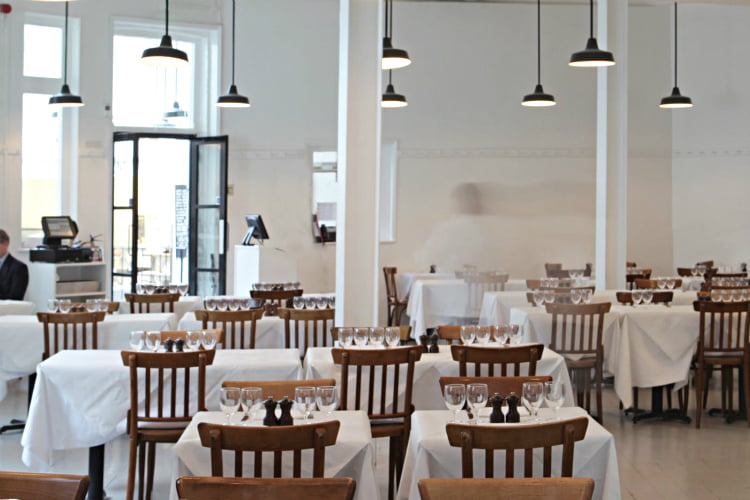 One Michelin star and counting, it's a laid-back, industrial-style, nose-to-tail restaurant, housed in a former smokehouse in Farringdon. They do have a few vegetarian options, however for the most part they serve dishes like devilled kidneys on toast, or ox heart with beetroot and pickled walnut, creatively showcasing how to make the most of every animal. They're also well praised for their desserts. A bakery fills the space of a former chimney, from which they serve freshly baked breads, and sweet treats like steamed blood orange pudding and twice-baked chocolate cake. The wines are solely French, there are plenty of them, including bottles stamped with St John's own label, in collaboration with some of their favourite producers around France. READ MORE
Details: 26 St John Street, EC1M 4AY | Open Mon-Sat 9am-9pm, Sun 10am-9pm
–
With candlelit tables, fresh flowers and old French liqueur posters decorating the exposed brick walls, Le Café du Marché is a little tranche of old-school French romance hidden down a cobbled street in Farringdon. A double bass and piano band serenade your ears as wine, roast lamb and French cheese serenade your tastebuds. It's lovely. READ MORE
Details: 22 Charterhouse Square, Charterhouse Mews, EC1M 6DX | Open for weekday lunches 12-2.30pm, dinner Mon-Sat 6-10pm
–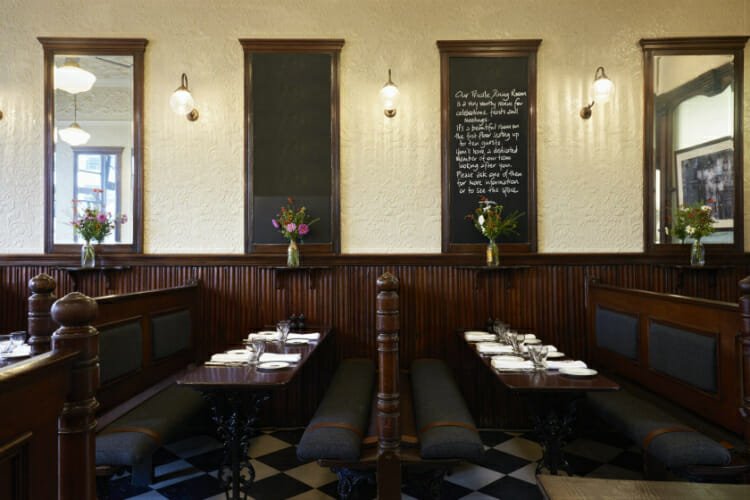 The Quality Chop House is probably the most accurate review you could give to this restaurant. Set in a monochromatic, Grade II listed dining room, it's been serving the diners of Farringdon since 1896, with a rich menu of meat, fish and game dishes. What the name doesn't tell you, however, is that they also specialise in excellent, unusual cocktails and wines… READ MORE
Details: 88-94 Farringdon Road, EC1R 3EA | Open Mon-Sat 12-2.30pm, 6-10pm; Sundays 12-4pm
–
It's all day cafe-restaurant, styled like a hipster's studio apartment: distressed floorboards, hanging plants, vintage grandma tables with mis-matched metal stools; and more. For lunch they've got various sandwiches, salads, and soups, as well as a few larger dishes. Dinner takes the form of small plates with a slight Middle Eastern lilt – warm flatbread; labneh; carrot fritters with watercress and orange salad; and ox cheek with black lime, kohlrabi, and yoghurt. There's cocktails, wine, and craft beer on tap – but you'll come for the gin, given their 40-strong collection. READ MORE
Details: 50-52 Long Lane, EC1A 9EJ | Open weekdays 7.30am-midnight, Saturdays 10.30am-midnight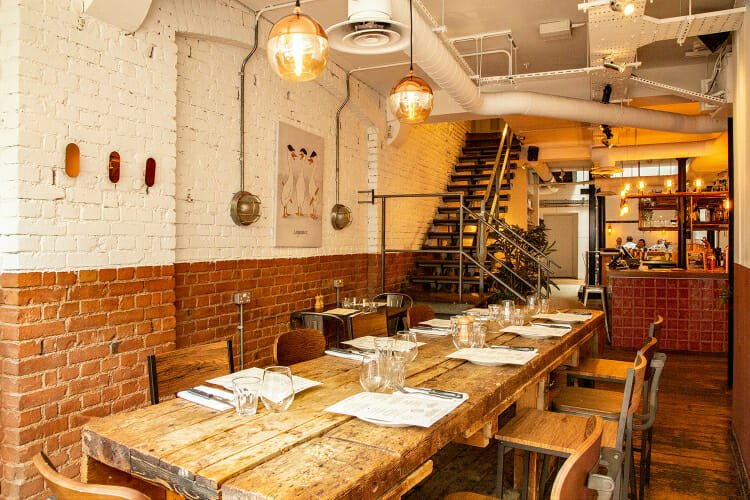 Monsier Le Duck was opened with the hope of bringing a little slice of Gascony to London. Which it does, thanks to its low-key, red and white checked, rustic setting; a food menu made up of exclusively French, mostly duck-based dishes; and wide range of armagnacs, as well as hand-picked French wines. READ MORE.
Details: 27 Clerkenwell Road, East London, EC1M 5RN | Open Mon-Fri 11am-11pm, Sat 10am-11pm, Sun 10am-5pm
Smiths of Smithfield is essentially four venues in one: a ground-floor cafe-turned-wine bar; a casual, brightly-coloured cocktail bar; an industrial-styled grill; and a slightly fancier rooftop restaurant. Cuisine wise it's Modern British, with a strong leaning towards meat – an ode to the historic Smithfield Meat Market directly opposite. READ MORE.
Details: 67-77 Charterhouse Street, Farringdon, EC1M 6HJ | Open Mon-Wed 7am-11pm, Thurs-Fri 7am-12am, Sat 9.30am-12am, Sun 10am-6pm
 9EJ
---
BEST BARS IN FARRINGDON
Brought to you by the team behind award-winning Old Street speakeasy Nightjar, Oriole is a tropical basement bar focused on transporting you through time and around the world with every drink. You'll find it tucked beneath Smithfield Market, down some stairs, and past a golden curtain. Here, surrounded by far-flung treasures, you can pick yourself a drink from one of three sections: The Old World, The New World, And The Orient, alongside a few nibbles if you wish, and sip to the sound of live jazz, playing there seven nights a week. READ MORE
Details: East Poultry Avenue, EC1A 9LH | Open daily 6pm-late
–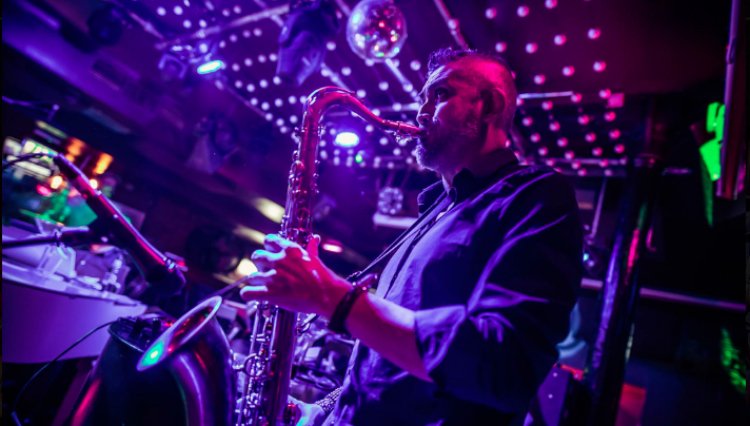 For something a little more raucous, take a trip to Piano Works. It's a 400-capacity warehouse venue centred around a piano, a live band, and a long list of audience requests. They serve food – buttermilk fried chicken with BBQ sauce, or pork ribs with coleslaw and chips – as well, of course, as plenty of drinks. On Saturdays they do a 2-course bottomless brunch with two hours of free-flowing prosecco or Bloody Maries for £50.
Details: 113-117 Farringdon Road, EC1R 3BX | Open weekdays 5pm-1am, Saturdays 12pm-1am
–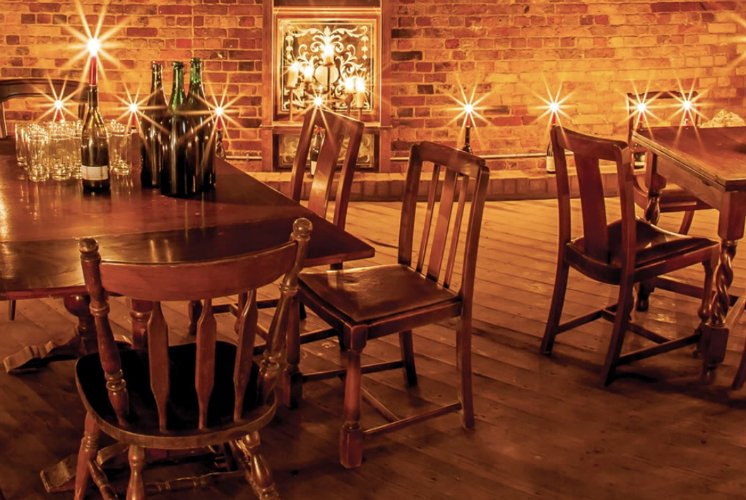 Found in one of the Victorian railway arches underneath Holborn Viaduct is this wine cellar turned office, warehouse, and drinking room, owned by a particularly lovely John Baum. Baum specialises in importing and selling wines, however he's also able to help people experience his next best activity: drinking them. For £12 corkage, John will help you pick out a well-matched bottle of wine, which you can enjoy by candlelight, alongside a few cheesy or charcuterie nibbles if you fancy.
Details: 41a Farringdon Street, EC4A 4AN | Open Mon 11am-5pm, Tues-Fri 11am-11pm, closed weekends
–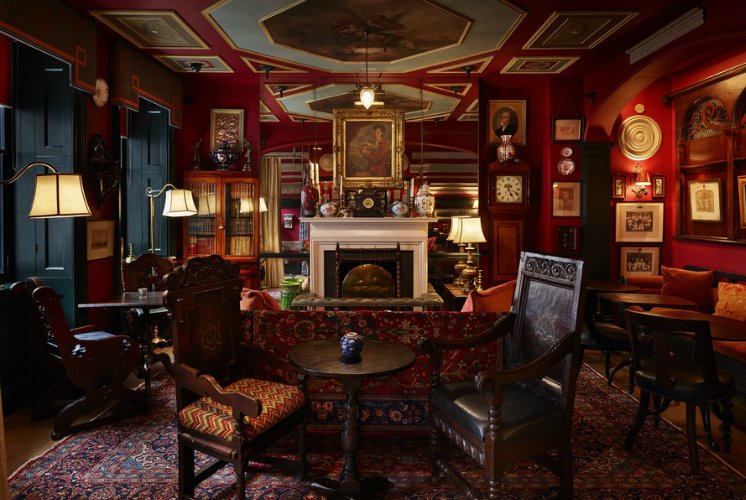 A sumptuous ruby red, cocktail lounge found within The Zetter Townhouse hotel, with tipples courtesy of Matt Whiley (founder of World's 50 Best Bars ranker Scout) and Rich Woods (aka The Cocktail Guy). (Genuinely his business name). READ MORE
Details: 49 St John's Square, EC1 4JJ | Open Mon-Wed 7am-midnight, Thurs-Sat 7am-1am, Sun 7am-10pm
–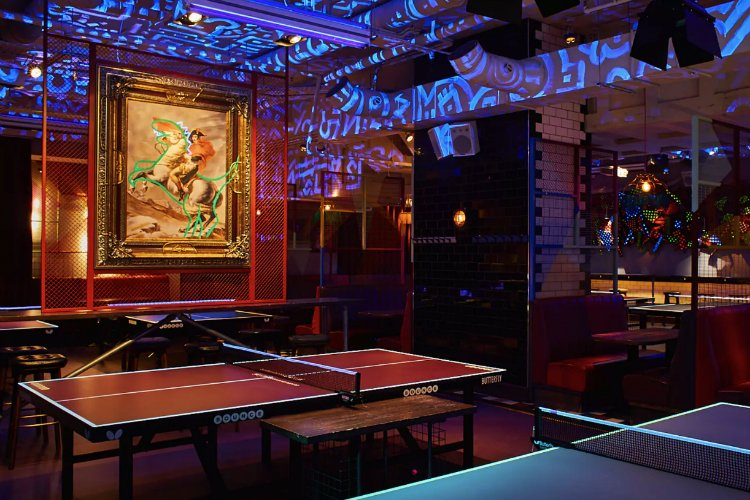 Ideal for office parties, after work drinks with awkward colleagues, or first dates – really any situation where conversation might become stilted and you'll benefit from two minutes of feigning to hunt for a lost ping pong ball. There's food, there's booze, and there's plenty of ping-pong for £4-£6 a pop. READ MORE
Details: 121 Holborn, EC1N 2TD | Open Mon-Wed 4-12pm, Thurs 4pm-1am, Fri-Sat 12pm-1am, Sun 12-11pm
Last Updated: 8th April 2020 | Main image: Paul Gravestock
---
Heading further east? Check out our Shoreditch Guide