NOTE: Le Bab Old Street is currently closed, but you can still get their gourmet babs at the original Le Bab, and others around London.
---
"Welcome to Paradise"
Thus reads the awning, hanging like a happy tongue above the latest cliche-crushing Le Bab outfit.
And if you're on your way back to Old Street station with a couple of drinks under your belt, and a powerful hunger for something satisfying (but also, you know, good), then this is indeed paradise.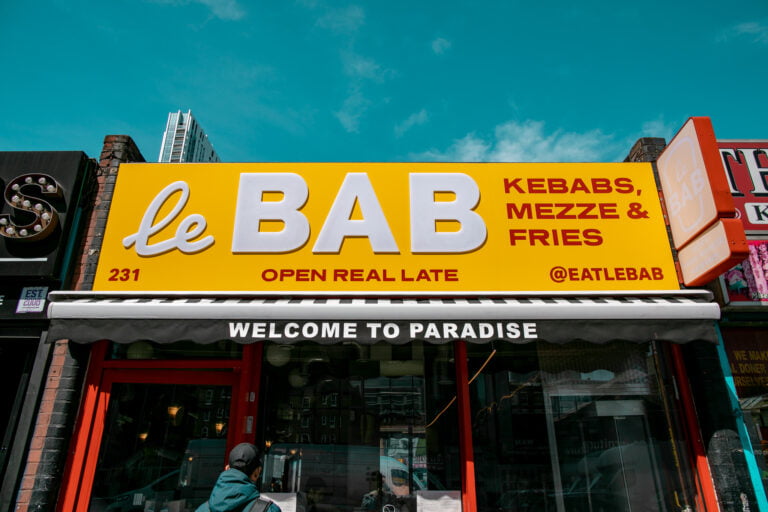 For those who don't know, the Le Bab micro-chain is the work of a three of former Le Gavroche chefs, who left the two Michelin Star restaurant in order to try and rehabilitate the image of the noble 'bab. They now have five venues, the king of which is, well, Kebab Queen – a tasting menu only kebab restaurant. (It's extremely inventive, read all about it here.) And now that they've fully deconstructed the dish, they're essentially rebuilding the OG classic here. Only from much better parts.
This new joint is just off the Old Street Roundabout, heading east towards Shoreditch High Street. It's been placed there with the deliberate intention of catching the partygoers spilling out of the bars & nightclubs, all the way until 5am. Walk in, and you'll be greeted by the sound of hip hop and sizzling coals. There's counter seating atop hot pink leather stools, and a small booth at the back. It pushes all the regular kebab joint buttons, only with style.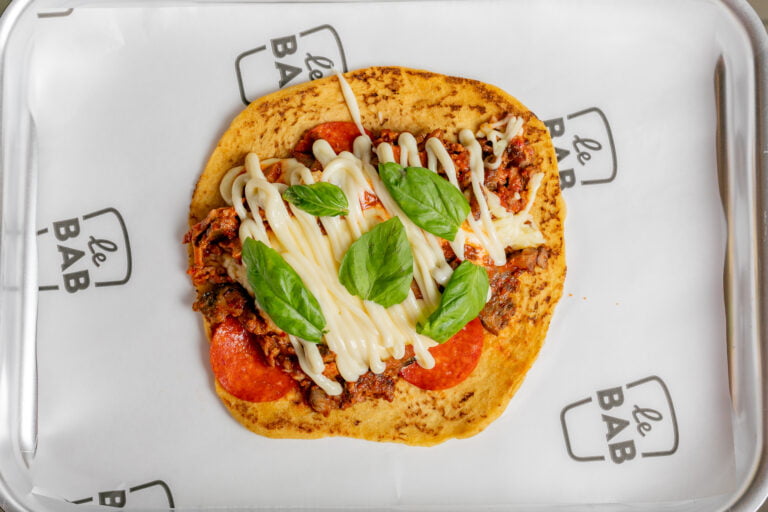 As for the food? Well, they serve the likes of the Pepperoni Pork Shawarma, which brings together spicy soppressata with tomato pork jus & mozzarella fondue (basically pepperoni pizza that's been wrapped up); the lamb 'Madras' Adana Kebab on a base of madras yoghurt, Bombay mix, red onion, lime, mint and coriander; and even a 'Dirty Vegan' made with Beyond Meat, vegan mayo, vegan fondue sauce and the very best vegan food: fries.
The drinks list is short and concise – a lager, an IPA, a rum & coke, etc. But then, the likelihood is you're already sorted in that area, which is half the reason you're in there, salivating, in the first place.
Welcome to paradise.
Le Bab Old Street | 231 Old St, EC1V 9HE
---
But where to drink before you dine? Here are the best bars in Shoreditch.