Gnarly Vines | A Natural Wine Bar With One Hell Of A Backyard
Gnarly Vines.
It's a gnartural natural wine shop.
You'll locate it in Leyton – about a 15 minute walk from Walthamstow Central Tube  – offering drinkers in the upper end of East London a grape-fuelled alternative to all the craft beer found along the Blackhorse Beer Mile.
Gnarly Vines stocks an atypical selection of 400-500 artfully-labelled bio-dynamic bottles from regions as far as France, Georgia and even here in England, like Pinot Noir and Pinot Blancs from Tillingham (which you should get down to some time; it makes a great day trip from London). They're all available to drink in for a tenner corkage, and the team are unbelievably knowledgeable. If you'd really like to try something different – not from the bottle, not from the glass – Gnarly does a line in natural wine cans that are just begging to be drunk in a park. They've called it Mad Med, and they produce it in Provence.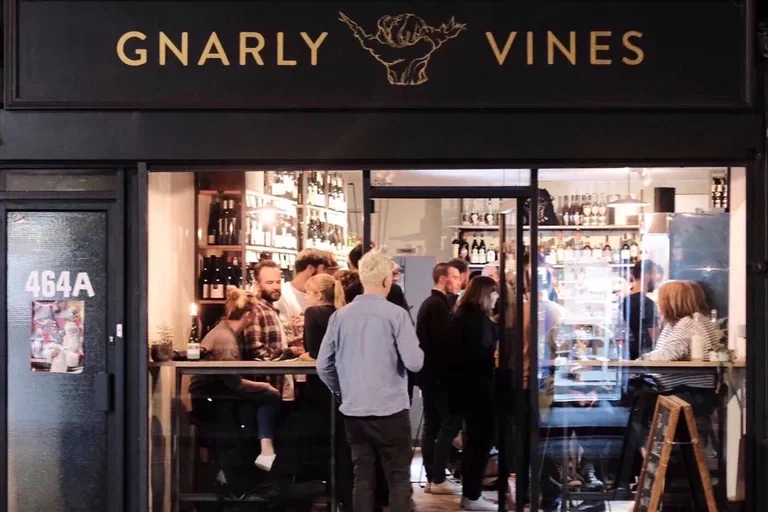 For the cost cutters, and people looking to get unsteady a reasonable price, there's also a handy '£20 And Under' section which slings nifty finds like an unfiltered Australian chardonnay with 'ripe melon and baking spice aromas' and a garnacha that was made especially for them by a family-owned vineyard in Navarra, Spain. And yes, they have Chin Chin too… 
For food, they've got cheese. As you'd expect. And if cheese isn't enough, you can even order in Yard Sale Pizzas (with free delivery to your table) – the homegrown pizza brand whose stone-baked sourdough beauties we rate as some of the best pizza in London.
Last but not least, to address the seating deal; inside is more of a stand-and-gather situation with a few stools by the window (though they bring in a long table whenever there are talks and tastings) and outside, you can take your tipple to a ridiculously-pleasant walled-in back garden, with trees, plants, wooden benches. The lot.
Just don't call it a beer garden…

NOTE: Gnarly Vines is open Mon 12-6pm, Sun + Tues-Thu 12-8pm, and Fri-Sat 11am-10pm. You can also grab a bottle or two from their website, right here.
Gnarly Vines | 464 Hoe Street, E17 9AH
---
Can't get enough of it? Here's some more of London's best natural wine bars