adidas City Runs | Race through London
Training for a race might feel tough at the time…
…but it's always worth it in the long run.
And it's a lot easier to motivate yourself when you're getting training advice from adidas themselves, ahead of one of their exhilarating, heady races through some of the most iconic streets in London.
This year adidas are holding three races across the capital: two 10k runs in Shoreditch and Fulham, and to kick things off (on Sunday 7th April) a 1 Hour run through the City, where – after passing some of the city's most historic landmarks, from St. Paul's Cathedral to the Royal Exchange – you'll finish with a distance, rather than a time.
Closed off to traffic, the circuit is made up of 1 mile laps – meaning that you'll constantly be running alongside other people (it's literally impossible to be left behind) and you'll never be too far from a water station or cheering stand. Dotted throughout the route they'll also have huge digital clocks – but you'll also be given your own personal timing chip to wear, which'll log your distance as you pass high-tech timing mats along the route. That way, when the 1 hour horn blasts, you'll be given a completely accurate final distance.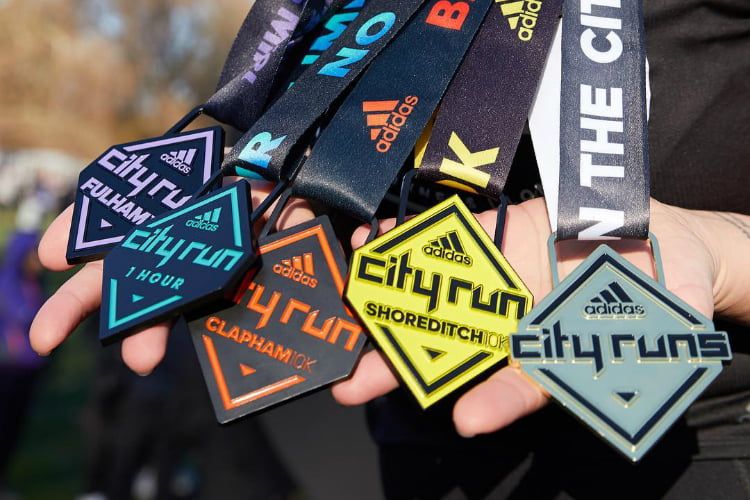 Looping back to St. Paul's Cathedral, you'll then be able to unwind at the Event Village, where you'll be plied with free massages and yoga, receive your medal and get your distance printed onto your personal adidas race shirt. And for the after-party, they've naturally arranged a set of exclusive treats and discounts at the area's preeminent establishments, including The Trading House, Caravan and Hawksmoor.
Of course, there'll be plenty of support before the big day too – for all three races, adidas have teamed up with local gyms, classes and fitness studios (including F45 and Hot Spot Yoga) to help you shape up. They've also devised two bespoke training plans to follow, depending on your running ability, and you can join an adidas Runners group – weekly 4-32k group sessions led by community coaches that'll support your goals; advise you on pacing, recovery and nutrition; and help you track your progress on an app.
So they're giving you a lot more than just a run for your money.
NOTE: You can book yourself a spot in one of the adidas City Runs now, right HERE. Entry costs £40 (including your t-shirt, training plans and post-run massages).
1 Hour Run: 7th April | Shoreditch 10k: 14th July | Fulham 10k: 17th November