Farmyard Cinema | Pop up cinema on a farm
Cinema in a farmyard.
It's a barnstorming idea.
One that comes to us from the people at Secret Adventures, whose other invigorating endeavours include kayaking to a brewery or watching movies underground. For this particular experience, they're giving you a chance to dip your proverbial toes into a more rustic side of life by setting up a pop up cinema in an actual farm.
That farm is just south of the river in Waterloo, and once all of the pigs, sheep, chickens, and other assorted residents have gone to sleep, they'll fire up the campfires and your evening will begin…
Everything kicks off at 7ish, with some marshmallows to roast over those campfires. They're all free, and you can have as many as you like. There's also going to be some street food on offer, as well as a few cocktails, wine, and beer too.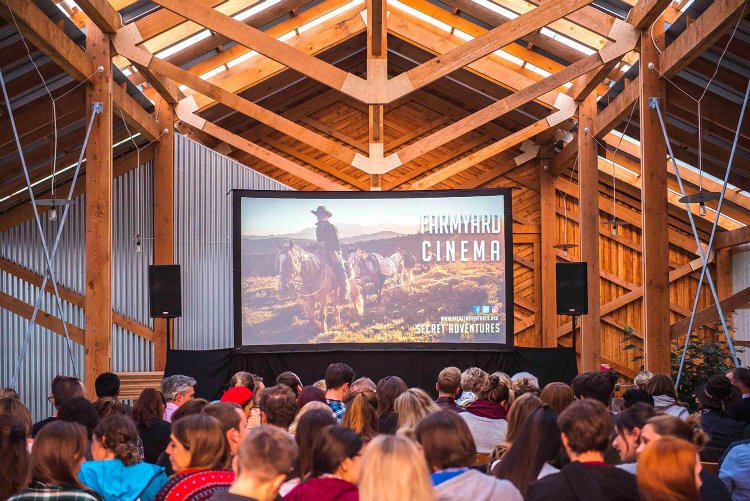 Once you're suitably well-watered/fed, everyone will make their way into the venue's huge barn for the film. You'll be watching Unbranded, an iconic adventure documentary that follows a quartet of men as they ride a string of wild horses 3,000 miles through the wildest terrain still left across Canada, the United States, and Mexico. Along the way, they contend with runaway horses, perilous mountain passes, sickness, injury, death, and "a sassy donkey".
The film has won over 15 film awards, and is regarded as one of the best of its kind ever made.
No bull.
NOTE: Farmyard Cinema takes place on Thursday 29th August 2019. You can book a ticket (£21.39) and find out more at their website right HERE.
Oasis City Farm | Lambeth, SE1 7LG
---
If you like this… something tells us you'll like Midnight Apothecary, too.