Word of warning.
On the menu at Akara – a sleek new temple of West African fine dining in Borough – you'll find a Scotch Bonnet cordial. It is, as it sounds, like drinking delicious liquid fire. The only problem is that if you then choose one of the many brightly flavoured, chilli-laced dishes on the menu, your first instinct will be to try and douse those flames with a sip of your drink. Which is like trying to put out a house-fire with napalm. Only, you know, in an addictive way.
Of course, not everything on the menu is volcanic, there are plenty of more subtle and fragrantly seasoned dishes too. The place comes to us from Aji Akokomi, a man whose first West African restaurant, Akoko (which means 'first' in Yoruba), has been listed in the Michelin Guide and critically lavished by pretty much every reviewer who visited.
You'll find the followup in the plush new Borough Yards development – just down the stretch from BAO and Elliots – where it fills the area's historic brick archways with a sleek new dining space & cocktail bar. That dapper new space has been designed by the people at design studio A-nrd, who made both Kol and Milk Beach look as casually gorgeous as they do. Expect a triple-height ceiling overlooking a  minimalist blend of stone & wood, with pale oak chairs gathered around white limestone tables, and a softly lit hand-carved wooden bar – and there's an open kitchen at the back with a countertop for those who want to chat to the chefs as they dine.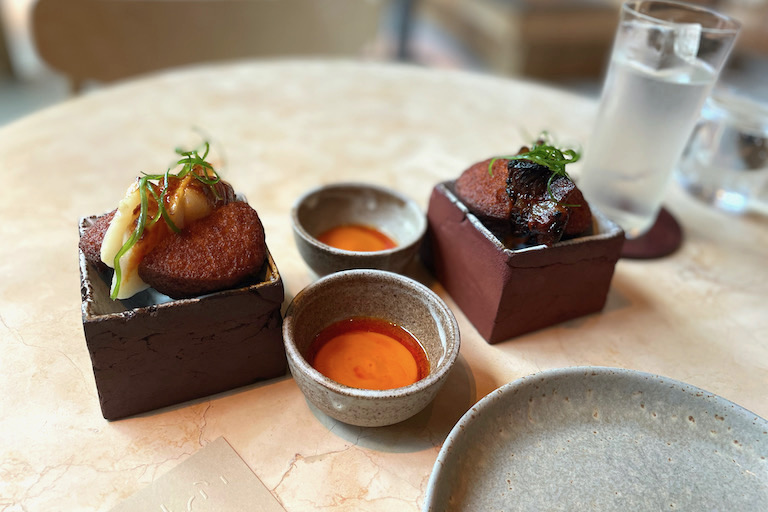 Which brings us back to the name of the place: Akara. It refers to a type of traditional crispy fritter made from black eye beans which is hugely popular in West Africa, and which can be stuffed with a whole library of different flavours & ingredients. It's no wonder they named the place after them, because they are utterly delicious. And that's what the opening part of the menu focuses on, with akaras loaded up with the likes of hand-dived scallops; tender ox-cheek; chanterelle mushroom patê; and plump carabinero prawns with a shrimp & coconut milk sauce among others. They're lovely, and they'll each come with a small bowl of Senegalese hot sauce. And yes, it's hot-hot.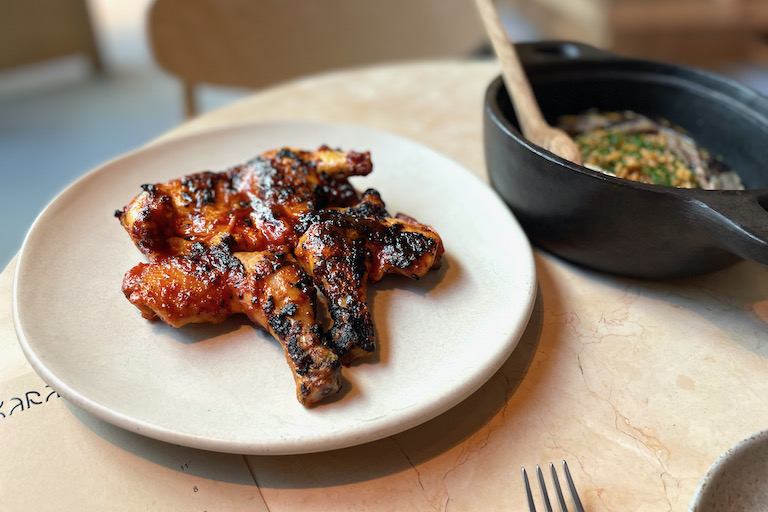 The main courses mostly roll off the in-house barbecue, and range from Senegalese chicken, to sea bream grilled in a punchy Nokoss sauce, and chilli-laced aubergine. The dishes are all well-spiced, and a pot of the mackerel-laden rice will fill you to bursting. And to top it all off, there are sone truly unique-to-London-sounding ice creams (caramelised onion & honey or rice & peanut, for instance) as well as sweet tamarind cakes and fluffy Ghanian doughnuts.
And of course, that cocktail bar isn't standing idle either, boasting shakers filled with West African-inspired drinks like caipirinhas made with smoked plantain, and a negroni infused with cacao & dates…
…which is quite definitely a date-worthy cocktail.
NOTE: Akara is open now. You can find out more at the website right here. 
PREVIOUS PERK: Nudge Member got in to Akara before anyone else with two exclusive preview nights with 50% off the bill.
Akara | Stoney Street, SE1 9AD
---
Want to get to know the neighbours? Here are the best restaurants in London Bridge…