Welcome to Bébé Bob, a more casual spin-off restaurant from the Bob Bob Ricard team.
Now, for those familiar with Bob Bob Ricard's glittering chandelier, sumptuous leather booth, press-for-champagne opulence, then you'll know that Bob Bob could have opened a restaurant in the palace at Versailles, and still described it as 'more casual'. So while yes, this is essentially a rotisserie chicken restaurant… they're also serving Champagne, caviar tasting platters, and a kirsch-soaked chocolate fondant, in characteristically luxurious surrounds.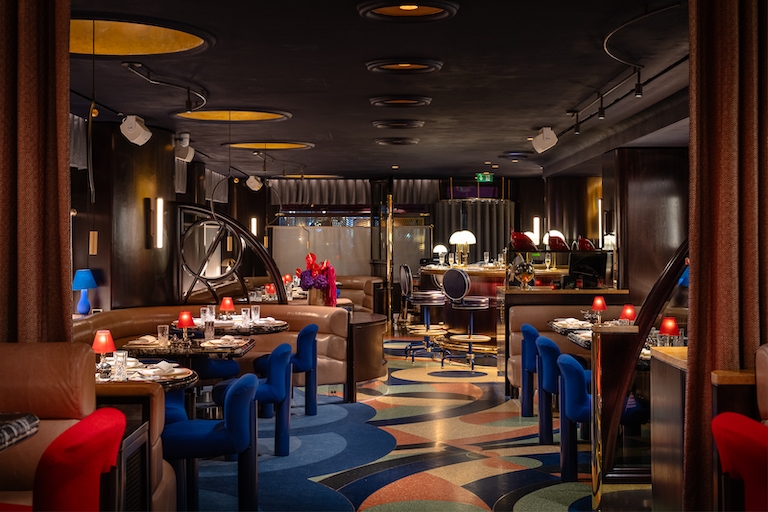 You'll find Bébé Bob just down the road from the original on a corner of Soho's Golden Square, in the space previously occupied by Folie. Even approaching it gives off shades of decadence, with curtains concealing a soft & intriguing glow within. The doorman will pull the door open, and reveal the striking multicoloured interior, filled with '70s-era glamour. Imagine bombastic floral arrangements and bold artwork splashed across the rich burgundy walls, softly illuminated by retro sconces. And amazingly, despite all of this velvety elegance, it doesn't feel at all pretentious. They aimed for relaxed and casual, and they succeeded.
That nostalgic streak runs through the menu, too, which encourages (relatively) affordable frivolity and decadence. There's a touch of The Wolseley about the old-school entrées on offer – baked Saint Marcellin cheese with truffle honey; a prawn cocktail laced with cognac; and an anchovy & boiled egg dish torn right out of a 70s dinner party cookbook.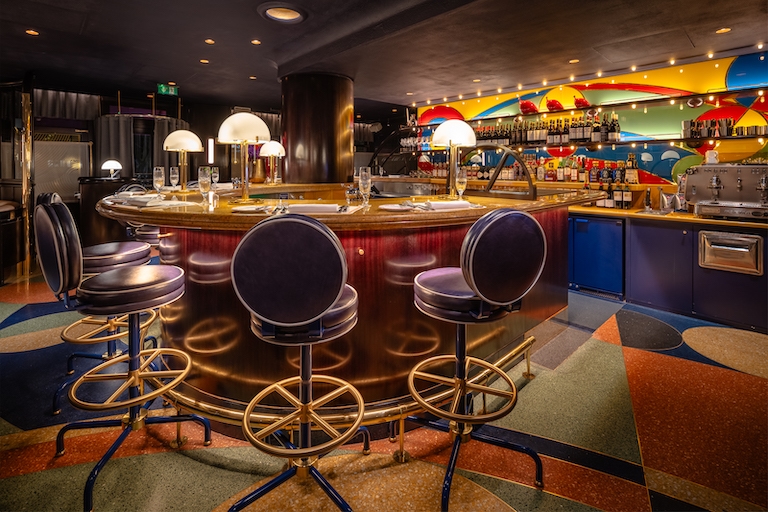 It all paves the way for the main event, where, Henry Ford-style, Bébé Bob promises "any main course the customer wants, as long as it is chicken or chicken." While vegetarians may need to politely fold their napkins and make their excuses at this point, everyone else is in for a serious treat. The rotisserie chickens are cooked to order and carved table-side for two to share, with two options to choose from. Both are relatively slow growers, free-range and mostly reared outdoors – the more tender being raised in Vendée, Western France; the firmer in the hills and prairies of Les Landes in Gascony (the same bird is served as 'the ultimate roast chicken' at the triple Michelin starred Hélène Darroze at the Connaught).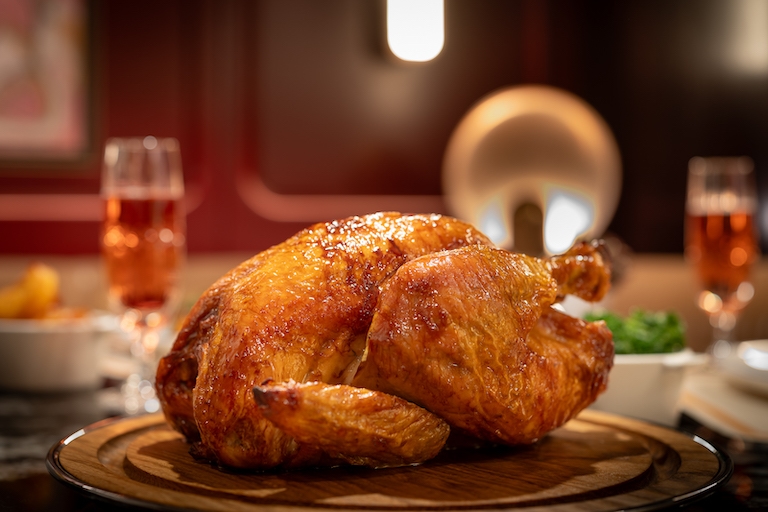 Washed down with something from the Champagne and Burgundy-heavy wine list, and a couple of sides – truffled cauliflower cheese and the chicken fat-roasted parsnips, perhaps – it's unlikely you'll have much room left for dessert. But you should persevere anyway, for they include an elegant Paris Brest (a praline-filled choux bun); tarte fine with calvados ice cream; and 'Le Colonel', a scoop of lemon sorbet served with a shot of vodka…
…if you want to wet the Bébé's head.
NOTE: Bébé Bob is open Wednesday – Sunday. You can find out more, and book, HERE.
Bébé Bob | 37 Golden Square, London, W1F 9LB
---
Like staying on top of the latest news? Take a peek at the London restaurants opening soon