Hawksmoor Wood Wharf | Floating Canary Wharf Steakhouse
It was bound to happen schooner or later.
Bowing to pier pressure, Hawksmoor's finally smashed a big bottle of champagne on its very first – and most likely its last – floating outpost, Hawksmoor Wood Wharf.  Moored just a stone's throw from Canary Wharf tube station, it's an eye-catching, three-levelled pavilion that's part-boat and part-island of steak, with its twinkling lights casting a glittering reflection onto the water through sleek, slatted sides which somehow make it appear even more futuristic than the dozens of skyscrapers around it.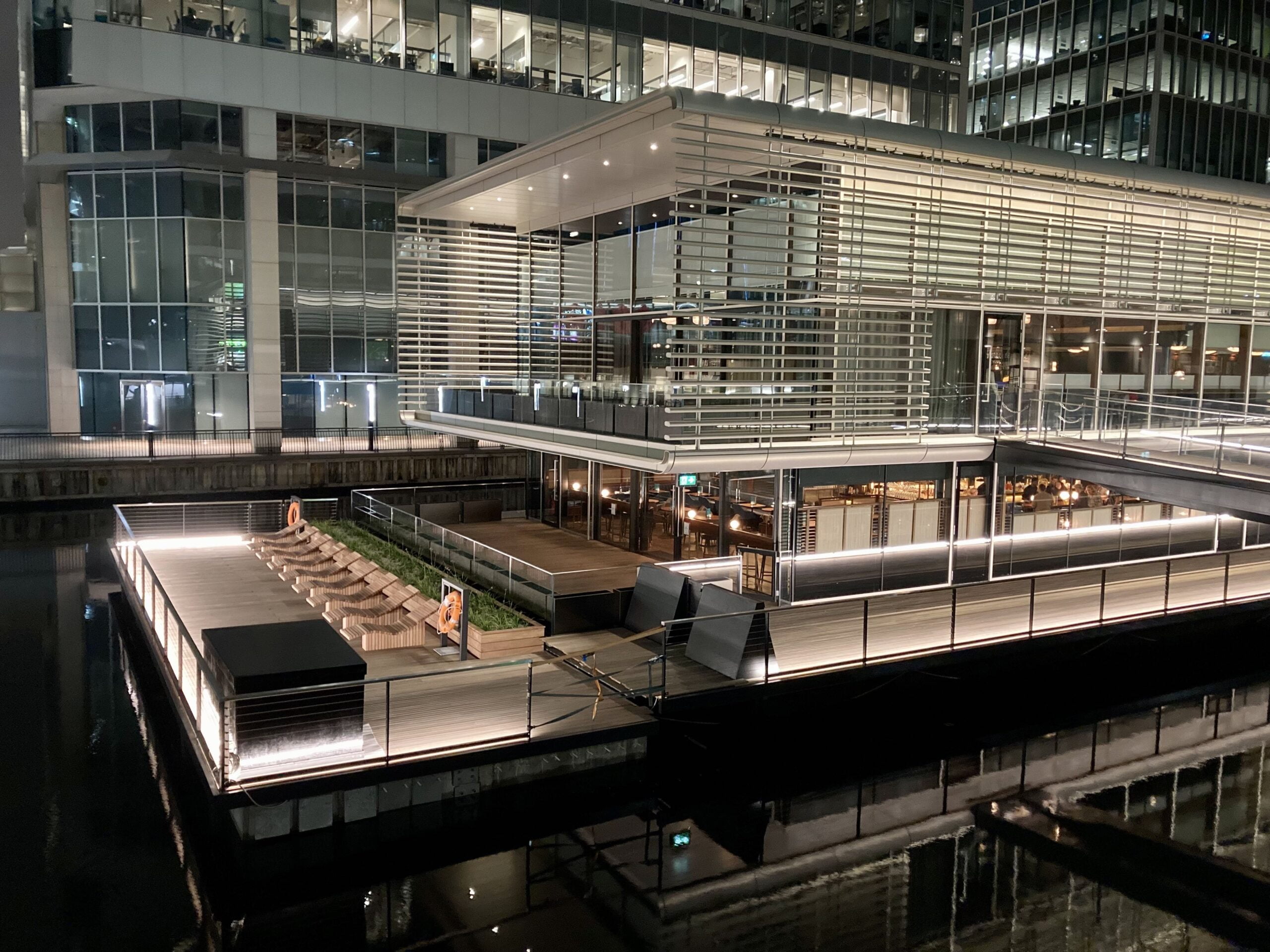 Crafted from sustainably sourced timber and aluminium, Hawksmoor Wood Wharf has a roof that'll eventually be covered in grass and wildflowers (specifically chosen for their carbon capture value); it draws all of its power from Canary Wharf's Combined Heat and Power network, which is a particularly efficient contained grid; and, as an added bonus, it's as predictably handsome inside as it is floating outside…
You access Hawksmoor Wood Wharf from its own private walkway, bringing you straight into the second storey of the building. This is the main restaurant area; a suave, low-lit lounge whose parquet floors, oxblood leather banquettes and marble-topped cocktail bar will feel pleasingly familiar. This is definitely a Hawksmoor, where the smooth art deco lines of the glass booth dividers and vintage-styled lighting hark back to the golden age of transatlantic liner travel.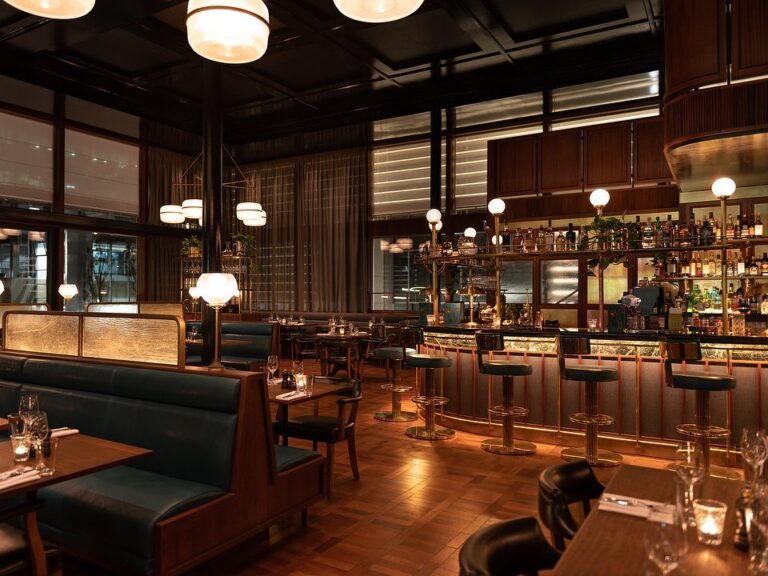 There's a clever division of the space into different dining areas – two intimate, wood-panelled sections give way to an airy, double-height space, which in turn leads onto the outdoor terrace, making this the first Hawksmoor venue to have outdoor dining. All told, there's space for a colossal 150 diners.
As you'd expect, steak remains the focus of the menu, available in all of Hawksmoor's classic, perfectly butchered cuts: porterhouse, rib-eye, sirloin, T-bone, and more. There are still great options for veggies and pescatarians, with veg & seafood tossed onto the charcoal grills, and the rare opportunity to enjoy a starter platter of oysters (with a Scotch bonnet mignonette, if you fancy it).
But that's not all. Turn back to the lobby, descend the stairs and and into The Lowback – Hawksmoor Wood Wharf's below-deck cocktail den that features a golden, illuminated bar at its centre and a Mondrian-style glass panel that mirrors the windows of Hawksmoor's original Spitalfields location.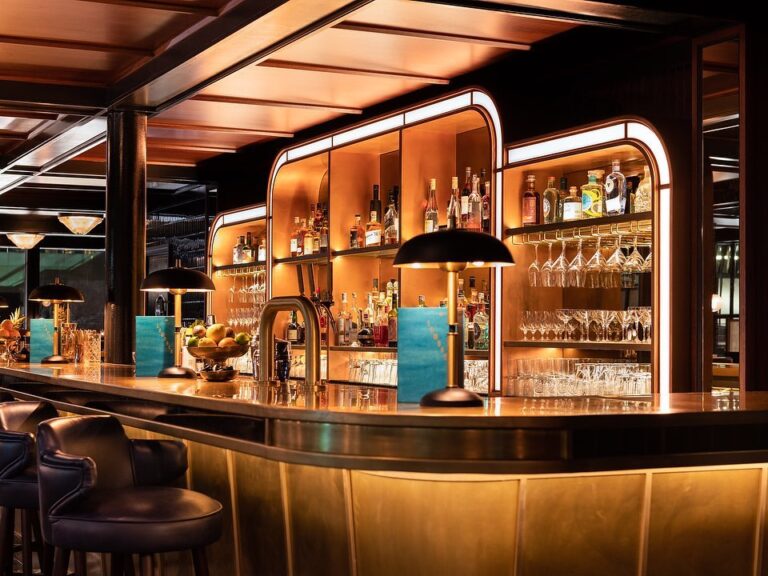 The Lowback is almost a venue in its own right. There's an entirely separate food menu on offer, specifically designed to supplement the drinking – knock back charcoal-roasted bone marrow oysters; salt beef nuggets with Ogleshield cheese; steelhead trout crudo with citrus & ginger; Scottish langoustine scampi po'boys and stacked beef burgers; and a more modest selection of cuts cooked the same way as upstairs, and served with triple-cooked chips.
The seating's much more relaxed down here, and well suited to bigger groups, with cosy velvet booths and high tables with stools. It's easily the most glamorous bar in Canary Wharf, where you can kick back with a couple of Hawksmoor classics like the much-copied Shaky Pete's Ginger Brew; order bottled cocktails for the table; and, from 4-7pm, enjoy the cocktail hours where they serve drinks you won't find anywhere else.
Form an oarderly queue…
NOTE: Hawksmoor Wood Wharf and The Lowback bar are open daily. You can find out more, and book a table, HERE.
Hawksmoor Wood Wharf | 1 Water Street, E14 5GX
---
Dining out on the Wharf is great, right? Browse our list of the best restaurants in Canary Wharf