The Best Restaurants in Canary Wharf | Dining Amongst, Sometime Inside, The Towering Glass Buildings
As London's chief financial district, Canary Wharf is primarily known for its offices and New York-esque skyscrapers that you can't miss when admiring the London skyline (they kind of look like New York, right?). But when you're not smashing the powerpoint presentations and making big business decisions at meetings, you've got to eat. You can't seal deals on an empty stomach after all…
Whether on the hunt for a new favourite lunch-break spot, somewhere special to impress the clients or somewhere for dinner that has absolutely nothing to do with work at all, you can bank on these Canary Wharf restaurants to deliver the goods. From spending big bucks at high-end steakhouses to spending medium-bucks dining al fresco at Italian restaurants, perusing mega food markets and overdoing it at bottomless brunch, we've whittled it all down to a solid group of ten.
So, behold our guide to the very best restaurants in Canary Wharf…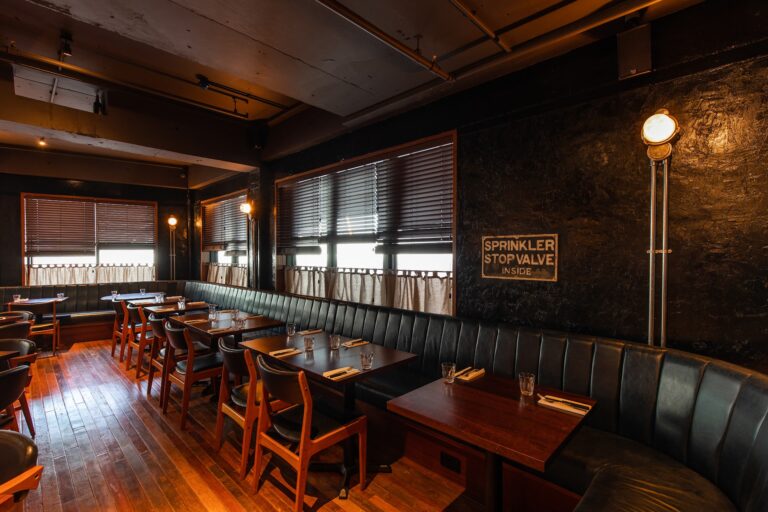 Chops, flattened and scorched with an iron, skinny or big ('door-stop-thick'), either prime rib, lamb or porterhouse with smoked bacon… or just the whole lot piled up on grilled flatbreads (you'll need a pal to devour this). Maybe halloumi with greens for the lone vegetarian at the table. We are indeed talking about Blacklock's latest restaurant in Canary Wharf, their biggest chophouse to date; a huge 120-cover warehouse under the railway tracks by the neighbourhood's north dock. This one also comes with an outdoor terrace attached, and a 10-metre-long bar doling out Old Fashioneds in large supply alongside new bar snacks like pigs head nuggets.
Details: 5 Frobisher Passage, London, E14 4PA | Book here
–
Goodman Canary Wharf | £££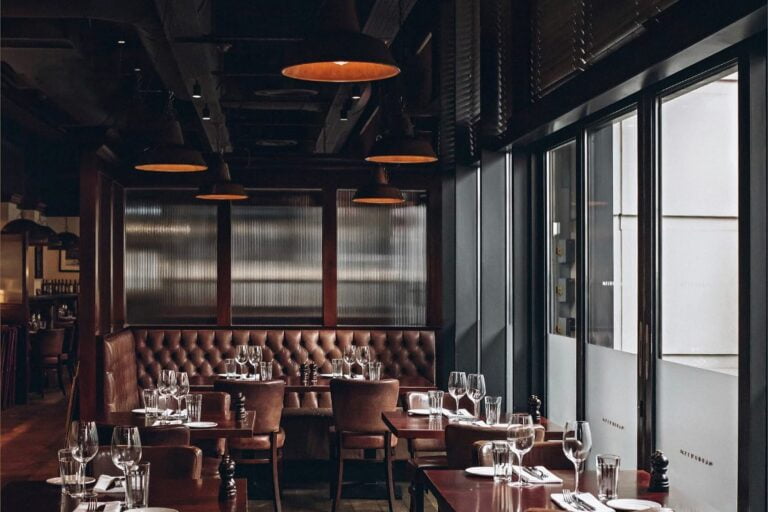 As one of the best steak restaurants in London, Goodman Canary Wharf is a cut above if you've got a hankering for high-grade slabs of meat with a side of power lunch Manhattan energy. Like its counterparts Goodman City and Goodman Mayfair, this spot comes with the typical New York-style steakhouse trimmings – low lighting and an abundance of dark wood and brown leather decor. They source their USDA-approved, grass and corn-fed beef from the British Isles and Nebraska, and then mature the meat onsite in their ageing room to achieve maximum tenderness. Partner it with sides in the vein of truffle fries and creamed spinach – plus a pricey drop of red – and you're good to go.
Details: 3 South Quay Discovery Dock East, E14 9RU | Book here
–
Roka Canary Wharf | ££££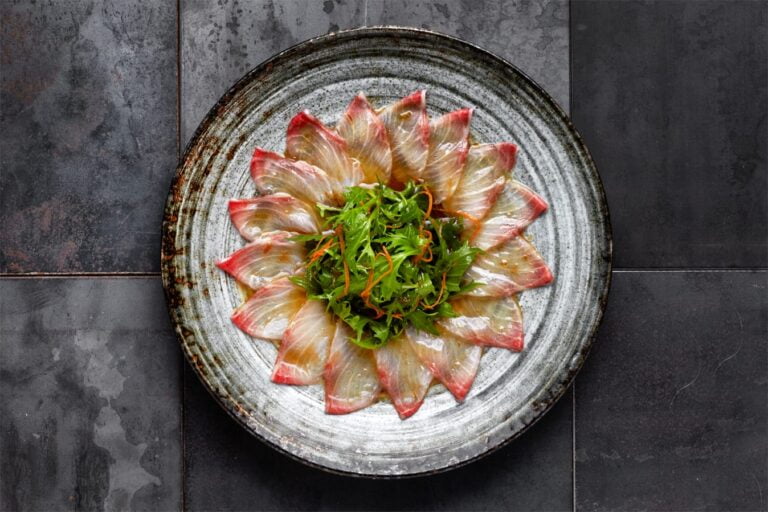 Roka Canary Wharf is part of the Roka-verse (that currently has four restaurants around town, plus more internationally) and its rampant popularity is pretty easy to explain. They specialise in 'robatayaki' (a Japanese method of fireside cooking) which is performed just as much as it's prepared, as chefs show off their sashimi slicing skills and grilling gusto from an open kitchen. Their Canary Wharf restaurant has two trump cards up its sleeve: a leafy outdoor terrace overlooking the skyscrapers, and one of the booziest bottomless brunches in London that begins with a welcome bellini, and ends with you slumped in your seat thanks to the non-stop wine top-ups.
Details: 4 Park Pavilion, 40 Canada Square, E14 5FW | Book here
–
Hawksmoor Wood Wharf | £££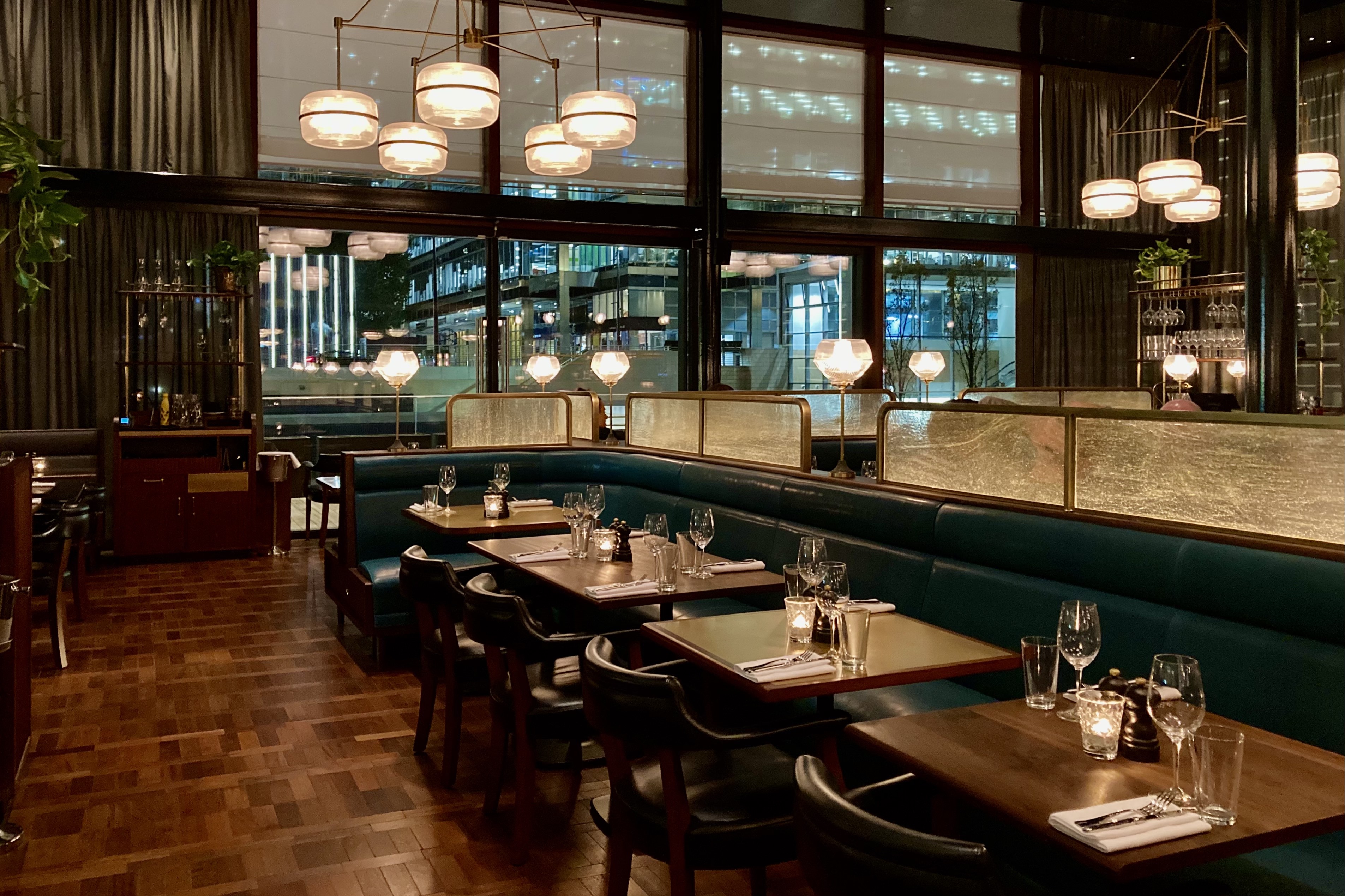 Hawksmoor Wood Wharf is part suave steakhouse chain and part eco-friendly floating restaurant, and has really pushed the boat out for a slap-up steak dinner. Attached to the docks via a connecting bridge, Canary Wharf's branch of Hawksmoor is set over three glossy timber-hued floors and offers the full monty of British-bred beef cuts – ribeye, rump, sirloin and so on – all to be cleaned up together with beef dripping or triple-cooked chips. They score top marks in the drinking department too, because downstairs you'll find The Lowback, home to memorable libations like a double melon daiquiri and their eponymous cocktail – a modified gimlet of yuzu, coconut and lime.
Details: 1 Water Street, E14 5GX | Book here
–
Pizza Pilgrims West India Quay | ££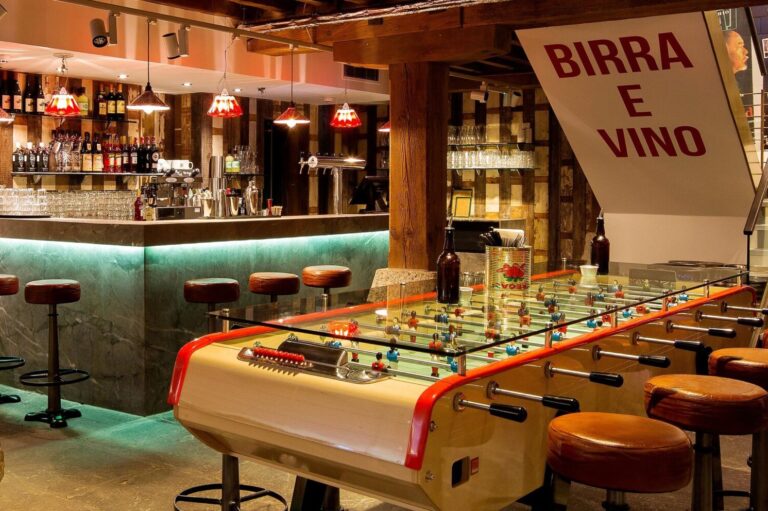 One of the best pizza restaurants in London, Pizza Pilgrims West India Quay is the genius idea of two brothers, James and Thom Elliot, who after a tour of Italy, correctly assessed that slaying charred-edged Neapolitan-style pizzas and your pals at foosball could turn out to be a rather good time. The pizzas themselves are well worth writing home about – like the mushroom and truffle or double pepperoni and spiced honey – but it's the dessert pies that'll hog your thoughts for the days after (the nutella pizza rings are must-try stuff). Once you're fuelled up, get your game face on in the 'pizza playground' downstairs, kitted out with a football table and Mario Kart on the Nintendo Switch. Or, if you'd prefer to chill over classic Italian cocktails and a quintessential game of bocce, there's an alfresco terrace ripe for that as well.
Details: 12 Hertsmere Road, E14 4AE | Book here
–
Pergola on the Wharf | ££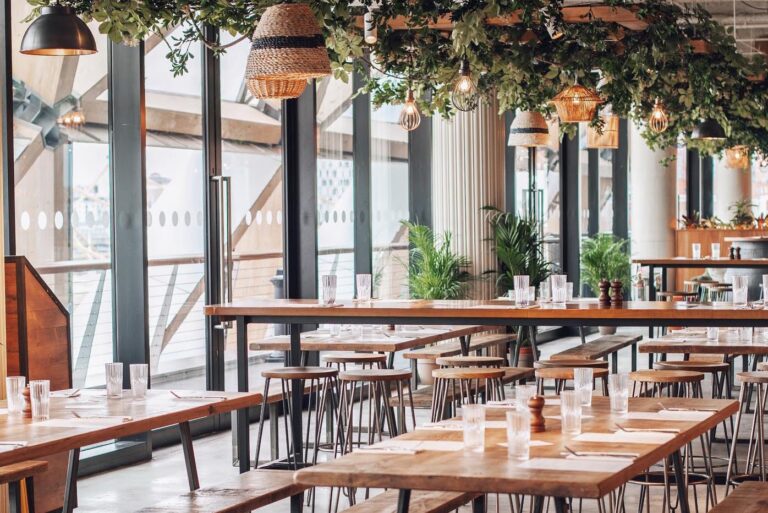 The flora-filled build up to actually making it into Pergola on the Wharf is an attraction in its own right, accessed by wandering through Crossrail Place Gardens. Once you're in and have finished admiring the scenery, you'll be able to dine within the vines and with sumptuous views of the surrounding area – all thanks to Mac & Wild's old Executive Chef Nick Wyborn's worldly menu that divides its time between the earth (plant burgers and crispy fried aubergine), land (open-aged steak sandwiches and Peruvian chilli skewers) and sea (salmon fish cakes and salt and pepper squid). On weekends, proceedings get a little looser through bottomless brunches and their 'Pergola Lates', which on Fridays see live DJs take over from the evening until the early hours.
Terrace watch: The one here wraps around the entire venue with a vista overlooking Canary Wharf, and although it can squeeze in around 200 punters, know that you'll still face stiff competition for seat. Bookings are a necessary evil.
Details: Garden Level, Crossrail Place, Canary Wharf, E14 5AR | Book here
–
Marugame Udon | £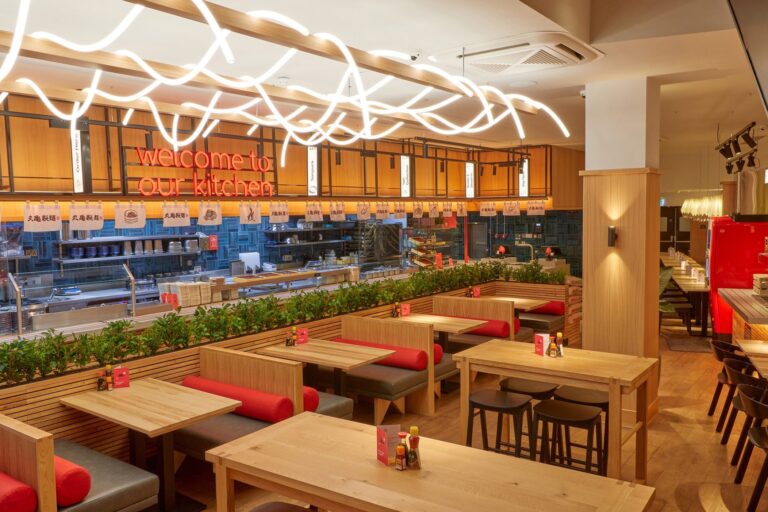 Marugame Udon has over 1000 stores worldwide, so it's safe to say this Japanese noodle powerhouse has quite the pull… Fortunately therefore the Canary Wharf restaurant follows the franchise's same tried and tested formula of fresh soul-soothing bowls of udon, which the chefs make at lightning speed before your very eyes. Flavours that you can slurp up a storm on include classics like curry and pork tonkotsu. Or, if you're in the frame of mind for a more solid meal, there's tons of tempura and a bunch of rice bowls to choose from. Also of great importance and not to be forgotten is the unlimited vanilla or vegan cherry soft-serve at just £3.45 a pop.
Details: Upper Floor, The Atrium Kitchen, Cabot Place, E14 4QT | Book here
–
Caravan Canary Wharf | ££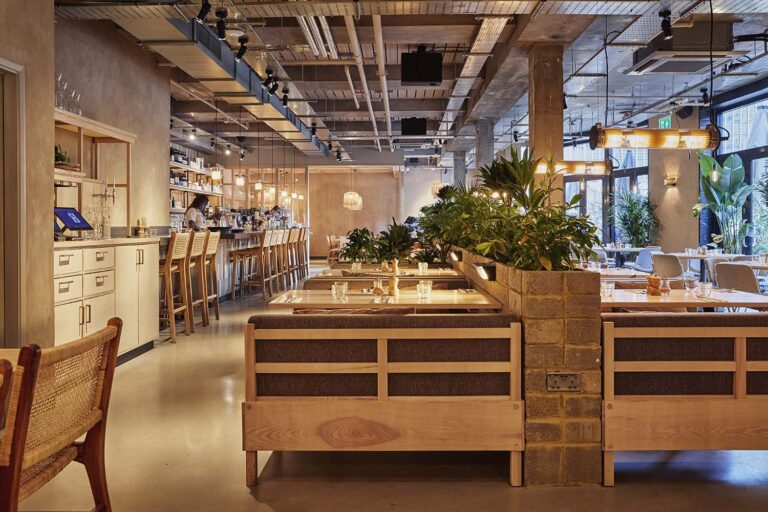 Caravans are pitching up here, there and everywhere in the capital these days. The restaurants we mean… with Caravan Canary Wharf joining Caravan City, Caravan King's Cross and Caravan Bankside in London's NZ-inspired all day-dining empire. People love it for its small plates (the jalapeño cornbread is a thing of legend); top-quality brunch food; in-house roasted brews (it's one one of the most popular coffee shops in London); and (critically) the fact that it's open for breakfast, lunch and dinner. Its placement, smack dab in Reuters Plaza, is primed for a slow-paced catch up with friends while people-watching the throngs go about their daily business.
Details: Unit 2, Reuters Plaza, E14 5AJ | Book here
–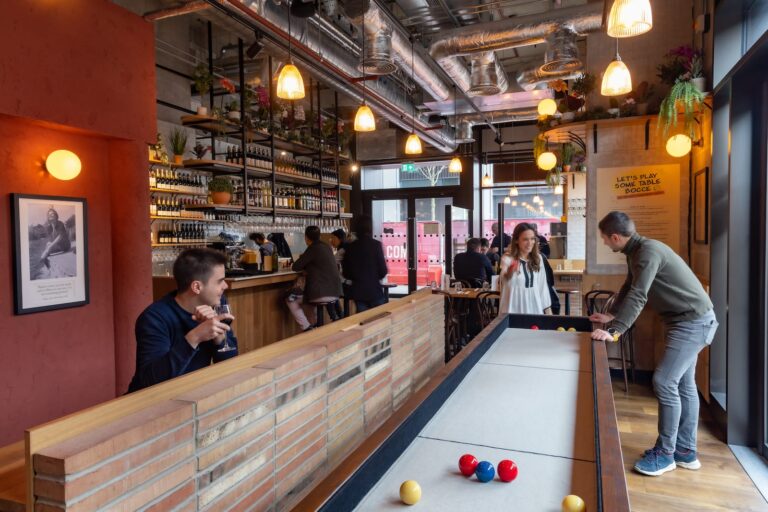 High quality pasta made from scratch first thing every morning is the order of the day at Emilia's Crafted Pasta. The Canary Wharf location is fitted in the form of typical trattoria, and the one-page menu draws inspiration from the owner's pasta quest around the Emilia-Romagna region, with fan favourites including the handmade lamb and herb ravioli, ​​truffled cacio e pepe and four-hour slow-cooked pappardelle al ragù. Do as the Romans do before you leave and cap off the experience with a digestif – like the double-shot limoncello. Or two.
Details: 12 George St, Wood Wharf, E14 9QG | Book here
–
Market Halls Canary Wharf | ££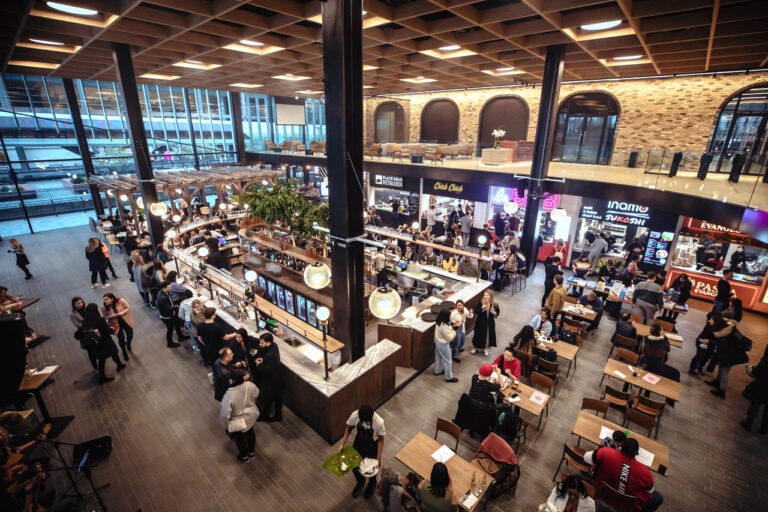 Market Halls Canary Wharf is, as you may have correctly deduced, from the same folks behind Market Halls Victoria and Market Halls Oxford Street. Take a second to survey the scene at this double-height temple to gastronomy (20,000 sq ft of food, glorious food), and then let your hunger run wild on hawkers including the likes of Black Bear Burgers, Le Bab, Gopal's, Df Tacos, Pasta Evangelists and more. It makes an excellent pit-stop before, after, or indeed between visits to neighbouring activity bars Fairgame and Clays.
Details: 25 North Colonnade, E14 5AB | As a food hall, it's a walk-in and pray for a table type of deal but they do take booking inquiries for larger groups (15-30 people) on their website, here.
–
Dishoom Canary Wharf | £££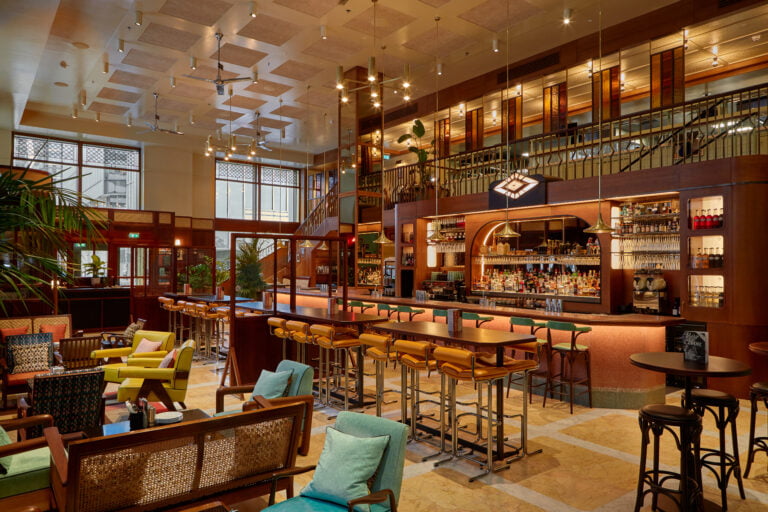 For some people, an area cannot call itself a true dining destination until it has a Dishoom. And in that spirit, the opening of Dishoom Canary Wharf – London's sixth branch of these super-popular Irani-inspired Bombay cafés – signals that Canary Wharf has finally arrived. Here you can enjoy the now trademark combo of transportive interiors that take you back to Bombay in the 1970s, with modern Indian dishes like the marvellously creamy house black daal, and the equally good gunpowder potatoes. You've also got a new incentive to get to the office extra early: bacon naans… 
Details: 13 Water Street, Canary Wharf, London E14 5GX | Book a table before 5.45pm on their website, here. Otherwise you have to try your luck (or test your patience) with walk-ins.
---
Large amounts of office workers = large amounts of people who are in need of a stiff drink. It's basic maths, and that's where these guys come in: the best bars in Canary Wharf. So keep this list handy next time you're clocking off on a Friday…