Bold Tendencies | Classical Concerts in a Car Park
London proudly boasts some of the world's greatest concert halls: the Royal Festival Hall at the Southbank Centre, the Royal Albert Hall, the Barbican… and a multi-storey carpark in Peckham.
Yes, seriously.
The unlikely pairing is part of not-for-profit organisation Bold Tendencies' annual summer programme, where they've transformed an abandoned multi-storey car park from a place where people leave their vehicles and loiter late at night, to a cultural hub of sculpture art, literature and music, with a rooftop bar thrown in for good measure.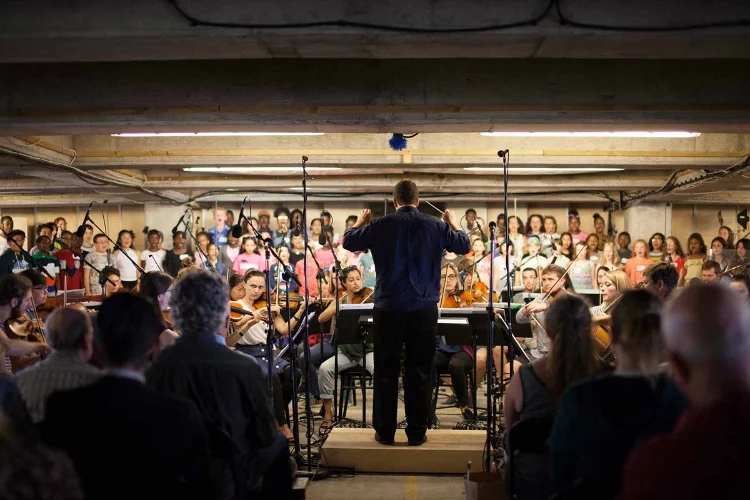 The seating arrangement is a simple one, where folded chairs are laid out on the tarmac across the carpark's ninth floor – one below rooftop negroni spot Frank's Cafe – and audiences can then lend their ears to the sounds of opera, orchestra, piano, and possibly the odd train passing through.
If you're wondering how the sound experience doesn't get compromised considering the, err… unconventional surroundings, a plywood acoustic wall was installed in 2017 to help cut out a bit of the background noise, while the low concrete ceilings actually serve to strengthen the acoustics, and you're much closer to the musicians here than you are at say, the Royal Albert Hall.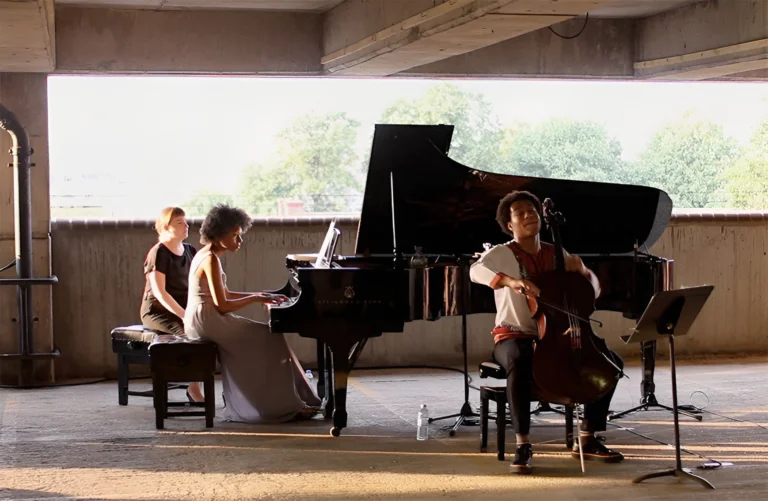 For this summer's programme (running from 10th May – 16th September), the lineup is as broad and exciting as ever. Some of the upcoming picks from the class of 2023 include:
Holst: The Planets (3rd June) – The Philharmonia Orchestra, led by Finnish conductor Emilia Hoving, performs Gustav Holst's timeless and absolutely epic piece of music that (complete speculation here)

might

have inspired the likes of John Williams and Hans Zimmer…

Shostakovich: The Silly Little Mouse (11th June)

– A popular children's story about a (silly) mouse who just won't sleep much to the annoyance of his mother. At Bold Tendencies, it's being played out by a cast of kids as they simultaneously learn about the ins and outs of creating an opera…

Philip Glass: Music for Organ (17th June)

– Organs: vital for healthy functioning of the human body, but can also crank out quite the melody… as you'll witness courtesy of American composer Phillip Glass. Apparently the car park setting is perfect for 'the organ's vast, powerful sound'.

Strauss: Four Last Songs and Metamorphosen (15th July) – The Manchester Collective perform Richard Strauss' four deeply moving songs – Frühling, September, Beim Schlafengehen and Im Abendrot – that make up the legendary German composer's swansong. As a bonus, the crew will also give a rendition of another late Strauss classic, 1945's Metamorphosen…
Caleb Femi: STONE SEED (28th July)

– The Nigerian-British poet, filmmaker and photographer (who also directed Louis Vuitton Men's runway show last year) presents an immersive live performance on Peckham and how the neighbourhood has a power to 'rebuild and reclaim what has been lost'.

GBSR Duo: Galina Ustvolskaya and Oliver Leith (19th August) – Artists George Barton and Siwan Rhys use their considerable skills with piano and percussion to reinterpret two internationally-renowned composers.
Isata Kanneh-Mason: Through the Ages (8th Sept) –

The award-winning, UK classical charts-topping artist Isata Kanneh-Mason puts her own stamp on four iconic pieces of music;

Haydn's Piano Sonata

No. 60

in C major

,

Fanny Mendelssohn's

Easter Sonata

,

Robert Schumann's

Kinderszenen and

Chopin's

Piano Sonata No. 3 in B minor.
You'll also be able to get a pre or post show tipple at the concert bar where Frank's will be serving refreshments. Cocktails, skyline views and live classical music: there's your evidence that an evening at a carpark can be classy too.
NOTE: The car park concerts at Bold Tendencies are taking place from 10th May – 16th September 2023. Tickets start at £6, you can find out more and book right HERE.
Bold Tendencies | Multi Storey Car Park, 95A Rye Lane, Peckham, SE15 4ST
---
Like bars with a view? Check out your ultimate London rooftop bar guide