The Comedy Store.
It doesn't just sell canned laughter.
It's one of the most popular comedy clubs in London, with over 3,500 punters passing through its doors each week (which makes for pretty good odds that you'll be able to skulk in the shadows and avoid getting hauled up on stage for some – shudder – audience interaction).
It's also one of London's longest-running comedy clubs, starting out more than four decades ago in a strip club in Soho with no bathroom. Every Saturday night founders Don Ward and Peter Rosengard would run an open mic night where audience members would vote any dud performers off-stage with a big gong. As the months wore on, the club's performers were increasingly of the funny and clothed kind, and some of the comedians who got their start here include Rik Mayall, French & Saunders, Jo Brand and Paul Merton, who's been performing regularly at The Comedy Store since 1984.
The Comedy Store moved to its current home in 1993; a purpose-built venue halfway between Piccadilly Circus and Leicester Square. Sticking to the low-ceiling format that seems to be a requirement for any good comedy club, there's also a well-stocked (and reasonably-priced) bar, and a diner serving pizza & burgers that's open before every show, and during intervals.
They've also gone all-out, and installed bathrooms.
The Comedy Store's programme is structured around different themed nights. The gong show, dubbed 'London's most brutal open mic', returns on the last Monday of every month, while the long-running 'Old Rope' night – where comedians try out new material while standing next to a noose – has just started a monthly residency here.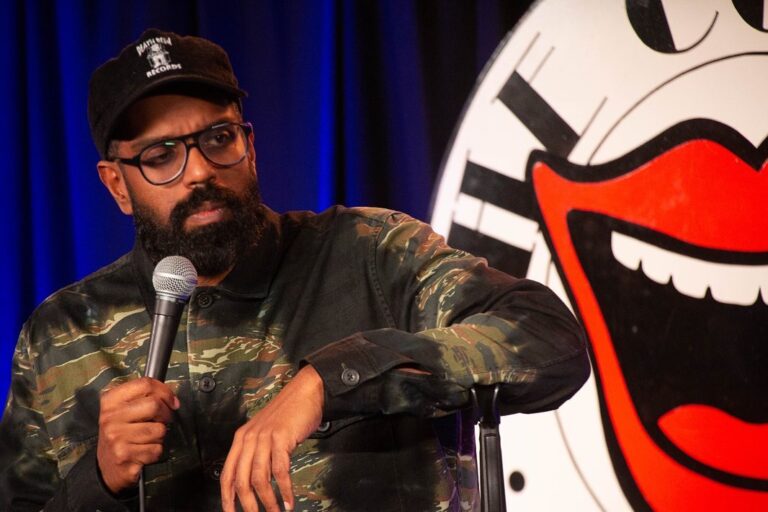 Then from Thursday – Saturday you'll get the big stand-up comedy gigs, showcasing both the city's most talented up-and-coming comedians as well as household names like John Bishop, Marlon Davis and Sara Pascoe. It all winds up on Sunday nights with improv from the legendary Comedy Store Players, the club's in-house troupe. Regulars Josie Lawrence, Richard Vranch, Neil Mullarkey and Lee Simpson – alongside a host of guest comedians including Cariad Lloyd and Phill Jupitus – take suggestions for characters and scenarios from the audience, before improvising sketches that are totally unscripted and unprepared.
But don't worry, they'll make it up.
NOTE: The Comedy Store has shows Thursday – Sunday, with occasional Mondays. Tickets start at £10, and you can see what's on, and book, HERE.
The Comedy Store | 1a Oxendon Street, SW1Y 4EE
---
Making a night of it? Check out where to go after The Comedy Store in our itinerary for a Soho night out