What's little, blue, and door-shaped?
A steamrollered blueberry.
Also, the entrance to this raucously-fun bar tucked discreetly on the Fulham Road.
It comes to you from the same people behind the pop-up-turned-permanent spot in Notting Hill, The Little Yellow Door – an idea which has proved so popular they've since gone on to open The Little Orange Door in Clapham and The Little Scarlet Door in Soho.
As with all their bars, the idea is simple: the place is ostensibly run by a group of flatmates, with a cosy & homely vibe, a party virtually every night of the week, and a strict ban on red trousers. Head on in, and you'll be greeted by the warm, welcoming feeling that frequently accompanies visits to a friend's place, mostly bought out by the sofas, houseplants, and coffee tables scattered about. And depending on what day of the week it is, you can expect…
WEDNESDAYS & THURSDAYS
…are dedicated to 'Surf, Turf or Earth', where you can enjoy pick from prawns, steak or vegan steak for just a tenner, as well as 2-4-1 drinks from 5pm till sundown, every weekday. There's also the option to book a private area and host your own dinner party.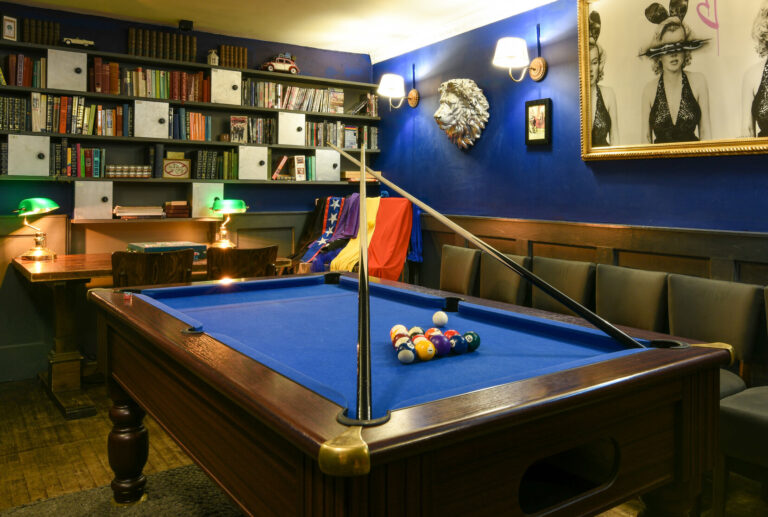 FRIDAYS & SATURDAYS
These are the house party nights you're here for: DJs hit the decks, while you let your hair down with frozen cocktails, and the knowledge that you don't have to do any of the washing up in the morning.
WEEKENDS
The morning after. Saturdays and Sundays are for brunch. A brunch that comes with bottomless prosecco and house punch to wash down savoury crumpet stacks with glazed bacon and cheesy chorizo beans; teetering towers of pancakes with caramelised banana and rum syrup; and halloumi breakfast buns with folded eggs.
And a finish that strong…
…is the end of the weak.
NOTE: The Little Blue Door takes bookings HERE.
The Little Blue Door | 871-873 Fulham Rd, SW6 5HP
---
While you're in the area… check out our Fulham neighbourhood guide