There are very few experiences quite as pleasant as getting a punch in the mouth…
…from Punch Room cocktail bar in The London EDITION, a Fitzrovia hotel that looks like a gilded townhouse designed by the founder of Studio 54. The whole building is an impossibly grand affair, from the art-crammed walls of the restaurant, Berners Tavern, to the majestic 19th century portico entrance. Which is where – both literally and metaphorically – you come in. Heading towards Punch Room itself, you'll then find yourself in what feels like a flashback to a Victorian gentlemen's club with flush with oak panelled walls and velvety blue banquettes. Only here, the sharp design and sleek, moody lighting give everything a refreshingly modern & edgy feel.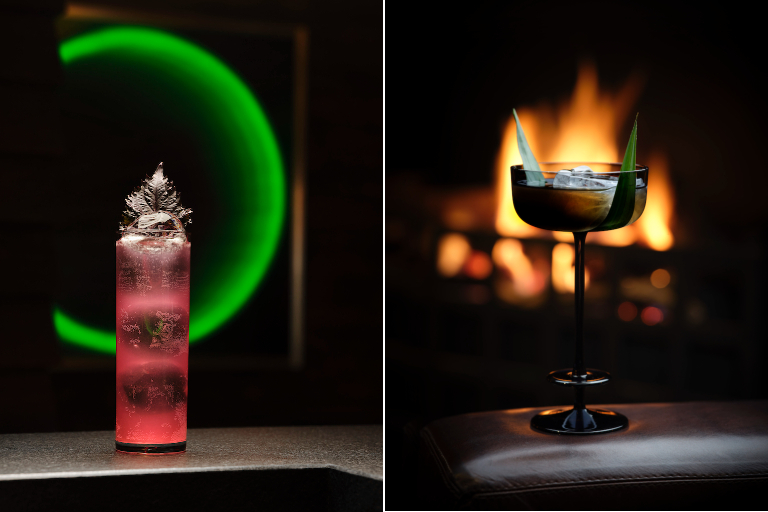 The new menu that bar manager Anthony Callegari has put together is all inspired by light, and it's all been divided up into three distinct chapters. The Translucent drinks come with innovative splashes like edible paint, LED lights and colour changing agents, and include the likes of the Northern Lights Punch (Barsol Mosto Verde, lactic acid, menthe verte, cacao, peppermint air), or the Firefall Punch (Lakes The ONE, Laphroaig, banana, lime, Ancho Reyes, lemongrass & ginger tea).
Then, the Transparent chapter plays with clear or clarified elements to puzzle your expectations, with drinks like the entirely clear Alpenglow Punch (Roku, Armagnac Blanche, Ceylon arrack, Champagne, orange, violet tea flower), or the Cockcrow Punch (Belvedere, croissant, Oolong tea, lemon, cream soda).
Then finally there's the Opaque chapter, with unusual & innovative glassware housing numbers such as the Midnight Sun Punch (8 year old Bacardi, homemade Swedish punch, yuzu, kumquat, grapefruit, sparkling sake) and the Afterglow Punch (Maker's Mark, Savoia, fino sherry, mushroom, pandan leaf tea).
It's walk-in only, meaning you can always swing by after dinner at Berners Tavern, Arros QD or Akoko and enjoy a quietly mind-blowing nightcap…
…and that beats a punch in the mouth.
NOTE: Punch Room at The London EDITION is open Wednesday – Sunday evenings, and is walk-in only. You can find out more, and see the full menu at the website right HERE.
Punch Room | The London EDITION, 10 Berner's Street, W1T 3NP
---
Fancy dinner beforehand? We'll go out on a limb and say yes, probably. So here are the best restaurants in central London…