The Aqua Restaurant Group is behind some of the most glamorous restaurants in London: Aqua Shard, Aqua Kyoto, Aqua Nueva…
And now, quite fittingly for an empire named after water, they've just opened a seafood spot.
It's all been inspired by founder David Yeo's travels around Sicily & the Amalfi Coast, where the seafood's so fresh that it spends a matter of minutes out of the water before it arrives on your plate. With Azzurra, he's aiming to bring a little of that 'boat-to-table' philosophy to Chelsea, in a casually glamorous spot tucked just off Sloane Square.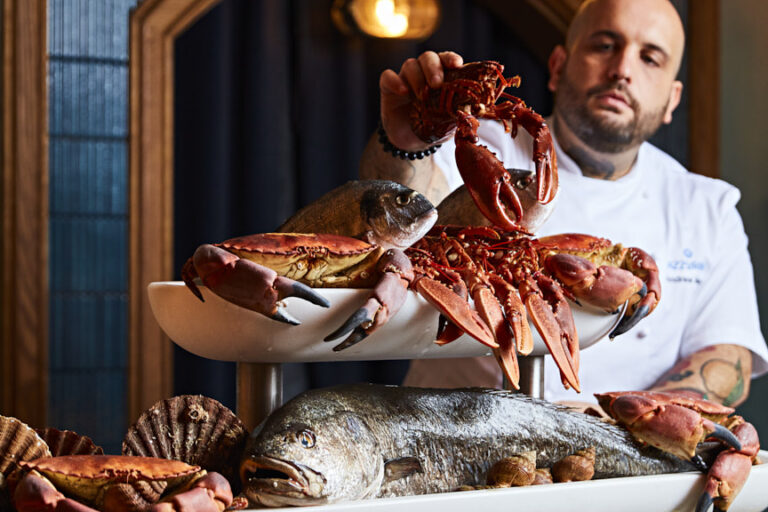 That taste of la dolce vita starts from the moment you walk in, when you'll be greeted in Italian (don't worry, they'll quickly switch back to English) and led to your table. The space they've created is everything you'd expect from the people responsible for Aqua's stunning look. Azzurra is richly themed around its coastal origins, with huge swathes of rope and netting suspended from the high ceilings and wrapped around the heavy columns which anchor the space.
The spacious dining area is a sea of azure blue banquettes, rich English oak tables, and glimmering brass fittings. By day, huge windows bathe the place in sunlight, and in the evening, the lights are beautifully dimmed to set the scene alongside a nostalgic Italian soundtrack.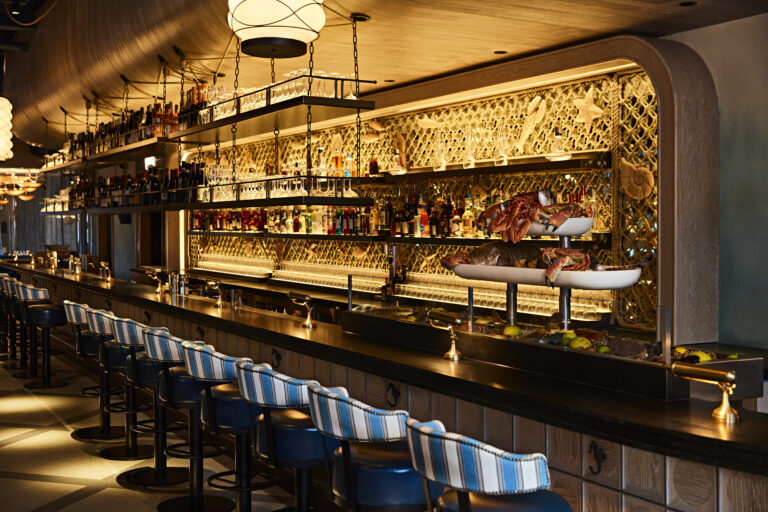 To the right is a sixteen metre-long bar lined by ticking striped stools, which you can imagine being popular with nightcappers after seeing something at the Royal Court (it's open till 11.30pm every night). Several of those metres are home to the gorgeous glowing cocktail area, and you'd do well to start your evening here with a tartly refreshing Spritzello, or the Positano Bliss, which unexpectedly counters its indulgent orange vodka, cream and crème de cacao with a hint of basil.
The other considerable portion of the bar has a stretch of crushed ice decorated with all manner of crustaceans & shellfish – which you can order to your table on theatrical silver platters shaped like octopuses. If you fancy something with a little less exoskeleton, the opening crudo section of the menu features an exquisite array of raw dishes, from sliced scallops topped with delicate pearls of olive oil, to lightly torched red mullet and langoustine dressed simply with Amalfi lemon oil and huge crystals of smoked salt.
The food at Azzurra is the domain of Sicilian native Andrea Mura (Aqua Hong Kong, Soho House, etc.), and he's built a menu here that's elegant but deeply gratifying. You can opt for primi like the melt-in-the-mouth spinach & ricotta gnudi (almost a softer, lightly fried version of gnocchi); an intriguing board of fish charcuterie like swordfish 'pancetta' and seabass 'nduja'; and there's some lovely pasta dishes on offer, including an ode to Stanley Tucci's tonnarelli alla Nerano with provolone piccante, zucchini and basil.
If, somehow, you've wound up in Azzurra and aren't a seafood fan, you'll be relieved to hear there's a pizza oven firing up impossibly thin, crispy takes on the dish. But really, the fish is the star of the show here, with the catch of the day prepared a few simple but effective ways, and a couple of dishes that'll sit on the menu permanently. There's swordfish served as a twist on veal milanese – flattened, heavily breadcrumbed, and served with wild rocket, rosemary & lemon – and thick fillets of sea bass, roasted and beautifully textured, drizzled in a shellfish bisque.
Try, if you can, to save room for dessert. Order a tiramisu and a trolley will be wheeled up to your table, where indulgent layers of coffee-soaked sponge, cream and cocoa will be assembled before your eyes. But the most impressive dish might just be the Limone: what at first glance appears to be a huge Amalfi lemon turns out to be a brilliant trompe l'oeuil of a white chocolate case concealing a decadent centre of lemon and ricotta.
So you won't be ending on a sour note.
NOTE: Azzurra is open for lunch on weekdays and dinner daily, with brunch coming soon. You can find out more, and book, HERE.
Azzurra | 127 – 128 Sloane Street, SW1X 9AS
---
Want to get to know the neighbours? Here are the best restaurants in Chelsea