If you aren't already familiar with Brixton Market, there's a clue in the name.
It's a market down in Brixton.
In fact it's THE market down in Brixton. And it's entirely owned & operated by the traders themselves. Those traders are plentiful, varied, and exciting, so there's a lot to take in. We'll break it down as simply as possible, starting with:
THE MARKET STALLS
These are exactly what you picture when you imagine a market – it's all outdoors, lining the streets of Electric Avenue (not just a name, this was the first street in the world lit by electric lights) and Brixton Station Road (also not just a name, it's right outside Brixton station). You'll find everything from quirky antiques, to African ornaments, to interesting fabrics, to fresh fruit & veg. And if it's raining? You're in luck. Just head to –
BRIXTON VILLAGE & MARKET ROW
These are the covered markets, entirely housed within grand arcades two stories high. They've got glass roofs to let the light flood in, and they're jam packed with about 128 businesses across both sites. You'll find coffeeshops, restaurants, food shops, music stores, bars, ice cream parlours, retro & vintage, clothing… you name it, it's probably there. In fact, they proudly boast that they sell "486 different types of fresh fish, and 300 types of African fabric print".
And while we're here, it's probably important to expand on the restaurants. You see, they've not only got the dependable favourites like Honest Burgers, but also inventive spots like….
Irene Bakery: This outpost of Camberwell's hit bakery is the village's new stop for high quality coffee (beans from Gentlemen Baristas) and sourdough… and pastries… and sandwiches, and so on…
House of Momo: Purveyors of momo, aka steamed filled dumplings from the Himalayas, as well as noodles and curry thalis. 
Jim and Tonic: As you may have guessed, a bar comprised mainly of gin cocktails (from a sustainable urban distillery) run by a guy called Jim…
Club Mexicana: a new South London outpost for the cult Mexican restaurant… where everything's vegan.
Fish, Wings & Tings: – A colourful, buzzing restaurant at the back entrance of the village known and loved for its 'Nouvelle Caribbean cuisine', with a majority of the dining action taking place outside on long benches.
Three Uncles: Widely reputed Cantonese roast meats – char siu barbecue pork, siu yuk crisp pork belly and roast duck – in a neon-lit space that's reminiscent of Hong Kong's Wan Chai neighbourhood.
Okan: A small pocket of a space, shining light on Osaka (Japan's third biggest city) through local specialities like Okonomiyaki; a savoury Japanese pancake that here, you can get with king prawns, beef, cheese & corn.
El Rancho De Lalo: A restaurant that mirrors a Colombian cantina and uses ingredients from the Brixton Village market itself to turn out traditional dishes like empanadas filled with beef and & mash, arepa and a chicharrón (fried pork belly) & fried bean stew. 
Finch: a teeny-tiny wine bar seating about a dozen punters, with happy hour cocktails and train carriage-inspired interiors.
Ruben's Reubens: cult sarnies from young rising chef Ruben Dawney, who started smoking meats in his parents' back garden in lockdown.
Hacha: An agave bar – so plenty of tequila and mezcal to be sipped neat or in cocktails like the famed mirror margarita (a clear version of the drink that deceptively looks like a glass of water). There's also a bottle-shop for those who want to explore the spirits and the cocktails (they bottle those too) back home.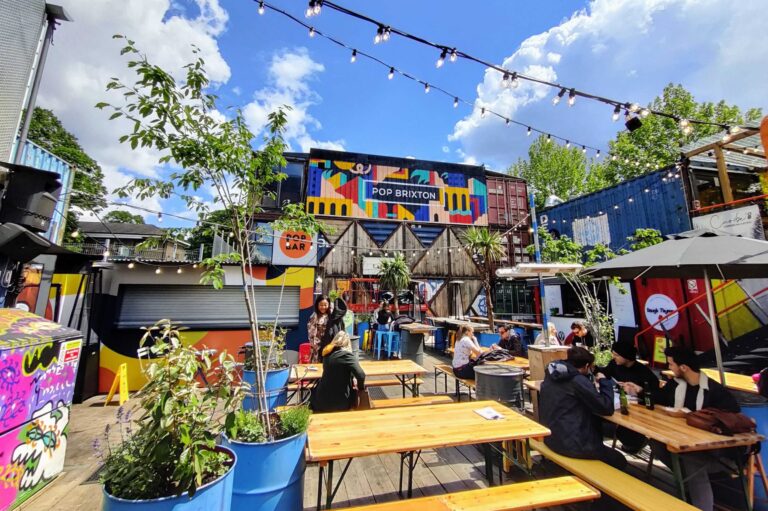 The final piece in this independent market jigsaw is POP Brixton. POP is essentially an entire village made from shipping containers. And those shipping containers contain dozens of bars & restaurants; plus a tattoo parlour; a radio station; a community training hub; a balcony terrace; free yoga every Monday *and* a big greenhouse for growing stuff in.
Pop along and you'll find Indian and British food fusion at Baba G's; stone-baked pizza by Made of Dough; vintage attire by Make Do & Mend; plus a variety of weekly film screenings, gigs, TedX talks, debates, live performances, DJs, and more.
Basically, to sum up, Brixton Market has a lot going on.
A lot.
NOTE: Electric Avenue & Pope's Road outdoor markets are open daily 8am–6pm (Weds till 3pm, No Sunday trading); Brixton Village & Market Row are open daily 8am—11.30pm (Mondays till 6pm); POP Brixton is open 9am-11pm (midnight Thur/Fri/Sat). You can find out more and double check timings at their website right HERE.
Brixton Market | Electric Avenue, SW9 8JX
---
Since you're in the area… check out these other great things to do in Brixton