The time has finally come.
Today, we speak of hireable, self-drive boats, that allow you to float down London's waterways in the comfort of your own private hot tub.
You'll find them in Canary Wharf, perched on the waterfront beside a picturesque Grade I listed warehouse. There's a dinky red and white caravan to get changed in, helpfully equipped with sunscreen and body lotion (and, if you plump for the VIP experience, towels, robes, and some very fetching captain's hats). There's even a lock-up box right by the tugs to keep everything in, and a waterproof box on board to keep your phone in when you're not busy documenting your entire trip.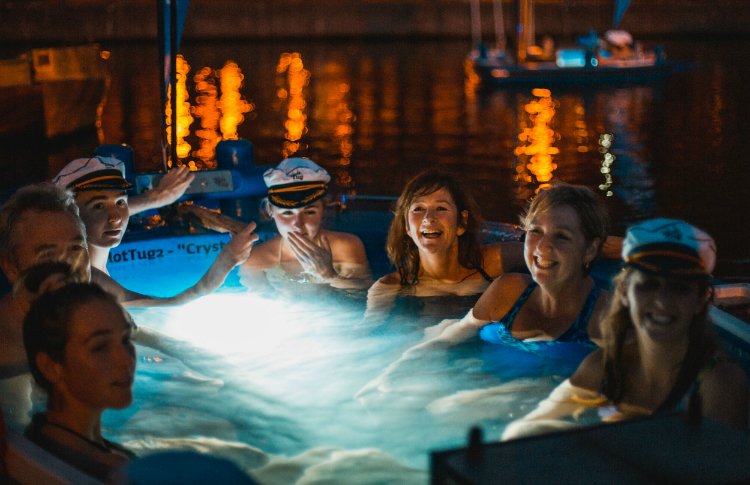 THE BOAT
To be clear, this is not just a hot tub on a boat. This is a hot tub that is a boat. Fresh water's pumped in for each trip, and heated up to a balmy 38 degrees by the on-board wood stove (which, incidentally, brings a lovely sauna-like aroma to proceedings). You're completely in charge of the boat's engine, so you can explore the waterways at your leisure over the 90 minute experience, and they've even got little ice pockets on board to keep the beers cold.
THE ROUTE
Once you set off, you're free to explore Canary Wharf's glittering skyscrapers, Billingsgate Market and the Pergola on the Wharf building from an entirely new perspective (a route that's particularly impressive at night).
And when you're all towelled off? It's all perfectly placed for a post-tub cool-down – head to Pizza Pilgrims West India Quay for pizzas, spritzes and foosball on a custom 22-player table in their basement games den, or get along to Electric Shuffle for shuffleboard and cocktails.
After all, it's important to stay hydrated.
NOTE: The experience costs from £225, and each boat can seat up to 7. You can also purchase booze on arrival to take on board with you. You can book a Hot Tub Boat right HERE.
Hot Tub Boats | Off Hertsmere Road, West India Quay, E14 4AL
---
Like quirky experiences? Peruse our pick of London pop ups this month